When the Windows Phone 8 (NASDAQ:MSFT) project was first announced, there were several takers for the project in the mobile phone industry. LG Electronics, Samsung (OTC:SSNLF), Nokia (NYSE:NOK), HTC, Huawei and Sony (NYSE:SNE) were among the companies that were planning to produce one or more Windows Phone 8 devices. LG Electronics backed out from the deal, Sony's Windows Phone 8 device never came, Samsung contributed with a couple cheaper phones and we have only 2 phone makers that are still in the game of Windows Phone project, which are Nokia and HTC.
Of the 12 Windows Phone 8 devices in the market, 7 are made by Nokia, 2 are made by HTC, 2 are made by Samsung and 1 is made by Huawei. Currently Nokia dominates Windows Phone platform as 4 out of every 5 Windows Phone devices are made by this company.
HTC has a high-end phone called Windows Phone 8X and a medium-end phone called Windows Phone 8S. These phones didn't gain much of a market share in most markets, with the exception of a few countries. Currently, these two phones represent 9% of all Windows Phones sold globally. Last quarter, HTC announced a small profit of $20 million, which was the smallest profit of the company's history. It is almost certain that Windows Phone doesn't generate enough volume for HTC to be profitable and the company makes its profits from Android. While HTC has a strong partnership with Microsoft, it may not stick with Windows Phone in the long run if the company fails to make a profit on the product. We only know of one more Windows Phone 8 device that will be released by HTC anytime soon, which is HTC Tiara (a mid-range phone).
Huawei is in the same situation as HTC. The Chinese company has only one Windows Phone 8 device (Ascend W1) and it claims only 0.6% of the market share in the Windows Phone platform. Huawei is far from posting any profit on Windows Phone devices and it may not announce a new Windows Phone device anytime soon. On a related note, Ascend W1 will be sold in Wal-Mart (NYSE:WMT) starting this month, and the company hopes to at least make some money from the phone. At the end of the day, the company's decision of whether to stick with Windows Phone may be made after the consumer reaction in Wal-Mart stores become clear over time.
Samsung's Ativ S was the first Windows Phone 8 device that was announced. This phone was followed by Ativ Odyssey. Together, these two phones only account for about 2% of the market share in the Windows Phone platform. It looks like the consumers who want to buy a Samsung phone end up buying one of the company's Android phones rather than Windows phones. Samsung makes a lot of money from Android phones but Windows Phone hasn't been that profitable for the company.
Nokia is the most committed Windows Phone device maker. The company launched 7 Windows Phone 8 devices and it is expected to launch several more. Nokia is pretty much killing its Symbian operating system and refusing to make a smart phone in a platform other than Windows Phone. The only hope Microsoft has for the Windows Phone project sits with Nokia. Also, Nokia is likely to be the first company (other than Microsoft) to post a profit on Windows Phone project.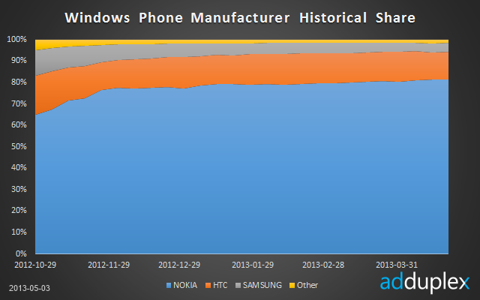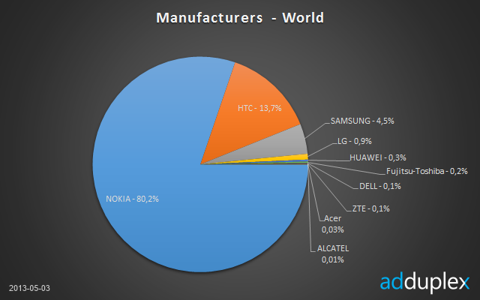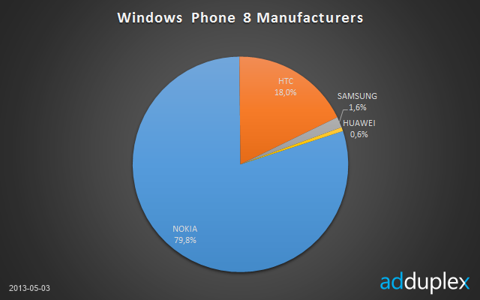 Since the release of Windows Phone 8, Nokia sold 9.9 million devices that run on Windows Phone operating system. While majority of these phones run on Windows Phone 8, some of them use Windows Phone 7 as their operating system. Let's assume that 8 million out of the 9.9 million Lumias sold in the last 2 quarters were Windows Phone 8 devices. Currently Nokia has an 80% market share in Windows Phone platform, which means the number of Windows Phone 8 devices sold totals around 10 million. Looking at the market shares of the companies, we can say that HTC was able to sell 1.8 million Windows Phone 8 devices, whereas Samsung sold only 160,000 such devices and Huwei sold 60,000 of these devices.
In a matter of few years, I expect all these companies (with the exception of Nokia) to drop out of the Windows Phone ecosystem. After that, Microsoft will have to invest in Nokia heavily in order for Windows Phone project to survive. In worst case scenario, Microsoft might end up acquiring Nokia (even though I don't expect this to happen unless Nokia is on the brink of bankruptcy). A more realistic scenario would involve Microsoft running one of the biggest advertisement campaigns we've seen in years in order to push Windows Phone devices. With help from Nokia, the volume of Windows Phone is expected to grow by 20-40% annually for the next few years. This should be great for both Microsoft and Nokia, but I don't know what the other Windows Phone device makers will do about this.
I own shares of Microsoft and Nokia. At the end of the day, Windows Phone will emerge and establish itself as the third ecosystem.
Disclosure: I am long MSFT, NOK. I wrote this article myself, and it expresses my own opinions. I am not receiving compensation for it (other than from Seeking Alpha). I have no business relationship with any company whose stock is mentioned in this article.