Whether it was done for the sole purpose of shoring up investor confidence or not, one of the largest insider purchases by a CEO of the past week was conducted by Mr. Marc Bradley Lautenbach of Pitney Bowes Inc. (PBI). According to the Form 4 filed here, Lautenbach purchased a total of 66,000 shares of the company on May 7 at an average price of $15.36 per share. This brings the total value of the transaction to roughly $1.01 million. It also marked the CEO's first position in the company as he now controls a total of 66,000 shares in PBI.
Such a confident purchase comes at a rather low point in the company's history. After reaching all-time highs just before the turn of the millennium, Pitney Bowes has remained locked in a sliding decline for most of the last decade. As a reputable company with a strong history of dividend growth, even this ultimately came to an end this past quarter. On May 8, the company issued a quarterly dividend of $0.1875 thereby cutting its dividend by 50%.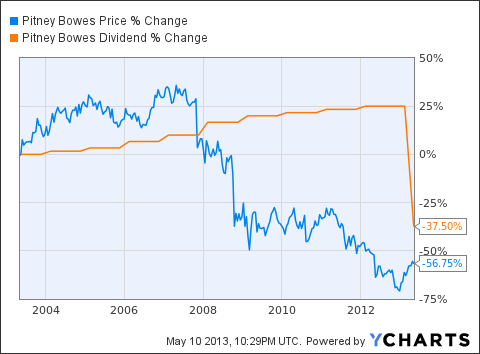 Pitney Bowes recently released its latest quarterly earnings report. Here are some of the highlights from the ensuing conference call:
Total revenues declined 4% as the company found growth in Production Mail & Mail Services but weakness in the Small and Medium Business market. Revenue was adversely impacted via the company's Software segment along with pricing pressure in the Management Services and Marketing Services segments.
Adjusted earnings came in at $0.42/share vs. $0.52/share in Q1 2012.
Selling, general & administrative expenses declined $28 million to $377 million. This represents a 7% decline versus the prior year. When contrasted against the quarter's revenues, SG&A accounted for 32.3% marking an improvement by 90 basis points.
Management expects SMB's rate of decline in recurring revenues to moderate and therefore have less of a negative effect in the second half of the year.
The company's outlook anticipates revenues to be in the range of 0% - 3% growth when compared against 2012. Management also expects adjusted EPS to be in the range of $1.85 - $2.00 for 2013.
Although revenues continue to decline, management continues to be largely focused on developing growth initiatives and controlling its costs. The company also expects revenue declines to moderate. The widely expected dividend cut helps to control cash outflows while still presenting a lucrative yield for investors. As of May 10, Pitney Bowes now offers investors an annual yield of 4.86% at the current share price of $15.44.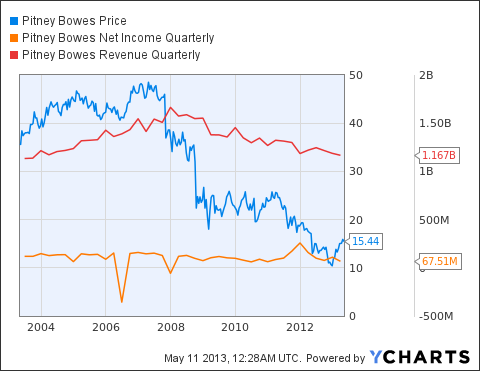 A look at the chart above shows that the decline in the company's stock has largely outpaced the declines in revenues and earnings. Even as revenues declined, the company's earnings have largely remained steady on a relatively level plane over the long-term. With a current price-to-earnings ratio of 8.81 and a forward-looking ratio of 8.21, it remains difficult to believe that the company's share price can continue to decline much further. This is especially so given the capital now being put to work in growth initiatives and the cash being preserved from the dividend cut.
Last of all, the strong bet by the company's new CEO does manage to spark an extra dose of confidence. Having joined the company in December 2012 after serving 27 years at [[IBM]], Lautenbach has had more than enough time to survey the company's strengths and weaknesses. Could his purchase now signify a turn in the company's direction? The rather large purchase marks the first open market purchase by an insider since May 2012 when the CEO and several officers completed a seemingly coordinated cluster buy of nearly 36,750 shares. Lautenbach's most recent purchase nearly doubles this amount.
Disclosure: I have no positions in any stocks mentioned, and no plans to initiate any positions within the next 72 hours. I wrote this article myself, and it expresses my own opinions. I am not receiving compensation for it (other than from Seeking Alpha). I have no business relationship with any company whose stock is mentioned in this article.