Cystic Fibrosis (CF) is caused by a defective gene that causes the body to produce thick, sticky mucus that clogs the lungs, promotes life threatening infections, causes diabetes, infertility, and hinders normal breakdown of nutrition and nutritional absorption. It is an evil disease that plagues roughly 30,000 United States citizens and another 40,000 people worldwide for a total patient population of 70,000 people.
CF has 6 major population segments which are as follows:
ΔF508 Estimated at 66% to 70% of CF cases worldwide. 90% of CF cases in the US are ΔF508. Or roughly 46,200 to 49,000 patients globally with roughly 27,000 patients in the US.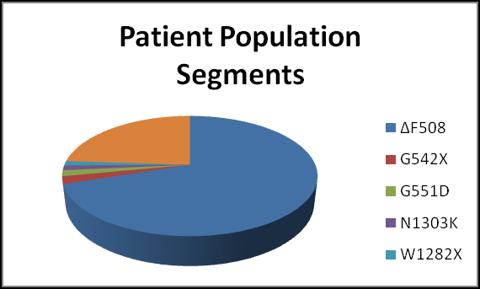 G542X Estimated at 2.4% of CF cases worldwide. Or roughly 1,680 patients globally.
G551D Estimated at 1.6% of CF cases worldwide. Or roughly 1,120 patients globally.
N1303K Estimated at 1.3% of CF cases worldwide. Or roughly 910 patients globally.
W1282X Estimated at 1.2% of cases worldwide.
OTHERS Consists of roughly 1,500 other mutations and is estimated at 24% of cases worldwide.
Current prognosis for CF is dismal, albeit, far improved from the death sentence CF was 20 years ago. CF patients are typically diagnosed around 2 years old, and have a life expectancy of around 30 to 40 years of age. The highest life expectancies are in the United States with expectancies falling as you move Eastward through Eastern and Western Europe. CF is a predominantly Caucasian disease.
Historical therapeutic approaches included restoring airway surface liquid, anti-inflammatory drugs, anti-infective drugs, and increasing nutrition. Great strides were made in this regard, and some of the most recent improvements were an inhaled medications known as Pulmozyme made by Genentech, a Roche Group Company (OTCQX:RHHBY) which thins the mucus; TOBI made by Novartis (NYSE:NVS) which is an inhaled antibiotic designed to fight common infections for CF patients; and inhalation of hypertonic saline which draws more water into the lungs in order to make it easier to cough out mucus. Unfortunately, none of these therapeutic approaches address the root cause of the disease.
That was the case until Vertex's (NASDAQ:VRTX) successful launch of VX-770 (Kalydeco) in January of 2012.
Kalydeco (Ivacaftor) addresses the G551D mutation via CFTR modulation (potentiator), and is an orphan drug with a steep price tag of $294,000 per year. As CF is a chronic disease, this represents a potential gross revenue of roughly 340 million dollars per year.
In the first quarter of 2013, Vertex had 61.8 million dollars in revenue for Kalydeco and is expecting revenue to increase as more European countries adopt the drug.
While, Kalydeco is the only approved drug on the market that uses CFTR modulation as its approach, there are other drugs Vertex has in the pipeline working towards addressing the unmet medical need.
First of all, Kalydeco (Ivacaftor) is still under investigation for label expansion.
Taken from the most recent quarterly report:
"Three Phase 3 label-expansion studies are ongoing for Ivacaftor monotherapy, including a study in people with CF ages 6 and older who have at least one copy of the R117H mutation, a study in people with CF ages 6 and older who have at least one non-G551D CFTR gating mutation and a study in children with CF ages 2 to 5 who have a gating mutation. Enrollment of the study of gating mutations is complete, with the first data expected in the second half of 2013. Enrollment is ongoing in the study of children ages 2 to 5 and in the study in people with the R117H mutation. Enrollment is also ongoing in a Phase 2 proof-of-concept study evaluating Ivacaftor in people with CF who have clinical evidence of residual CFTR function. Vertex believes that Ivacaftor monotherapy may be able to treat between 10% and 15% of the estimated 70,000 CF patients worldwide, pending results of clinical studies."
From this we can state the Vertex is estimating roughly 7,000 to 11,500 people worldwide may be treated with Kalydeco. If Vertex were to use the same pricing, this represents a potential gross revenue stream of 2 billion to 3.4 billion dollars annually.
Secondly, a second drug is being studied by Vertex for the treatment of CF known as VX-661. As stated on the CF Foundation's web-site:
"VX-661 is a new compound, called a "corrector," designed to move defective CFTR protein to the proper place in the airway cell membrane and improve its function as a chloride channel."

"Laboratory experiments demonstrated that the effect of VX-661 can be potentiated by adding Kalydeco™. A Phase 2 trial is currently enrolling for people with CF who have two copies of the F508del mutation."
Vertex's proposed therapeutic approach is then to combine a 'potentiator' with a 'corrector' to address the disease. The potential here is that VX-661 could be used with VX-770 to treat a very large and profitable population. Which was the reason for the recent pop in share price. Taken from Vertex's most recent quarterly report:
"Vertex recently announced data from a Phase 2 study of VX-661 in combination with ivacaftor in people with two copies of the F508del mutation. In the study, treatment with a combination of VX-661 and ivacaftor for 28 days in the two highest dose groups resulted in mean relative increases in lung function (percent predicted FEV1) of 9.0% (p=0.01) and 7.5% (p=0.02) versus placebo. In contrast, patients who received placebo showed a 0.03% mean relative change in lung function at Day 28 (within-group). In the study, VX-661 was generally well-tolerated, both as monotherapy and in combination with ivacaftor, and most adverse events were pulmonary in nature, were mild to moderate in severity and similar between the treatment groups and those who received placebo. Additional details on these data were provided in a press release issued April 18, 2013."
Lastly, Vertex is also studying VX-809 (Corrector) and Kalydeco. As stated on the most recent quarterly release:
"Vertex recently initiated a Phase 3 program for VX-809 in combination with ivacaftor that consists of two 24-week Phase 3 studies in people ages 12 and older with two copies of the most common mutation in the cystic fibrosis transmembrane conductance regulator (CFTR) gene, known as F508del. Enrollment in the Phase 3 program is underway. Worldwide, nearly half of people with CF have two copies of the F508del mutation. Additional details on the Phase 3 program were provided in a press release issued February 26, 2013."
From here, we can make the assertions that VX-661 and VX-770, VX-809 and VX-770 are being studied to potentially meet a patient population of roughly 30,000 patents. This is a potential gross revenue stream at current pricing of 8.8 billion USD.
All in all, the CF franchise if we were to assume an annual treatment cost of $100,000 and reaching every one of the 70,000 patients, would be worth north of 70 billion dollars of gross revenue a year.
I will let you determine what you think a company's market cap should be with that potential. No fooling around though, the latest correction to Vertex's stock price was well deserved. Even at these levels, Vertex is still a strong buy.
More information on this disease can be found at the Cystic Fibrosis Foundation's website at cff.org. Investment considerations aside, I hope all market participants are successful in eradicating this dreadful disease.
Vertex's recent press releases can be viewed here.
Disclosure: I am long VRTX. I wrote this article myself, and it expresses my own opinions. I am not receiving compensation for it (other than from Seeking Alpha). I have no business relationship with any company whose stock is mentioned in this article.