On April 30, Pitney Bowes (NYSE:PBI) announced a 50% reduction in its dividend. The stock price promptly declined about 15% on that news. However, Pitney Bowes has already recovered nearly all these losses, especially after its recent Analyst Day. Pitney Bowes currently offers a $0.1875 per share quarterly dividend and yields about 4.80%.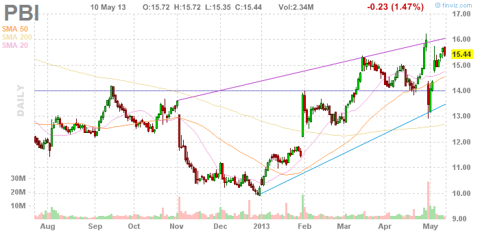 The previous dividend consumed over $300M per year of Pitney Bowes' FCF. The new dividend level will allow the company to save about $150M per year in FCF.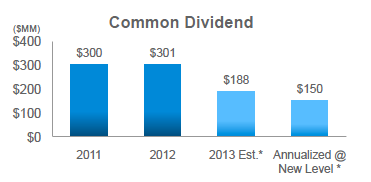 While the dividend cut was unfortunate, it may have been Pitney Bowes' only chance to remain a viable business. Free cash flow, or FCF, has seen years of steady decline for Pitney Bowes. The 2013 midpoint of FCF was $650M, the lowest level since 2006.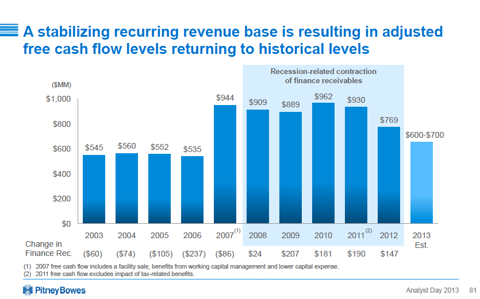 In my previous article, I made the case that Pitney Bowes lowered the dividend to pay off debt. This is one of the few right things Pitney Bowes has been doing. Since 2008, Pitney Bowes has lowered its debt burden by $1.05B, or 22%, to $3.65B.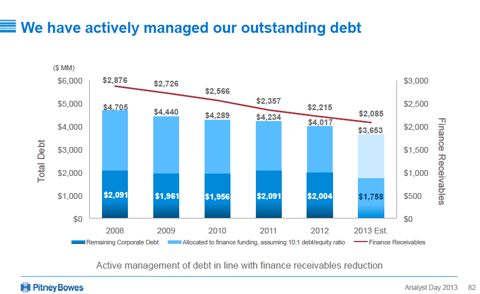 However, Pitney Bowes still has several debt maturities upcoming in the next few years. While the 2013, 2014, and 2015 debts are mostly covered with Pitney Bowes' available FCF, the 2016 debt burden is well above the available FCF. In 2016, Pitney Bowes has over $851M of various forms of debts maturing. In 2017 Pitney Bowes also has another large chunk of debt maturity. It is critical that Pitney Bowes not only stabilizes FCF, but also maintains its credit ratings.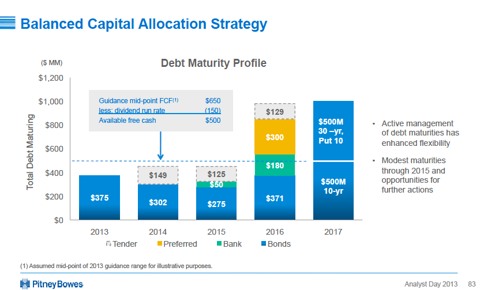 Not only does Pitney Bowes need FCF for upcoming debt repayments, but it also needs to invest in its business. While Pitney Bowes is not exactly in a high capital spending industry, it did estimate capital expenditures of between $150M to $175M for 2013.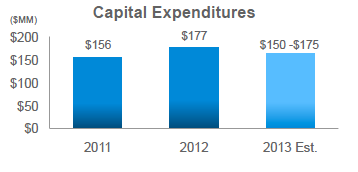 There is no doubt that the old Pitney Bowes was highly inefficient and therefore it will need to get rid of some of the 'fat' within the company. While Pitney Bowes has seen constant restructurings in the past, I am fairly certain that Mr. Lautenbach has found areas that need change within the company. This is yet another area where Pitney Bowes will need to spend its FCF.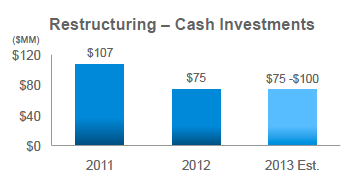 However, there are bright spots from the restructuring for Pitney Bowes. Due to the new investments and cost cutting, the company anticipates that it will achieve a run-rate of $100M to $150M in savings by 2015. This should fuel some gains for Pitney Bowes' FCF, or at least help with slowing the decline.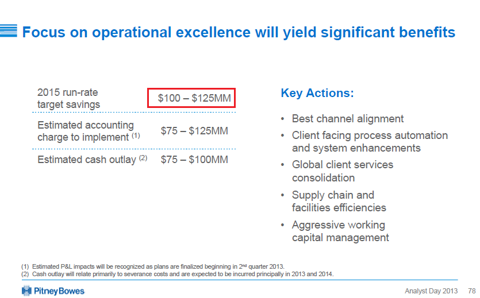 Conclusion
The old dividend was a millstone that Pitney Bowes had to remove. With it, there was very little left over for debt repayments or capital spending. Judging by the reaction after the May 3 Analyst Day, the market seems to have liked what it saw. It also didn't hurt that the new CEO bought $1M worth of stock and that he is replacing some of the old guard with fresh blood from IBM.
Mr. Lautenbach has his work cut out for him with Pitney Bowes. The company faces serious secular declines in its core businesses. It will need to reinvest in new sectors, find new revenues, and hope that its FCF will be enough to fund this growth.
Disclaimer: The opinions in this article are for informational purposes only and should not be construed as a recommendation to buy or sell the stocks mentioned. Please do your own due diligence before making any investment decision.
Disclosure: I have no positions in any stocks mentioned, and no plans to initiate any positions within the next 72 hours. I wrote this article myself, and it expresses my own opinions. I am not receiving compensation for it (other than from Seeking Alpha). I have no business relationship with any company whose stock is mentioned in this article.