If there was ever a stock that defined the buy and hold investment strategy it is Johnson & Johnson (NYSE:JNJ). Over the past thirty years, as shown by the chart below, JNJ has had a truly incredible run. However, given the recent surge, I am currently cautious on the name.
Stock Price Rally
Over the past year, as shown by the chart below, shares of JNJ have moved higher by more than 31% reaching a new all time high. During this period, the S&P 500 is up just 19%. The move by JNJ is especially impressive when considering JNJ has a beta of just .56. Simply put, JNJ is due for, at the very least, a period of consolidation.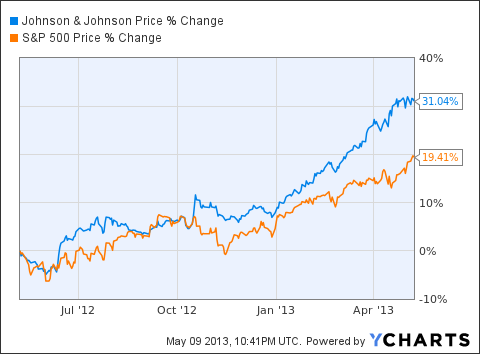 JNJ data by YCharts
Valuation
As shown by the chart below, JNJ is now trading at the upper end of its historical valuation range. Given this, it is unlikely that JNJ is about to make another move higher anytime soon.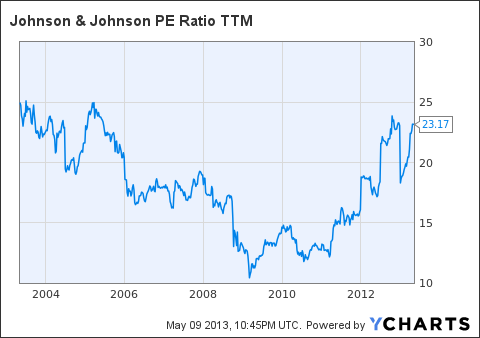 JNJ PE Ratio TTM data by YCharts
Dividend Yield vs. Treasurys
Over the past few months, as shown by the chart below, the combination of a rally in JNJ stock and a decrease in bond prices has led to a narrowing of the yield differential between JNJ and Treasury bonds. Due to this, bonds are now more competitive with JNJ than before. In other words, yield buyers are likely interested at this point because of both the price increase in JNJ, leading to a lower yield, and the price decrease in bonds, leading to higher yields.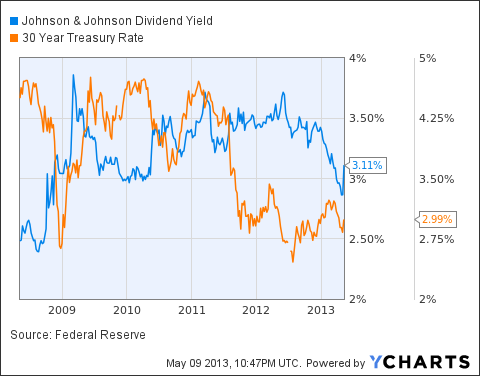 JNJ Dividend Yield data by YCharts
Warren Buffett
Warren Buffett has been reducing his stake in JNJ. Prior to 2011, Berkshire was one of JNJ's largest shareholders owning more than 31 million shares. Now, Berkshire owns under 1 million shares. Buffett has said that JNJ "messed up in a lot of ways in the last few years." Of course, Buffett was referring to the numerous high profile recalls in addition to lawsuits filed against the company. Still, JNJ has not finished dealing with its troubles. However, despite these ongoing problems, JNJ is trading at all-time highs. While every investor must make their own decisions, for buy and hold investors, the loss of Warren Buffett's support should not be overlooked.
Heads I Win Tails You Loose
If the stock market continues rallying to new highs, I would look for cyclical stocks to lead the way. Names such as U.S. Steel (NYSE:X), Caterpillar (NYSE:CAT), Nucor (NYSE:NUE), Alcoa (NYSE:AA), and JP Morgan (NYSE:JPM) that have lagged thus far. This move is likely to be fueled, at least in part, by selling in defensive names such as JNJ. Instead, if the stock market moves lower I would not be surprised to see JNJ take a hit given the massive run over the past few months.
Conclusion
Given the recent rally, high valuation relative to historic norms, loss of confidence from the world's most famous investor, and compressed yield differential relative to Treasurys I am cautious on JNJ right now.
Disclosure: I have no positions in any stocks mentioned, and no plans to initiate any positions within the next 72 hours. I wrote this article myself, and it expresses my own opinions. I am not receiving compensation for it (other than from Seeking Alpha). I have no business relationship with any company whose stock is mentioned in this article.