The Australian Dollar experienced a steep decline over this past week, blowing past the "long zone" as outlined in the chart below due to the Reserve Bank of Australia (RBA) cutting rates 25 basis points to 2.75%.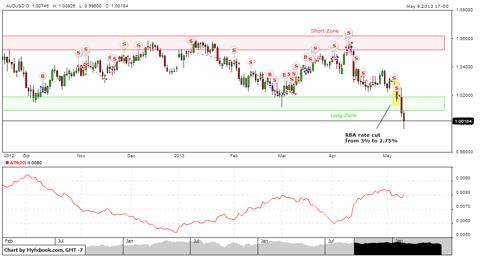 Click to enlarge
Of course, this chart featuring the "long zone" and "short zone" is largely a joke between a few traders and I, as clearly if it were that easy, I'd be out of a job.
This chart demonstrates my bias, as each S is a sell trade and each B is a buy, and there are a lot more Ss than Bs. In fact, since my fund's inception in January 2011, I've traded the AUDUSD 77 times, 66 times short, 11 times long, making money on 45 trades and losing money on 32 trades.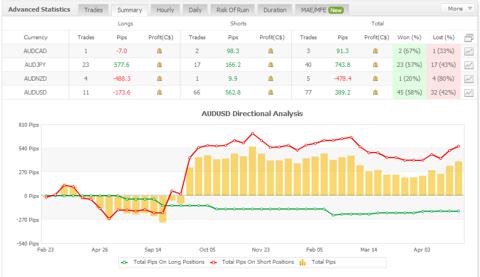 Click to enlarge
That being said, my wins have been larger than my losses, making the AUDUSD the second most profitable currency pair I trade.
I'm not looking at shorting the AUD at these levels, mainly because it is conventional wisdom that the AUD is going lower. As it is said, money is made by discounting the obvious and betting on the unexpected.
But the lower AUD does offer other opportunities, namely in Australian equities. A less expensive AUD makes for less expensive Australian companies for foreigners. In addition, the reason for the AUD weakness has been the cutting of rates, and lower rates will benefit corporate earnings. Therefore, as monetary policy eases in Australia, Australian companies will benefit.
Australian equities have typically paid out more of their earnings in dividends due to different tax treatment than that of the US, offering opportunities for enhanced yield. Given that the carry trade in the AUD is weakening with each passing RBA meeting, this is of increasing interest to currency traders.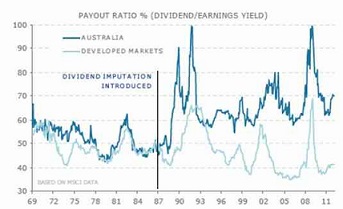 How to Invest in Australia
To play the Australian market broadly, there is the iShares MSCI Australian Index Fund ETF (NYSEARCA:EWA).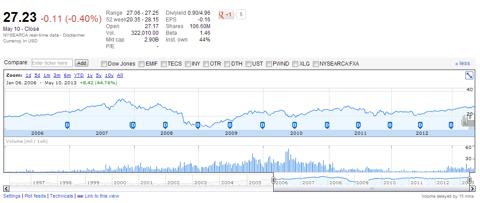 Click to enlarge
EWA is well off the high of $34 in 2007, although it has outperformed the S&P500 (NYSEARCA:SPY) handily since January 1st 2006, returning 44% versus SPY's 31%.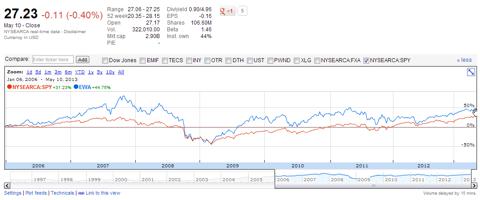 Click to enlarge
There has been an opportunity to buy a dip in the past month, with the EWA down 0.51%.

Click to enlarge
Interestingly, rather than rallying when the AUD depreciates a la Japan equities and the Yen, since 2006 the EWA has been highly correlated with the AUD. In fact, their returns have been nearly identical at slightly over 30% since July 2006, the year the AUD ETF FXA was founded. This excludes dividends, which would put the EWA ahead.

Click to enlarge
2006 is a brief history, so I've taken the EWA FXA relationship back another 10 years to 1996 for further analysis using the AUDUSD spot rate in place of the FXA, as well as added a correlation study to the bottom graph measuring the past 10 weeks correlation between the EWA and AUDUSD spot rate.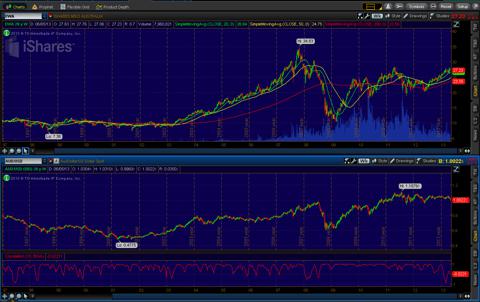 Click to enlarge
The high correlation between the AUDUSD spot rate and the EWA has stood the test of time. In addition, the correlation has been overwhelmingly positive, especially since 2009, although this correlation has broken down recently with EWA rallying while the AUDUSD fell.
The Components and Valuation of EWA
It will be a surprise to many that when buying EWA, you aren't buying a commodity ETF, but rather a financial services ETF. Financial services make up over 42% of EWA, with basic materials just 18%.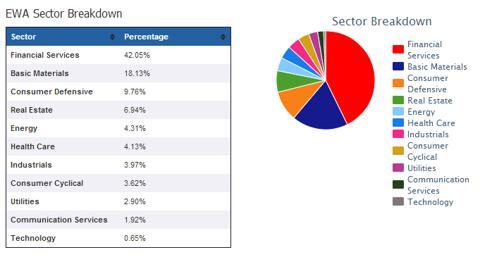 Click to enlarge
Source: ETF Database
Many of these financial services companies generate a large portion of their revenue servicing mining companies and will be affected by a slowdown in commodity prices, but the difference between them and owning miners is that they can quickly adjust their business model to service different clients. Whether this is consumers in China or technology companies in Australia is to be seen, but this flexibility is important. Investment bankers have been known to be exceptionally good at innovating.
Despite the size of the Australian economy, this ETF is fairly concentrated with 60% of its assets in the top 10 holdings. To put this in perspective, the SPY only has 18% of its assets in its top 10 holdings.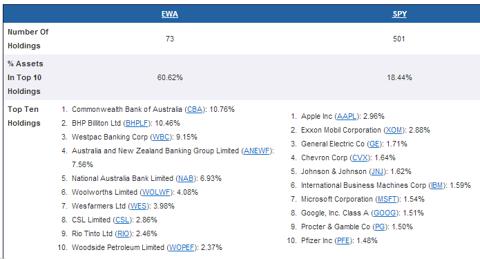 Click to enlarge
This is partly a result of the fewer number of companies, but is a stark difference to be cognizant of.
In terms of valuation, the EWA isn't cheap with a P/E of 19.23 and a price to book of 2.63. This compares to a P/E and price to book of 14.74 and 2.35 for the SPY. The dividend yield is far superior though, with a yield of 5% for EWA versus 2% for SPY.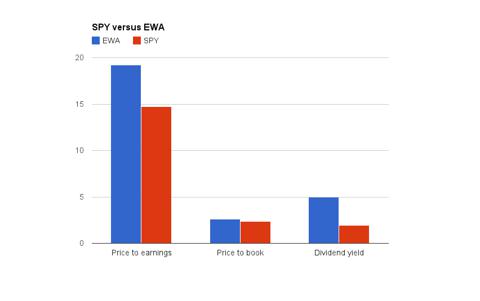 Click to enlarge
The Australian Economy Remains Relatively Strong
The oddest feature of the Australian rate cut is that the Australian economy has been a standout in the world with sub 6% unemployment and inflation under control. This isn't a recent phenomenon either, as Australia hasn't had a recession since 1991. The statements leading up to the rate cut were also fairly positive, and the post rate cut jobs numbers was a good print, adding to the perplexity. An excellent article that delves into the oddity of the rate cut in more detail is by one of my fellow Seeking Alpha contributors Dr. Duru.
I've compiled a number of charts demonstrating the strong recent performance of the Australian economy. These include the Consumer Price Index, Unemployment Rate, Westpac Consumer Confidence, Job Advertisements and the Trade Balance.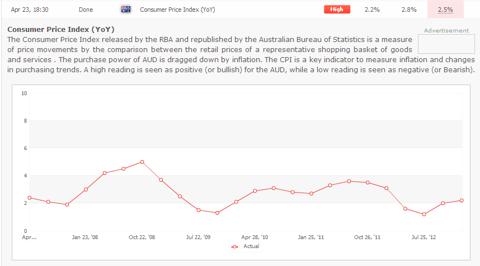 Click to enlarge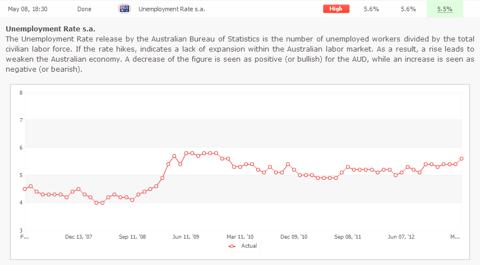 Click to enlarge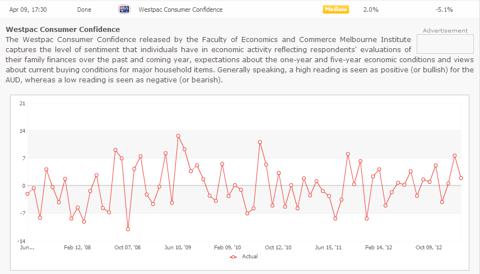 Click to enlarge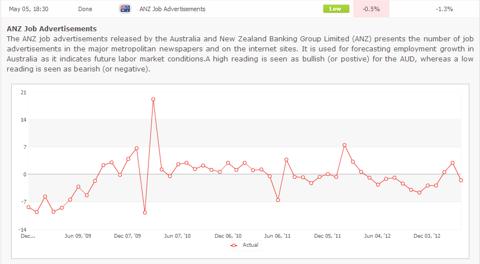 Click to enlarge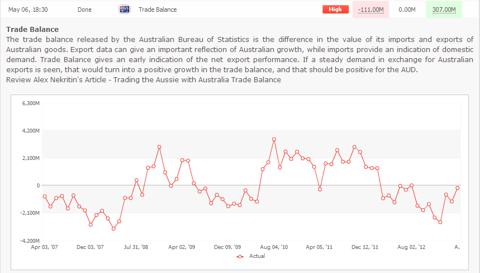 Click to enlarge
From what I read from the data, the latest rate cut stems from what may happen than what has happened, as besides the trade balance which is recovering, Australia's economy is far from being in trouble.
This Time It Is Different, Invest In The EWA
Although historically the EWA has been tied to the AUD, which appears to be heading lower for the time being, this time it is different. The catalyst for a depreciating AUD hasn't been a weak Australian economy but a slowdown in China, a weakening of commodity prices and the cutting of interest rates by the RBA. These rate cuts will benefit Australian businesses, in particular Australian banks that borrow short and lend long. The EWA is made up primarily of financial companies, making this an especially valid reason for buying EWA.
There are clear risks on the horizon for Australia. They've been the center of a perfect storm for the past 10 years with the emergence of China and a commodity boom, both of which are now in peril. A serious slowdown in China or a further sell-off of commodities will lower the cashflows of Australian equities which will in turn lower the share price of EWA.
That being said, the news about China or commodities isn't a secret, and with the recent selloff in EWA, these threats are in the process of being priced in. Plus, with a 5% dividend, you are paid handsomely to wait, especially when compared with the rapidly deteriorating AUD carry trade.
Take advantage of this dip in the AUD and buy the EWA.
Disclosure: I have no positions in any stocks mentioned, but may initiate a long position in EWA over the next 72 hours. I wrote this article myself, and it expresses my own opinions. I am not receiving compensation for it (other than from Seeking Alpha). I have no business relationship with any company whose stock is mentioned in this article.
Additional disclosure: I am actively trading the FOREX market and may be either long or short the currencies discussed at the time of this article's publication. To see a complete list of my open FOREX trades in real time, visit mcnultycapitalmanagement.com/ or see trades in real time on twitter at twitter.com/seanbmcnulty