Opportunities to buy the best companies at a low price don't often come along. That's especially true these days for high-yielding stocks in a world starved for income. This week, the most conservative and arguably best-managed upstream Master Limited Partnership (NYSE:MLP), Linn Energy (LINE), was hit again by an intensely negative article from Barron's magazine.
The article was mostly a rehash of a previous one written on February 16th. It alleged a few important things:
Production was flat despite substantial "growth capital expenditure," which therefore can hardly be classified as capital for growth.
That costs for hedging in the form of puts are not counted by Linn as a cash expense. Therefore, Distributable Cash Flow (DCF), the most important metric for an MLP, is overstated.
Furthermore, because acquisition of puts are not counted as a cash expense, Linn is manipulating DCF by buying "in the money" puts on oil and natural gas. That's to say they are buying the option to sell commodities higher than their actual price and are not accounting for the premium of that put option in DCF.
The article concluded that Linn was worth perhaps half of its current price based on proven asset values minus debt. If, for example, Linn were to trade at ExxonMobil's EBITDA multiple, the price would be less than $20 per share. Shares of LINE currently trade for $34.50.
Book Value
Let's address these four points, because frankly they are not hard to debunk. Comparing Linn's EBITDA multiple to an ExxonMobil (NYSE:XOM) or a Chevron (NYSE:CVX) is just flat out ridiculous. As an MLP, Linn's tax structure is completely different. And unlike the two US supermajors, Linn does not do exploration. Their business models just aren't the same.
Regarding the book value, subtracting debt from Net Asset Value of proven reserves gives Linn zero credit for unproven reserves. That's a little harsh. And why should a company like Linn trade at book value anyway? Linn is surely greater than the sum of its parts: Management is highly regarded and the company has a terrific history of acquisitions and integrating other companies into its culture.
Puts and DCF
The most irksome accusation on Linn is regarding cash flow manipulation through puts. An "in the money" commodity put is when a company purchases the option to sell at a rate above the current price within a designated time frame and pays a premium to do so. The thing is, Linn does not normally do this. The reason why so many of their puts are "in the money" now is because they locked natural gas prices in when they were higher. And that's the whole point of good hedging.
This is not too hard to understand. There's no reason the average retail investor can't get his mind around this. Unfortunately, it seems many have gotten intimidated by those with a bigger soapbox and that's just wrong.
No Manipulation
It is true that Linn does not deduct the premium for buying puts (usually 10%) from DCF. They pay cash for the puts, then classify the puts as an asset which amortizes as the oil and gas are sold. So, it comes out of income. The costs do, however, flow through to DCF. Here's how it works: Linn must either offer equity or take out a bond to finance its put buying. The costs incurred for both the oil and gas and puts flow through to DCF in the form of interest and share distributions.
Barron's is right in the respect that this is indeed a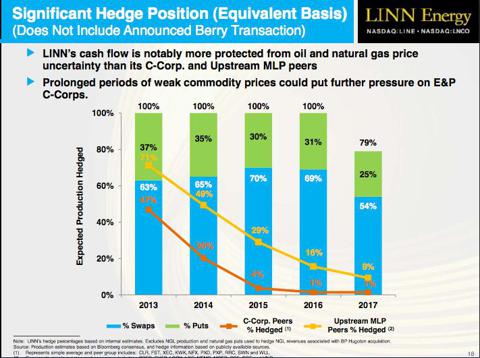 unique (but legal) way of doing things. Among upstream MLPs, Linn probably employs this strategy because their hedging is indeed unique from the others: they typically hedge 100% of their oil and gas at least four years out. Stability of cash flow is very important to MLP shareholders and Linn understands that better than any of its peers.
The Production "Problem"
Production in this quarter was less than flat. Slipping from 800 million cubic feet per day ((Mcf)) (note oil is converted to an energy equivalent of natural gas here) and was below the guidance of 827 Mcf per day.
Much of this was actually due to a divestiture in the Anadarko Basin. Originally planning to increase its stake from 40 to 100 percent, a new operator had entered the play and gave Linn an offer higher than it had expected. So, they became a seller rather than a buyer. Management has pledged to reallocate proceeds to a better use.
In addition there were a number of temporary issues. One was extreme winter weather in Kansas, Oklahoma and the Texas Panhandle which has now passed.
Infrastructure curtailment mostly in the Permian Basin, where pipeline capacity is backed up, added to production problems. There are expansion programs underway there. Thirdly, Ethane rejection, when the price of liquid ethane is so low that it no longer makes sense to remove the substance from natural gas streams and sell as an industrial feedstock, added to problems as well. Unlike the other two issues, we are not sure how long the ethane rejection will continue. That being said, Linn does expect production to improve in the second half of this year.
One legitimate disappointment has been Linn's wells in the Hogshooter Trend of the Texas Panhandle. Recent wells drilled in the Hogshooter have not met the company's expectation and management has responded by moving capital expenditure to the Oklahoma side. The company unfortunately has less working interest in the Oklahoma wells. As such, we can expect capital expenditure in that area to decline.
Altogether, 2013 production guidance is down to 740-860 Mcf per day from 820-910 Mcf. While this may be cause for some scrutiny, I believe management when they say these temporary issues will pass. Starting in July, Linn will raise its distribution from $2.90 to $3.08 annualized. Even after this hike, management expects the DCF to cover 107% of the dividend with help from the Barry Petroleum acquisition.
Growth Capex
Finally, Barron's claim of "growth capex" being pointless because production was flat for this one quarter is a dubious one. Capital spent on growth is rarely realized within the same quarter as it is spent. Such is the nature of the oil and gas business. To get a better understanding we have to look at things on an annual basis, sometimes even further out. Barron's and Hedgeye, the firm making this particular claim, ought to know better.
Make no mistake, this quarter's production number was a disappointment and things do need to improve if Linn wants to continue growing its distribution. But to claim that Linn's growth capital is completely worthless and imply that the dividend must be cut just isn't fair. It just isn't.
Standing Out From Its Peers
Suffice it to say I don't feel Barron's piece on Linn was fair. Linn is not a company manipulating its cash flow numbers through clever hedging schemes. This is no Enron. Nor is the stock due to be chopped in half.
In fact, Linn is the most conservative of all the upstream MLPs. It is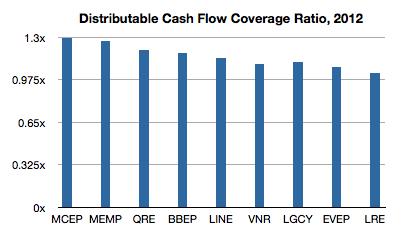 true that their coverage ratio was right in the middle of its peer group last year and that its debt levels reflect a capital-heavy industry with risk inherent in its business model. What really separates Linn from its peers is the guaranteed, locked-in cash flow: one hundred percent of the company's oil and gas production is hedged. This means that prices for Linn's hydrocarbons are already determined. Retail investors appreciate this peace of mind, no doubt.
Make This Volatility Work For You
Barron's intensely negative article has frightened away many retail investors. Looking at the chart below we can see not only the impact of this fallout but also the opportunity that is before us now.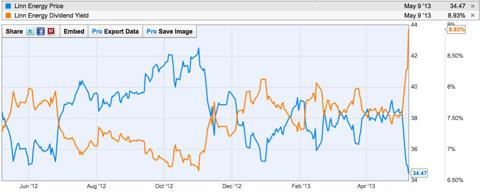 As is typical for an upstream MLP, the price (in blue) and distribution yield (in gold) are so negatively correlated that they look like a mirror image of one another. Charts like these help us understand the best times to buy. The best opportunities have been when the distribution yield line is much higher than the price line on this chart. The worst time is when the dividend line is much lower than the price.
For the record, the current distribution yield is not actually 8.9% but 8.36%. Still, you get the idea: The spread between the distribution yield line and the price line is so wide that this is the best opportunity to buy shares in the last twelve months at least. And that's what I recommend to do right now.
Conclusion
As an upstream MLP, Linn is not for traditional "dividend growth" investors who are in companies like Proctor & Gamble (NYSE:PG), Johnson & Johnson (NYSE:JNJ) or Coke (NYSE:KO). Coverage ratios in an MLP tend to be much higher. Oil and gas business are also much more capital-intensive. Finally, there is exposure to commodity prices, which makes an upstream MLP riskier than and different from a pipeline MLP. These are aspects of this business model which must be understood before investing.
But if you like high yield and don't mind exposure to oil and gas, Linn Energy is best of breed and is the way to go right now. Linn has never had to cut its distribution, even during the "Great Recession." In a world seemingly starved for income, right here is an opportunity to build income in a meaningful way.
Additional Sources:
"Significant Hedge Position" chart from Linn Energy Stifel, Nicolaus & Co. presentation.
"Distributable Cash Flow" chart by author, data on each respective company can be found in the following Q4 2012 earnings transcripts: MCEP, MEMP, QRE, BBEP, LINE, VNR, LGCY, LRE. Note also that the 1.2x coverage ratio for QRE was for Q4 and is a long term target.
Disclosure: I am long LINE. I wrote this article myself, and it expresses my own opinions. I am not receiving compensation for it (other than from Seeking Alpha). I have no business relationship with any company whose stock is mentioned in this article.