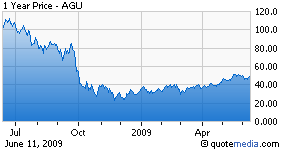 Agrium (NYSE:AGU) engages in the retailing of agricultural products and services. It also produces and markets agricultural nutrients and supplies fertilizers in North America. Agrium operates through three segments: Retail, Wholesale and Advanced Technologies. The products that are produced and marketed by the company are nitrogen, phosphate, controlled-release fertilizers, micronutrients and potash. The materials produced by Agrium find applications in household products, mining explosives, pulp and paper, fiberboard, and aluminum. The markets served by the company's products are specialty, international, industrial and agriculture.
CF Acquisition
Agrium has recently announced a hostile takeover bid for CF Industries, and in doing so, is showing the other commodities players in today's markets it isn't afraid to play with its cash in trying times. The CEO, Mike Wilson, is not afraid to ruffle feathers, and ying when the market yangs. In a recent Financial Post article, it was shown how nearly every Canadian resource company has continued to cut capital spending. Agrium on the other hand is attempting something the Canadian industry has not seen in a long time.
The $3.6 billion offer for the nitrogen and phosphate fertilizer-centric CF Industries is quite ambitious. Somehow, Agrium must make it clear to CF that its offer is better than acquiring Terra (TRA). Go figure. Get eaten up instead of eating someone else up. From a shareholder's perspective, this is nuts for CF, but Agrium is showing that it won't back down regardless of the amount of impediments showing their way. CF's offer to Terra forced Agrium to act. Calgary-based Agrium has had its eye on CF for a number of years, and even held talks to buy it in 2005, when CF chose to go public instead.
Since then, Agrium has transformed itself into a fully integrated agricultural powerhouse through eight major acquisitions, including last year's US$2.7-billion purchase of UAP Holding Corporation, a deal which greatly enhanced the company's retail operations.
By adding CF to the mix, Agrium says it would gain even greater competitive advantages in the agriculture sector, in which it already stands alone as the one publicly traded company that covers the entire industry's value chain. "It matches our strategy and it broadens our scope both geographically and product-wise," Mr. Wilson said. "If someone's going to bet on the agriculture sector, they're going to take a long look at Agrium, because Agrium is the company that can cover all the segments." Long story short, if you love agriculture, maybe even more than oil, then Agrium is your choice. It's the easy-bodied investor's hedge fund equivalent for the entire sector; because the exposure is so rich and diversified you just can't look away. Even Dan Carroll can't let it go!
On the more specialized end, many people still keep asking: is Agrium's bold bid going to succeed? It's gone up to about $90/share now. Some might say even a little expensive and perhaps counterproductive and perhaps value-eliminating.
Agrium's bid will also have to overcome regulatory hurdles, which a number of investors asked about on the company's conference call. Mr. Wilson said that the CF assets are complementary and there is very little overlap.
The cash portion of Agrium's offer increased by about 14% to US$40 per CF share (was US$35), such that the new bid is US$40 per CF share + 1 AGU share. The current implied acquisition valuation for CF is about 5.9x 2010 estimated EBITDA (pre-synergies).
Given that Agrium expects synergies of US$150 million to be realized over three years, a post synergy valuation could be generously viewed as 4.8x on 2010 consensus EBITDA. On a conservative basis, Agrium could attain synergies of at least US$78 mm (i.e., SG&A expense and procurement), which would lower the implied acquisition valuation of CF at the current AGU bid to about 5.3x consensus 2010 EBITDA. As such, the revised higher bid is not out of line with the peer average.
Now also important to note with all this technical talk is that Agrium has sufficient cash resources and committed financing to fund the cash portion of the bid only. Unless Agrium is willing to substantially draw into its operating line or arrange further financing, there is unlikely to be much further room for an increase in the cash portion beyond the current US$40/share unless/until a friendly conclusion to the deal is achieved.
Agrium trades at roughly 5.5x 2010E EBITDA forecasts, which is slightly above CF at 5.2x and well above TRA, which is trading at 3.7x. However, a premium for AGU is reasonable versus its immediate peers given the fact that investors look favorably upon AGU's retail business segment and its relative earnings stability over a full cycle.
Target price
At this time, I believe a price target of $60 to be conservative, with a potential upside going into 2010 and beyond of more than $70-80/share. Downside risk is associated with the potential pullback in commodity markets after the past three months of roaring bullish activity in the sector, but I would not discount Agrium to anywhere below $40/share.
You can also look at this valuation as being historically linked to that of Potash Corp. (NYSE:POT), which usually trades at roughly 1-2% premiums on an EV/EBITDA basis. Therefore, such a valuation is further warranted if we were to look at the average analyst coverage for POT.
Key Risks to Target Price
Well, like any other key risk, you have the volatile commodity pricing exposure we spoke about earlier, but Agrium seems to take care of this via diversification. Another risk, of course, is weather, which really can't be factored out of the equation by active human involvement. Another key risk is the potential strengthening of the Canadian dollar vis-à-vis the USD, which is on a long road to potential devaluation, and which may eat away at potential EPS for future periods. We also have to consider integration risk that will be paramount when considering the potential fallback of the CF deal.
Conclusion
The CF acquisition is a commitment Agrium will not likely let go of, and this may pose potential threats to Agrium's profitability. However, there's nothing short of genius and bold management involved in the deal, and Agrium may soar to new heights in light of these pending changes. I firmly believe this company has the right exposure a medium-to-high risk investor is seeking in commodities, and may very well provide good upside on the 6-to-12 month period, but may also provide good benefits for the extra-long-term holder.
Disclosure: I hold AGU long in my stock portfolio on kaching. The portfolio is available for anyone to view or follow.