Illumina (NASDAQ:ILMN) has been a tricky one of late - it looked like it broke a long term resistance at $39 a week ago Wednesday, and then quickly reversed down after buyers flooded in off the "breakout". After revisiting support Wednesday and Thursday morning at the 20 day moving average, the stock has boomeranged up. Thanks to reader praveen for giving a heads up on it.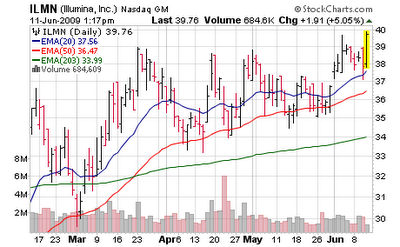 Some interesting new announced Wednesday after the bell - your own Genome Sequencing.
Illumina, Inc. (NASDAQ:ILMN - News) today unveiled a service program to provide high-quality personal genome sequencing for consumers. This is the first service to offer complete coverage of the human genome sequence for under $50,000.
The Personal Genome Sequencing Service is performed in Illumina's recently certified CLIA laboratory utilizing Illumina's industry leading Genome Analyzer technology. The offering includes sequencing of an individual's DNA to 30 times depth, providing information on SNP variation and other structural characteristics of the genome such as insertions, deletions and rearrangements.
"Rapidly decreasing costs have made sequencing a pervasive technology that can begin to be accessed at the consumer level," said Jay Flatley, CEO and president of Illumina. "We are entering a new era in genomic health, where information from an individual's genome will begin to inform lifestyle decisions and ultimately assist with health management. We believe that in the long-run personal genome sequencing will become a routine practice and the information generated will enable physicians to make better healthcare decisions for the consumer. By providing this service now, Illumina can help catalyze the development of the infrastructure and physician education that will be necessary as genomic information becomes medically more meaningful."
Motley Fool
chimes in
...
The price of getting your DNA sequenced just dropped in half--to $48,000. With the new service, being offered by Illumina ( ILMN - news - people ), a San Diego biotechnology company, patients will sit down with a physician, get a prescription and then, after a period of time allowing them to have second thoughts, will receive an Apple ( AAPL - news - people ) computer loaded with their DNA sequence and software for reading it. On the computer (the customer's to keep), will be the patient's entire genome--the encoding of all 3 billion DNA letters in the body.
The move to introduce a service that sells genetic information to consumers--even at a steep price--represents an important strategic step for Flatley. He is preparing for the day when people will be able to get their genes sequenced for cheap--a few thousand dollars--and when doing so will be medically useful. Only one other company, closely held Knome of Cambridge, Mass., will sequence your genome for you, at a cost of $99,000 (down from $350,000 in January 2008).
What Wednesday's move does is put Illumina out in front of the general public, giving it a chance to learn to sell genetic information to consumers. It will make use of a government-approved laboratory for doing diagnostic tests. It will create a network of doctors who are trained to counsel patients and give the tests. Flatley says he has agreements with Knome, 23andMe, Decode and Navigenics to help consumers interpret their genomes.
Illumina (
www.illumina.com
) is the leading developer, manufacturer, and marketer of next-generation life-science tools and integrated systems for the analysis of genetic variation and biological function. Using our proprietary technologies, we provide a comprehensive line of products and services that currently serve the sequencing, genotyping, and gene expression markets, and we expect to enter the market for molecular diagnostics. Our customers include leading genomic research centers, pharmaceutical companies, academic institutions, clinical research organizations, and biotechnology companies.
[
Apr 21, 2009: Illumina - Solid Growth; as Always Difficult P&L
]
[
Feb 4, 2009: Illumina Continues to Execute
]
[
Oct 22, 2008: Restarting Illumina on Earnings Confusion
]
[
Jul 22, 2008: Healthcare Companies that Start with Letter "I" Outperform
]
[
Apr 23, 2008: Two Healthcare Stocks Report
]
[
Feb 4, 2008: Illumina Keeps Performing
]
[
Dec 20, 2007: Nice Writeup on Illumina
]
Long Illumina in fund; no personal position