Cisco Systems (NASDAQ: CSCO) will be holding its Q3FY13 Earnings Announcement on May 15th, after the market closes. In this article I present eight reasons to believe that, regardless of the May 15th results, Cisco is a buy under a long-term investment horizon. However, for those who are thinking of initiating a bullish position before the earnings announcement, the results on May 15th are crucial. Therefore, before introducing the eight reasons, let us have a short discussion about Cisco's current momentum and an earnings preview.
Momentum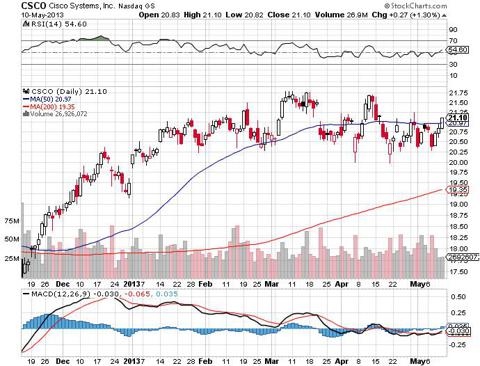 Cisco's short-term stock price pattern is hard to recognize. During the last 52 weeks, shares gained over 25%, an amazing rally. But over the short term, there is no clear direction. If anything, the past five days showed upward momentum is slightly improving. Shares are currently trading slightly above the 200 period moving average. Also, both the MACD and RSI index are slightly increasing.
Finally, there are also bullish signals in the derivatives market. According to a note by Schaeffer's Research, calls on Cisco are being picked up at more than two times their usual intraday rate since May 7th. The position gaining most attention is the May 21 call.
Earnings Preview
I expect modest third-quarter earnings, with Cisco beating the street consensus with slightly above estimate results, at possibly 50 cents per share. This could cause stock to rise at least 3% on May 16th. Cisco's stock price has reacted favorably to the past four earnings announcements, raising more than 3% the day after each announcement was made.
The consensus is currently 49 cents share, a 2% improvement from 48 cents during the same period last year. Estimates from analysts range between 48 - 51 cents.
We do not know for sure if Cisco will be able to beat the number. This is what we know:
Cisco delivered record earnings per share last quarter, and record revenue for the 8th quarter in a row. The firm reported $12.1 billion in Q2 Net Sales on February 13th. Earnings came out at $0.59 GAAP ($0.51 non-GAAP).

The upside is that Cisco has a recent history of beating the street consensus. A potential downside is that, as Cisco keeps surprising investors and analysts, expectations for the next quarter results raise more and more. However, this is not the case here. 49 cents per share is a realistic number that takes into consideration both seasonality in the industry and the previous earnings guidance. Notice that most of investments that Cisco did in the past nine months could start having a positive effect on the firm's EBITDA. Therefore, the number is beat-able.
Notice also that the surprise percentage by which Cisco keeps beating earnings expectations has increased in each of the previous four quarters: 2.1% in April 2012, 2.2% in July 2012, 4.3% in October 2012 and 6.3% in January 2013; a positive signal that supports my thesis.
Summarizing, we expect:
- Earnings: at least 50 cents per share. This number beats the street consensus but is also a decrease in the surprise percentage q/q.
- A dividend announcement (a Cisco tradition).
- A positive market reaction to the announcement.
The 8 Reasons
1. A clean balance sheet: Far more cash than debt. With $46 billion in cash and cash equivalents, Cisco enjoys a robust $28 billion net cash balance. This represents $5.25 dollars per share, considering that the number of outstanding shares is 5.33 billion. Add to this the fact that there is more than $1.6 per share in normalized free cash flow and you have limited downward risk with this stock.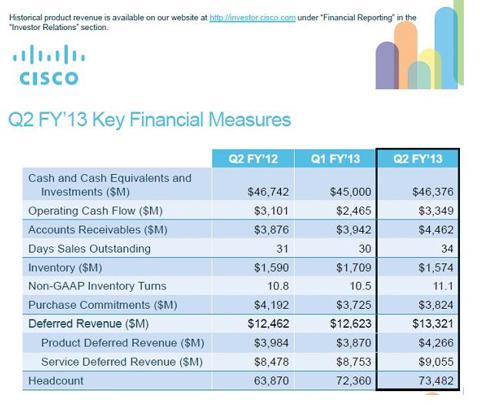 2. Strategic acquisitions: With $28 billion in net cash, management could be tempted to engage into large acquisitions in order to fuel growth. After all, they can afford paying high premiums. However, I believe that the current M&A strategy will be positive in the middle run. In my earlier note, "Cisco And The Ubiquisys Acquisition", I explain that the firm is trying to add diversification to its business portfolio by increasing software revenue. This is consistent with the long-term objective of the firm: being the No. 1 IT company in the world. Particularly, past acquisitions have shown a strong interest in mobile carriers. By providing an integrated solution (both hardware and software) to mobile carriers, they can make important sales even in the short run. Notice as well that most acquisitions are based outside of the U.S., which is tax-efficient.
3. Impressive buyback programs: Cisco is increasingly paying more dividends to shareholders. It is also active in share repurchases. This proves that management is committed to return 50% of free cash flow to shareholders annually.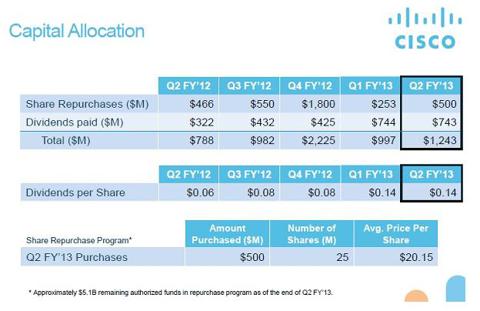 4. A diversified business portfolio: Cisco is prepared for anything. The cash cow continues being designing and manufacturing Internet protocol based networking and telecommunications products: fixed-configuration and modular switches, and storage products that provide connectivity to end users, workstations, IP phones, access points, and servers. Sales in this segment remain pretty strong. However, there is a possibility that due to the increase in cloud computing, Cisco will have to face a changing and challenging demand in the next years. It would need to sell to a more compact group of customers and this could add pressure to revenue.
But Cisco is getting prepared even for the worst scenario. For example, it continues investing in integrated solutions for mobile carriers and data centers. The idea that Cisco is mainly about hardware has become outdated, as Cisco acquires new technology, creates new markets and launches new products.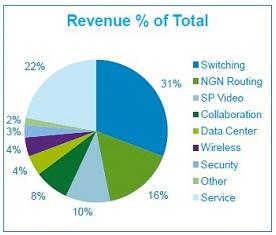 5. Cisco maintains a strong leadership position in the market, despite experiencing fierce competition from both emerging and traditional vendors, like Juniper (NYSE:JNPR), HP (NYSE:HPQ), Polycom (NASDAQ:PLCM), Huawei and Checkpoint (NYSE:CKP).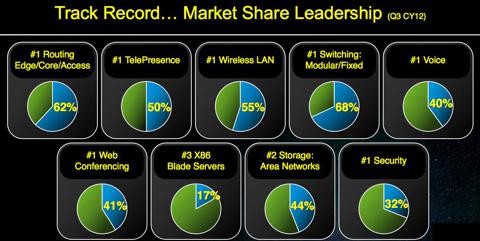 6. UCS servers are showing early signs of success. The segment has flourished into a $2 billion business with over 20,000 customers in the span of four years. This segment has a relatively low gross margin, but it has an strategic role as well: it allows Cisco to expand its presence in data centers and strengthens customer relations.
7. The "Internet of Everything" marketing concept is promising:
There are many things we do not know. For example, the current bullish macro trend in stocks could stop this year or not. Cloud computing could become a major challenge for Cisco or not. However, if there is something that we can be sure about, is the number of things connected to the Internet is increasing more and more, whether these things are smartphones or tablets, personal computers or data centers. Furthermore, there is plenty of room for growth. 99.4% of physical objects are still unconnected. Only about 10 billion of the 1.5 trillion things globally are connected.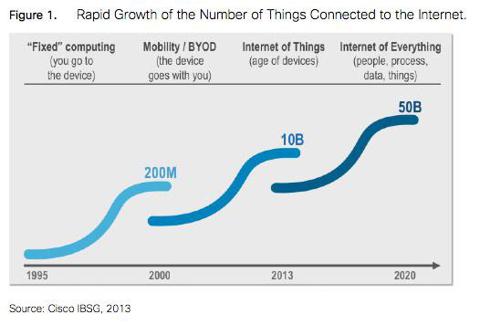 Cisco will take advantage of this trend via the "Internet of Everything" concept. They are using this market their products better.
According to this marketing campaign, people used to get connected to the Internet via fixed computing in the 90s and BYOD (Bring your own device,) and mobiles in 2005-2010. But the next wave of Internet growth has little to do with mobile: it will come through the confluence of people, process, data and things. This concept is called "Internet of Everything" (IoE).
IoE includes 3 types of connections: machine-to-machine (M2M), person-to-machine (P2M) and person-to-person (P2P). Several types of companies, from small factories to software vendors, healthcare and service providers, are already starting to migrate to IoE, in pursuit of better efficiency, as IoE takes connectivity to its maximum expression. By embracing IoE in your firm, you have everything connected all the time: people, data and things.
Under this concept, Cisco has made some impressive sales in the previous quarter:
- Turkiye Is Bankasi (Isbank), the largest bank of Turkey, deployed a Cisco® Borderless Networks and Collaboration infrastructure to enhance business agility, speed product and service development
- Telefonica Global Solutions, a leading global provider of telecommunication services for fixed and mobile carriers, ISPs and content providers, selected Cisco for its enhanced Internet Protocol Next-Generation Network.
- Cisco announced two new connected health offerings, Connected Health solutions and HealthPresence® 2.5.
For more information about this point, read the Cisco white paper on IoE.
8. Valuation: Cisco is simply too cheap to be ignored, considering that the recent bullish macroeconomic trend is making it harder for investors to pick value stocks. To confirm my point, I run a DCF valuation using Oldschoolvalue software under the following assumptions: a 10.0% growth rate for the next 10 years (the past 10 year average growth rate is about 10%), a 12% discount rate and a terminal growth rate of 3%. I obtain a fair value estimate of $33.82 per share, well above the current price of $21.10 per share. The following image contains the details of the DCF valuation, together with a sensitivity matrix.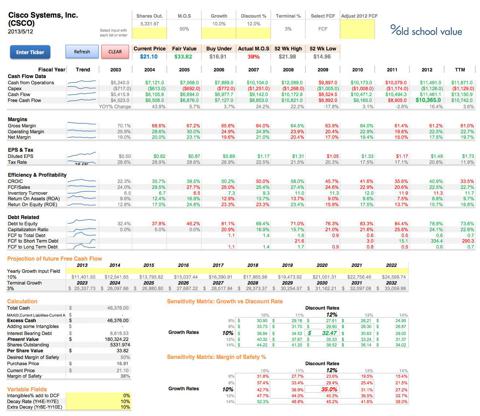 Final Remarks
Rate: Buy
Investment Horizon: 1 year
Price target: $30
Strategy: Value | Event-driven
Uncertainty: Low
Disclosure: I have no positions in any stocks mentioned, but may initiate a long position in CSCO over the next 72 hours. I wrote this article myself, and it expresses my own opinions. I am not receiving compensation for it (other than from Seeking Alpha). I have no business relationship with any company whose stock is mentioned in this article.