Shares of lead-acid battery maker Exide Technologies (XIDE) have been under pressure, to put it politely, the last several weeks on concerns over debt repayments and environmental issues related to a Vernon, California recycling plant.
For those of you who haven't followed Exide closely, on April 4th the stock plummeted nearly 50% after Debtwire reported the company had engaged Lazard to advise on a restructuring. The stock subsequently rebounded after Exide issued its own press release stating it retained Lazard to "advise the company on financing alternatives to maximize the value of the company for all stakeholders" and also reported it expected fourth quarter free cash flow to be $50 million versus a prior estimate of $30 million. Additionally, the company announced it had liquidity (cash and available credit lines) at March 31st of more than $230 million. This seemed to calm investor fears somewhat over a looming $56 million convertible debt payment due in September.
News of problems at one of its recycling facilities in California started to weigh on investors and came to a boiling point on April 24th when the California Department of Toxic Substances Control (DTSC), in a shocking move, suspended operations at the plant. Investors sold and asked questions later, driving shares down another 50% over the following days.
I'm not going to say everything is rosy at Exide. It's not, and it's reflected in the stock price. The question is, are things as bad as they seem and does the stock deserve to be punished so severely?
First, let's take a look at the debt issue as that's what really sent the stock down in the first place. Exide is highly leveraged, but leverage isn't necessarily a bad thing if you can get returns higher than your cost of capital. Exide hasn't so far, but it's also nearing the end of a companywide restructuring of operations that should start to bear fruit in the near term.
Exide's current run rate for debt expense is going to be about $70m a year. While that seems like a lot, consider that this is one of the largest battery producers in the world and does over $3 billion a year in revenue. The bulk of the debt is $674.2 million of 8.625% first-lien notes due in early 2018. Obviously, that is a lot of debt, but it's also not due until 2018. The debt payment that's due this year is a $56 million convertible note. It's likely Exide wants to refinance this note as it comes due during a period of traditional capital outflows to build inventory for the coming winter.
The hiring of Lazard is probably a sign the debt renegotiations were not going well, but doesn't necessarily mean the result will end in bankruptcy or catastrophic dilution like the stock is currently priced for. In fact, with $230 million in liquidity at March 31st and another $40+ million on the way from the sale of land in Texas, Exide could easily make the $56m payment if they had to. The other option would be some kind of debt for equity swap, which would not be good for shareholders, but is likely already excessively priced into the stock.
On the company's third quarter conference call, Exide's CFO discussed liquidity with an analyst.
"We talked about the $161 million of liquidity at December 31 and the free cash flow generation estimated at - in the $30 million range. I'm certainly comfortable with our current liquidity level. And as we move into fiscal 2014, we're clearly, as I indicated, going to be very mindful of cash as we approach the convert repayment. We are going to look to reduce our capital spending from the $50 million range that we had in fiscal 2013.

And as we enter the year with a higher-than-ideal level of inventory, my expectation is we'll use less cash in building inventory than we typically do in the first half of next year. So, again, comfortable; I think our liquidity's adequate and stable at this point in time to allow us to continue to operate this business and make the investments necessary."
I'm still scratching my head as to why the stock tanked 50% on the announcement of Lazard being hired. Nothing fundamentally changed except for the fact fourth quarter cash flow came in nearly double its original estimates. So if it was "comfortable" with the liquidity back in February, it should be even more comfortable now.
The debt issue took a nice chunk out of the share price, but you can blame the California DTSC for the trip to penny land. As I go back and do research now, there were rumblings in local California papers as far back as early March about excessive arsenic emissions from Exide's Vernon facility. Now I'm not sure which genius at Exide decided to build a battery smelting plant in one of the most regulated places on earth, but they quickly figured out those "Visit California" ads on TV don't apply to companies stripping down used car batteries.
The DTSC suspended operations at the facility on April 24th after they claimed a storm drain was leaking contaminated water into the soil. I'm still not convinced this is actually happening as I've watched the video of the storm drain inspection and it looks to me like the breeches in the pipe are at the top and therefore shouldn't be leaking anything into the ground, but I'm not an engineer. In Exide's defense, Vernon is not exactly Beverly Hills. It's home to about 112 people according to the 2010 census and is almost exclusively industrial. But that didn't seem to matter to the over-zealous politicians and Erin Brockovich wannabes who got good publicity for shutting down the big bad polluting giant. Not in my backyard. Now they only have to figure out what to do with 30 million used car batteries no one will take...
The suspension normally would not have been a big deal except for the fact Exide closed down the Frisco, Texas recycling plant in December and idled the Reading, Pennsylvania plant. It still is running recycling facilities in Missouri, Louisiana, and Indiana. Before the Vernon closure, Exide was able to produce 75-80% of its own lead requirements through recycling. Now that number is probably down to 60-65% and it has to go to the open market to buy even more of its lead requirements. The good news is that spot lead prices have come down considerably over the past few months from over $1.10 per pound in February to now just over $0.90.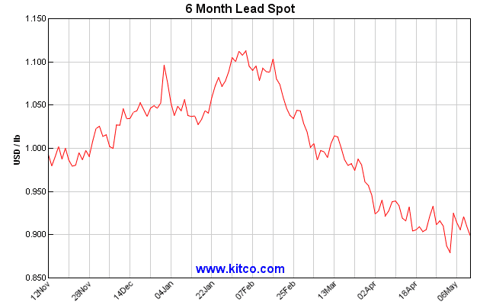 Shares rebounded slightly last week as Exide filed a plan of proposed fixes with the DTSC which essentially said they could fix the storm water drain problem in about nine days. Exide also filed a notice of defense in which they specifically denied every allegation in the DTSC's Order of Temporary Suspension and requested an emergency hearing for a temporary stay of the suspension order.
While the Vernon suspension is a set back, I don't see it as the type of problem that could be the proverbial final nail in the coffin. They may have to buy lead on the open market for a few months while the issues are sorted out, but they could probably absorb some of the loss by increasing output at the three remaining recycling facilities.
I decided to take a position in the company because I think the selling has been overdone compared to the actual information that has been released. There are still several issues Exide needs to work through, and I wouldn't be betting the farm here by any means, but the risk/reward metric is definitely attractive at the moment. Risk factors include a longer suspension at Vernon or an excessively dilutionary debt for equity swap. Potential catalysts for a higher stock price include a resolution at the Vernon plant or a refinancing of debt on favorable terms. I also wouldn't rule out Exide selling parts of the company to its main competitors EnerSys (ENS) or Johnson Controls (JCI). EnerSys competes with Exide in the industrial battery market and recently split a $100 million Navy contract with Exide back in March. Additionally, EnerSys is based in Reading, Pennsylvania where Exide currently has a lead recycling facility. Johnson Controls is more of a conglomerate, but competes with Exide in the automotive battery market.
There is still a lot of uncertainty surrounding Exide, but the problems do not seem unfixable. With the stock price below $0.90, I think Exide is a compelling speculative buy. As with all micro-cap stocks, one must exercise caution and should not invest more than one is willing to lose.
Disclosure: I am long XIDE. I wrote this article myself, and it expresses my own opinions. I am not receiving compensation for it (other than from Seeking Alpha). I have no business relationship with any company whose stock is mentioned in this article.
Additional disclosure: I am not a financial advisor. You should consult your own financial advisor before acting on recommendations to consider its suitability for your investment circumstances.