For those of you who have followed me over the years, you have seen me cover some stocks that have had very good returns. Some of those returns came from stocks that have been squeezed by short sellers covering their short positions on very positive developments.
Short selling hedge funds use everything at their disposal to create the fear that its targeted stock is about to take a hit and hope that long holders need to get out. That appears to be the game.
Recently, in the last few weeks, short sellers were squeezed on Barnes and Noble (NYSE:BKS), Green Mountain Coffee (NASDAQ:GMCR), Cheniere Energy (NYSEMKT:LNG), BlackBerry (NASDAQ:BBRY), Boyd Gaming (NYSE:BYD), and a few others.
Another highly shorted stock that I have followed over the past year has just hit my radar again over the last week, called VirnetX (NYSEMKT:VHC). It has a very large short position too. I have personally traded the stock a few times and never lost money on it by buying the extreme bear raid slams, then profiting for the strong reversals back up. From what I see, this trading pattern is setting up once again. Please see the chart below for more.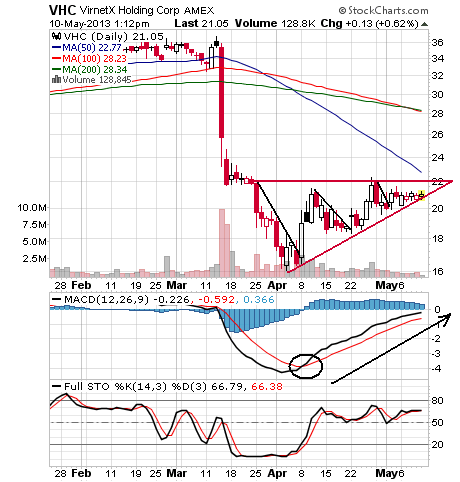 Following up on a recent article that I wrote where I stated on February 26, 2013, with regards to Case No. 6:10-CV-417 VirnetX , Plaintiff vs. Apple (NASDAQ:AAPL), Defendant a memorandum opinion and order was delivered by Judge Leonard Davis in favor of VirnetX.
The follow key factors were released and confirmed by the company:
The jury verdict was upheld for $368,160,000 in favor of VirnetX for infringing on its U.S. Patents which describe a method of transparently creating a virtual private network ("VPN") between a client computer and a target computer. Other patents disclose a secure domain name service. Both products developed by VirnetX establishes secure communications.

Apple's request for a new trial as a Matter Of Law under Rule 50(b) was denied.

A daily award to VirnetX in the amount of $330,211/day will be paid to VirnetX immediately until everything regarding the royalties are rectified and all details are settled between each of the two parties.
Also, it has also re-filed another lawsuit against Microsoft (NASDAQ:MSFT) as outlined in my May 1, 2012 article pertaining to Skype, a company acquired by Microsoft for $8.5 billion in 2011.
So what's going on here?
Well, for those monitoring VirnetX, a key patent holder of 4G (fourth generation) technology, a real time short squeeze alert has been triggered. If VHC moves higher, which is a strong possibility, a short squeeze could occur whereby algorithmic buy programs could kick in, followed by momentum buyers sending the shares a lot higher in the coming days. The significance here is that there are approximately 15,608,300 shares that have been shorted at the volume weighted average squeeze trigger price is believed to be about $21.25.
While there is no guarantee of a squeeze, it is entirely possible that because of new licensing deals or imminent positive news based on the recent apple ruling that any positive news this week could send the shares significantly higher. we are waiting on Judge Davis to give us his final ruling on the VirnetX case as you may already be aware.
The last time the Judge ruled in favor of VirnetX the shares shot up more than $7.71 or 29%, This verdict was announced on November 6, 2012.
In Summary:
I often look for stocks that have been taken to the woodshed on what I believe to be orchestrated bear raids with companies that present real value. Not to over talk any prior successes, I have seen this with Questcor (QCOR), VIVUS (NASDAQ:VVUS), as well as, other highly shorted stocks that I have mentioned earlier. Where VirnetX is involved, one cannot overlook that there is still approximately $330,000,000 of potential short covering in VHC shares that needs to be covered (at least in part). If and when the covering starts, a huge potential upside movement may occur like investors just saw in Green Mountain Coffee last week for those willing to take the risk. Of course trading VirnetX would not be suitable for everyone.
Lastly, I feel that a positive stock reversal came in on VirnetX just recently at around $18 per share. You will see that the stock has advanced and reports show that approximately 500,000 shares have been covered in the process. More short covering may trigger even higher prices, so we will need to keep a close eye on the stock over the next few days. Like I said before, many more shares are in imminent danger of being squeezed on positive catalysts or news that may come at almost any time.
Some due diligence notes:
VirnetX Holding Corp - VirnetX Holding Corporation develops software and technology solutions for securing real-time communications over the Internet. It is engaged in 4G LTE (Long Term Evolution) and secure Internet software. As an "essential" patent holder, VirnetX holds over 47 U.S. and international patents and over 100 pending applications. It is attempting to monetize its Internet and wireless patent portfolio.
The company's software and technology solutions include domain name registry and GABRIEL Connection Technology, which provide security platform for Internet-based applications, such as instant messaging, voice over Internet protocol, mobile services, streaming video, file transfer, and remote desktop. It also intends to provide a portfolio of licenses and services comprising VirnetX technology; GABRIEL Connection Technology software development kit, including object libraries, sample code, and testing and quality assurance tools, as well as documentation support services required by customers to implement the company s technology; domain name registrar service; technical support; and secure domain name master registry and connection services. The company serves original equipment manufacturers in the Internet protocol telephony, mobility, fixed-mobile convergence, and unified communications markets. VirnetX Holding Corporation was founded in 2005 and is headquartered in Zephyr Cove, Nevada.
Disclosure: I am long VHC, VVUS. I wrote this article myself, and it expresses my own opinions. I am not receiving compensation for it (other than from Seeking Alpha). I have no business relationship with any company whose stock is mentioned in this article.