Shares of Nvidia (NASDAQ:NVDA), a leading player in the graphics processor market, reached a nine-month high last Friday, after rising 4%+ due to better than expected fiscal Q1 revenue results. This article introduces our coverage by providing an overview of the latest earnings call. We finish the article with a discussion about current momentum, our valuation and traditional final remarks.
(click to enlarge images)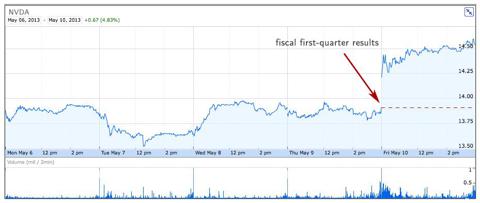 Click to enlarge
Earnings Call: The Good
- Profitability increasing: Gross margin came in at 54.3%, versus 52.9% in the previous quarter. However, operating income came in at $83 million, down from $184 million last quarter:
We achieved record gross margins this quarter, now in the 54% range, up 1.4 percentage points sequentially and up 4.2 percentage points year-over-year. There are always puts and takes but this improvement reflects our richer mix of higher margins products as well as the underlying value of our GPUs in the marketplace and our focus on cost.
- Excellent balance sheet and tax position. Cash at the end of the quarter was $3.71 billion. $175.7 million in cash was generated from operations and $110 million in free cash flow.
- More cash returns on the way, both in dividends and repurchase programs. $1 billion to be returned in FY2014. A $100 million repurchase coming in Q1. For this fiscal year, expect $750 million-plus in repurchases. Naturally, this step is not enough to get the shares up, but it will help to improve investor sentiment in the short term because it shows the company is committed to regular return of capital to shareholders.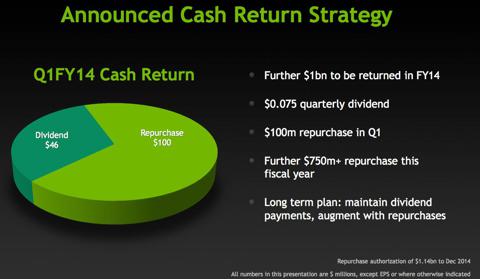 Click to enlarge
Earnings Call: The Bad
- Revenue fell sequentially once more but there is an explanation for that. Specifically, one of the most promising businesses, the Tegra segment (which consists of processors for smartphones, tablets, game console graphics and Icera chip products) saw revenue fall 51% from the previous quarter and down 22.2% year-over-year, but the drop is due to mobile device makers changing Tegra 3 processors for Tegra 4 chips. In the words of Karen Burns, CFO:
"The revenue decline over both periods reflects this impact. Sales volume of Tegra 3 processors declined as customers began to ramp down production of Tegra 3 base mark phones and tablets. We expect this to continue in to the next quarter as customers start to announce Tegra 4 design with further new designs and phone ramp starting in the second half of the year."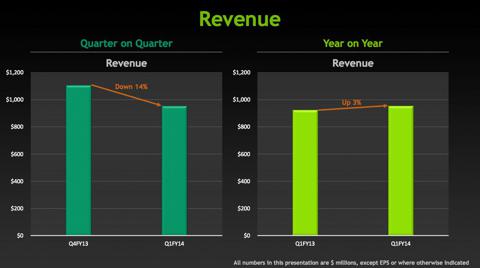 Click to enlarge
The Q2 revenue guidance is consistent with the explanation provided for the revenue decline in the first quarter. Revenue is expected to be up about 2% quarter-over-quarter. GPU segment is expected to perform better than that, while the Tegra processor segment is expected to be lower. Tegra 4 should start offsetting the negative effects of Tegra 3 sales by Q3.
Earnings Call: The Ugly
Truth be spoken, I do not see anything ugly. The earnings call confirmed that a majority of sales still come from the maturing PC industry, but it is also important to notice that Nvidia is giving a lot of strength to the phone market. Those who think that the role of Nvidia is limited because the two main players in the high-end phone market (Samsung and Apple) have their own application processors are not aware of the current strategy the firm is taking. Jen-Hsun Huang, Co-Founder and CEO, explains:
We believe that we can add value to the phone market by building an application processor that has the features and capability of a super phone, but the price of the mainstream phone, and that's the reason why we targeted the segment that is currently Snapdragon 400.
By targeting the right segment, we believe that Nvidia will manage to position and market the Tegra 4i quite well in the next two quarters. Keep also in mind that the firm has won many design awards in mobile devices with its Tegra series. Tegra 4 is the highest performance application processor in the marketplace.
Tegra and Nvidia i500 are excellent products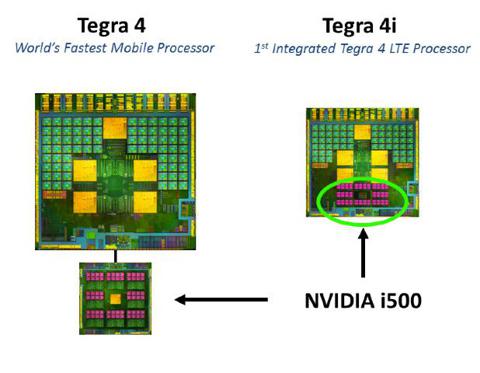 Click to enlarge
Both the Tegra 4 and Tegra 4i products rely on the NVIDIA i500 LTE modem, an excellent piece of technology: it supports the latest wireless protocols, its is quite flexible, it has a smaller die size, consumes lower power and offers better implementation flexibility compared with traditional LTE modems. It's easy-to-market technology, as it has been configured in order to make it easy for carriers to update modem features and "take advantage of performance-improving algorithmic innovations" through over-the-air updates, as a recent Nvidia white paper mentions.
We are talking about an excellent product. But what is more important is that by giving emphasis to the Tegra series, Nvidia is diversifying its product portfolio and reducing the exposure to fierce competition in the GPU segment, where Advance Micro Devices (NYSE:AMD) and Intel (NASDAQ:INTC) are constantly innovating. Although the business is showing a slow start, I believe in the long term potential of this particular product. We finish this part by quoting Jen-Hsun Huang's reply to a question about the trajectory of the Tegra for the back half of the year:
"The Tegra 4 is a great device. It's a processor (...) But one of the areas that is becoming more common is our automotive business. It doubles every year. It is going to double this year again. It will continue to double with the current design wins that we have in FY16, it should peak at about $450 million and so. So this is an important business for us. We are just becoming more diversified in our Tegra business."
Momentum
There is a bullish pattern active since the beginning of April. The 4.53% increase on Friday caused an excellent improvement in upward momentum, with the RSI index and the MACD index increasing faster.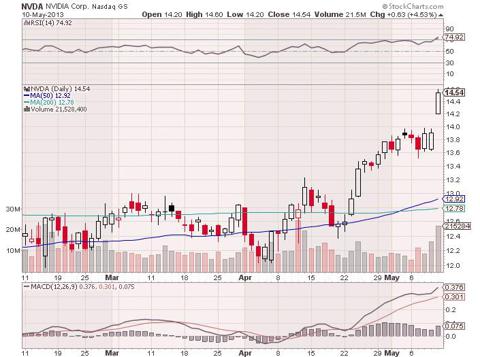 Click to enlarge
Valuation
I believe that Nvidia's Tegra 4 processor will offset the recent revenue decline caused by the maturity of the computer industry. Therefore, in the DCF I run using Oldschoolvalue software, I use the 10 year average growth rate for the following 10 years and a terminal growth rate of 3%. Considering that Nvida is in excellent financial condition, I use a 12% discount rate. These assumptions lead me to a $20.27 per share fair value estimate. Furthermore, using a sensitivity matrix, I find that even if we assume lower growth rates for the next years, the fair estimate price would still be well above the current market price. Click on the image for more details: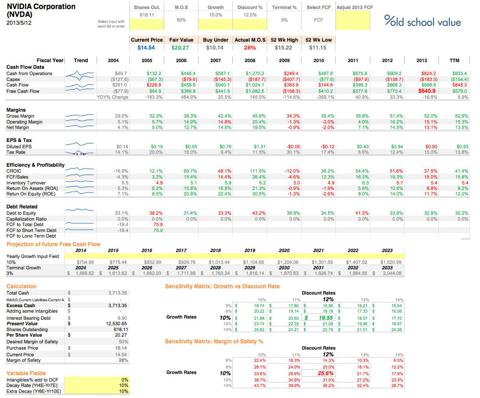 Click to enlarge
Final Remarks
Price target: $20
Rating: Buy / from N.A
Investment Horizon: 1 year
Uncertainty: Medium
Disclosure: I have no positions in any stocks mentioned, and no plans to initiate any positions within the next 72 hours. I wrote this article myself, and it expresses my own opinions. I am not receiving compensation for it (other than from Seeking Alpha). I have no business relationship with any company whose stock is mentioned in this article.