Salesforce.com (NYSE:CRM) is and has been a stock market darling since it went public. Trading at over 8 times sales and an incalculable multiple of earnings, the market has been kind to CRM shareholders. The stock price increased from less than $10 a share in 2009 to over $40 a share today, a blistering four-to-five fold return. Shareholders have every right to be happy. What is there to criticize with that kind of performance?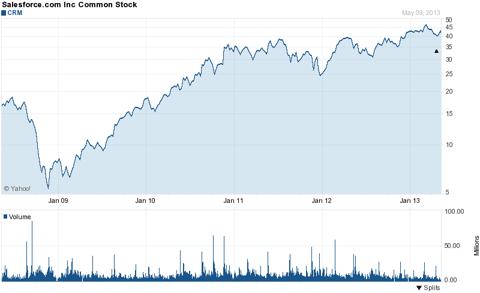 Click to enlarge
(Click to enlarge)
As I see it, there is a lot to be concerned about. First and foremost Salesforce.com has a very poor record of profitability. In the past 3 years, Salesforce.com has been profitable only once and has a cumulative net income of negative $218 million.
Salesforce.com Income Statements
Over the past 2 years Salesforce.com has incurred losses of more than $218 million.
Salesforce.com Reported Results

(January 31 year end)

2013

2012

2011

($ 000,000's)

Revenue

$ 3,050,195

$ 2,266,539

$1,657,139

Operating income

-$ 110,710

-$ 35,085

$ 97,497

Net Income

-$ 270,445

-$ 11,572

$ 64,474
During the same interval, Salesforce.com officers and directors have been exercising their options and selling the underlying stock. In total, these sales by insiders have returned a total of $1.3 billion as set out below:
Proceeds from sale of Salesforce.com Stock by Insider
| | |
| --- | --- |
| Marc Benioff | $ 684,300,006 |
| Craig Ramsey | $ 414,420,632 |
| Alan Hassenfeld | $ 32,626,926 |
| Parker Harris | $ 30,752,581 |
| Frank Van Veenendaal | $ 30,726,207 |
| Graham Smith | $ 26,634,041 |
| Hilarie Koplow | $ 9,889,662 |
| Sanford Robertson | $ 8,659,537 |
| Maynard G Webb | $ 3,645,640 |
| Maria Martinez | $ 2,641,120 |
| Burke Norton | $ 2,604,438 |
| Craig Conway | $ 1,961,545 |
| Shirley Young | $ 1,839,910 |
| George Hu | $ 1,603,746 |
| Stratton Sclavos | $ 591,280 |
| Daniel Crump | $ 134,881 |
| Lawrence Tomlinson | $ - |
| | $ 1,253,032,152 |
Source: Edgar filings listed on Yahoo.com Finance
It is not a new game. Management awards itself sizeable stock options and promotes the stock with elegant presentations, forecasts of continued growth and assurances of future profitability. Compensation committees meet regularly and with the assistance of consultants in executive compensation bandy about words like "alignment with shareholder interests" and "incentive compensation against measurable results" and fashion a compensation package that provides the chief executive office and some chosen lieutenants with a package of salary, bonus, stock options, restricted stock awards, and other benefits to be certain the company is "competitive" and does not risk losing its key talent to competitors. It sounds terrific.
And, in many companies it works well. Management receives more than satisfactory cash compensation and looks to long term appreciation of capital as the share price grows to reflect increases in profits and cash flows. Options are exercised only when they are close to expiry and the managers sell only a sufficient number of shares to pay their tax bill, keeping the remainder of their shares to ensure their interests are the same as those of shareholders and to express confidence that they will over time build an institution of significant value.
In other companies, it is a game of chance with only one winner - management. Options awards far outstrip any sensible compensation, and the managers both aggressively promote the stock while at the same time selling every share they can sell as soon as they are eligible to do so, and persuading their compensation committee to replace the sold shares with new options to keep the game going.
The test of which kind of company you are invested in is a simple one - calculate what percentage of the cumulative profit before stock options and bonuses the managers receive over a reasonable period of time, and if there is a common sense fairness to the sharing of the rewards, you are invested in one of the first companies - one where the compensation system works well.
But if you do the same arithmetic and find that management compensation is not a share of cumulative profits but a multiple of them, run for the hills. Sooner or later, such a company will bite you. I think Salesforce.com is such a company. Management owns less than 3% of the company but takes out more than 100% of its profits.
Does management work for the company or does the company work for management? You decide. I am short the stock.
Disclosure: I am short CRM. I wrote this article myself, and it expresses my own opinions. I am not receiving compensation for it (other than from Seeking Alpha). I have no business relationship with any company whose stock is mentioned in this article. I am also short puts below the market as a hedge. I have shorted puts below the market several times to date and collected substantial premiums.