With our ever increasing life expectancies, and the complexities of our modern world, it's no surprise that in the United States and elsewhere in the world, women are choosing to have children later in life. Unfortunately, biology is not forgiving to this postponement, and many women experience difficulties when attempting to conceive at a later age. While there is a multitude of technology available to assist them in conceiving, the majority of the time it fails, or has unintended consequences.
One company, OvaScience (NASDAQ:OVAS), is attempting to change the standard in this field, but before you can understand how, you need to understand the current state.
Average Age of Conceiving
According to the latest available survey by the CDC:
In 1970 the average age for a woman having her first child was approximately 21 years old,
This has risen to 25 years old in 2006, and is undoubtedly still trending upwards.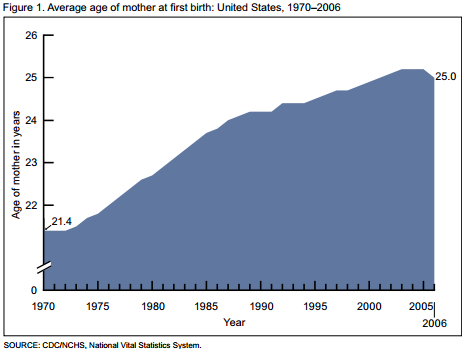 Why this is significant:
As women age, their chance of conceiving naturally significantly decreases, and their likelihood of infertility increases. The statistics are quite blunt.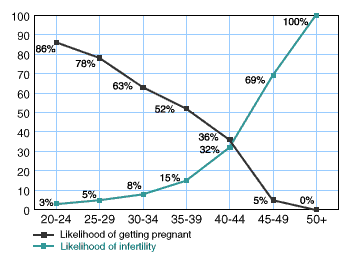 At age 20, the likelihood of conceiving naturally is approximately 86%,

At age 30, the likelihood of conceiving naturally is approximately 63%,

At age 40, the likelihood of conceiving naturally is only 36%,
What causes this:
One of the major underlying causes lies in the principle fact that the quality of a woman's eggs decline with age. In many instances, this decreased egg quality is the result of inadequate amounts of energy which is required for all functions of the egg, especially during times of rapid cell division and early embryo growth. This cellular energy, known as adenosine triphosphate or ATP, is produced by mitochondria.
The Current state of infertility treatment:
When the first line treatments available, including fertility drugs and intrauterine insemination fail, many women turn to what is known as ART or Assisted Reproductive technology. This generally refers to any fertility treatment involving the handling of both eggs and sperm, to include In-vitro Fertilization.
In-vitro fertilization, or IVF is the most common type of ART, with approximately 99% of the ART procedures performed in the United States in 2011 involving IVF. While popular, these IVF procedure have several significant shortcomings, including:
Low live birth rates and high number of cycles.

According to the CDC, of the 147,260 ART cycles performed in the United States in 2010, only 47,090, or 32%, resulted in live births.

High incidence of multiple births.

In an IVF procedure, it is common practice to transfer several embryos into a woman's uterus in an effort to increase the success rate. However, multiple transfers are also responsible for a high multiple birth rate.

According to the CDC, in 2010, there was a 30% rate of multiple births for ART pregnancies. This rate is significantly higher than the 3% rate the CDC reports for multiple births from natural pregnancies in the general United States population.

High cost of treatment.

The average cost to a patient in the United States for a single IVF cycle is approximately $16,000, according to studies detailed in Human Reproduction Update (2010), as adjusted for inflation. However, a study published by Nachtigall et al. in Fertility and Sterility (2012) found that, depending on the IVF clinic, the cost of one treatment cycle can exceed $25,000.

Since patients frequently require more than one cycle, the IVF cost per live birth can exceed $50,000.
Where OvaScience comes into play:
OvaScience is a life sciences company focused on the discovery, development and commercialization of new treatments for infertility. Its first product candidate, AUGMENT, is attempting to treat infertility due to poor egg quality.
As previously discussed, Mitochondria are the primary source of cellular energy from within eggs, and this energy is a key determinant of egg quality. With Augment a woman's eggs may be rejuvenated by injecting fresh mitochondria isolated from her own egg precursor cells into her egg during IVF. This has the potential to improve egg quality and thereby increase the success of IVF.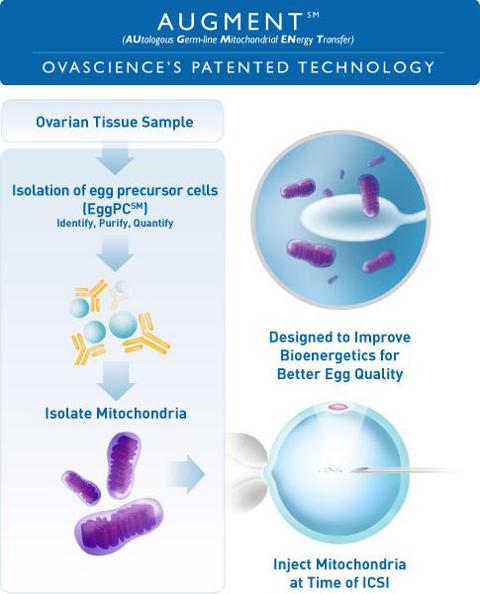 Augment has significant potential to improve IVF by:
Increasing live birth rates and reducing the number of IVF cycles.
Improving the quality of the egg used in the IVF process should increase the percentage of IVF treatments resulting in live births and, in so doing, reduce the number of IVF cycles required to achieve a successful birth.
Reducing the incidence of multiple births.
By providing higher quality eggs, the need to transfer more embryos per IVF cycle will be reduced, and as result, lower the incidence of multiple births and the associated complications for the mother and baby.
Lowering the overall cost of IVF.
If we reduce the number of IVF cycles required for a live birth and the incidence of multiple births, we believe our treatments may also lower the overall costs associated with IVF.
AUGMENT progress to date
In late 2012, OvaScience initiated its AUGMENT Study in humans to determine AUGMENT's safety and effectiveness, and have initiated commercial preparations for AUGMENT. Assuming the final results of the AUGMENT Study are positive, OvaScience plan to begin generating revenues from AUGMENT in the second half of 2014.
As of February 1, 2013, OvaScience has initiated this study in two IVF clinics, and expect to be able to analyze preliminary pregnancy rate data in late 2013.
A unique note in this circumstance is that it appears human testing or commercialization of AUGMENT will not require pre-market approval of the U.S. Food and Drug Administration, or the equivalent regulatory authorities in certain other countries.
Potential Market
Estimated gross revenues reported by IVF clinics in the United States were $1.7 billion in 2008, as compared to $250 million in 1990, and despite this growth it appears that IVF continues to be underutilized. According to the CDC approximately 1.2 million women sought fertility treatment in the United States in 2002, however, fewer than 100,000 women are treated with IVF annually. If the success rates can be improved with Augment this has potential to be a major breakthrough in fertility treatment.
The U.S. is just a small piece of the overall potential market however, and if proven to be successful the global market is over 10x bigger, and growing.
Conclusion
OvaScience's AUGMENT has the potential to completely change In-Vitro fertilization, the most popular form of Assisted Reproductive Technology by a long shot.
If it proves successful it will capitalize on the large U.S. market, and has the potential for global application, boosting its potential revenue tenfold. It's boost in effectiveness will also make it a more appealing and cost effective measure for women seeking treatment, which will in turn increase the numbers of IVF cycles per year.
Best of all, this play doesn't have the typical risk associated with Biotech/Biopharmas, as it appears human testing or commercialization of AUGMENT will not require pre-market approval of the U.S. Food and Drug Administration, or the equivalent regulatory authorities in certain other countries.
OvaScience has been trading under the ticker OVSC.OB until April 30, 2013, when it was listed on the Nasdaq. Currently trading at $11.21 I highly recommend watching this company closely, if the preliminary pregnancy rate data in late 2013 is positive this stock will skyrocket.
Disclosure: I have no positions in any stocks mentioned, and no plans to initiate any positions within the next 72 hours. I wrote this article myself, and it expresses my own opinions. I am not receiving compensation for it (other than from Seeking Alpha). I have no business relationship with any company whose stock is mentioned in this article.