An increase in coffee or roya leaf rust in Central America has generated concerns on how it could have an effect on coffee production in the region, as well as the resultant coffee prices that may accompany any possible shortages.
It must be understood that the coffee rust problem is in relationship to Arabica coffee plants and not robusta coffee. Arabica coffee is what is usually offered in coffee stores. Robusta coffee is normally associated with instant coffee, although "premium robusta" can be found in specialty espresso blends at retail outlets. In this article, the primary focus will be on arabica coffee.
An interesting change in the instant coffee market should provide another growth area for arabica beans, as the increasing demand for soluble coffee has resulted in businesses adding arabica beans to robusta beans to create a higher quality blend. That will boost demand for arabica beans even higher as the price of some arabica beans move closer to the price of robusta beans.
With coffee retailers improving their instant coffee mix with arabica beans, it could deteriorate some of the robusta bean demand even as soluble coffee demand surges.
On the other hand, the reverse has been happening with roasters, who are blending their drinks with robusta beans to combat price-sensitive customers. How that will end up playing off against one another isn't known yet with this relatively new trend.
Beans grown for use in instant coffee demand have increased by 30 percent since 2008. With the exception of Brazil, the majority of robusta beans are grown in Africa or Asian countries.
Top Coffee Producing Countries
Another piece of information potential coffee investors need to know is how the top coffee producers are listed. One list will be of all coffee producers, which means it includes arabica and robusta production together. Another list could represent one or the other.
The lists below, from 2011, show the top coffee producers and the number of bags (132 pounds) they produce. Usually when a list is made, it is based on overall coffee production including all coffee bean types. That is represented by the first list. When looking at arabica and its effect on the market, it's crucial to look at the countries represented by the second list and what's happening in them that could affect the sector. As you can see, some countries only grow arabica beans commercially, such as Columbia and Honduras. You can identify them by comparing the top two lists against one another. Those with the same numbers only grow arabica beans.
All Coffee Beans
| | | |
| --- | --- | --- |
| 1) | Brazil | 54,500 |
| 2) | Vietnam | 18,725 |
| 3) | Colombia | 9,500 |
| 4) | Indonesia | 9,325 |
| 5) | India | 5,100 |
| 6) | Ethiopia | 4,400 |
| 7) | Honduras | 4,000 |
| 8) | Peru | 4,000 |
| 9) | Guatemala | 3,910 |
| 10) | Mexico | 3,700 |
Arabica Beans
| | | |
| --- | --- | --- |
| 1) | Brazil | 41,800 |
| 2) | Colombia | 9,500 |
| 3) | Ethiopia | 4,400 |
| 4) | Honduras | 4,000 |
| 5) | Peru | 4,000 |
| 6) | Guatemala | 3,900 |
| 7) | Mexico | 3,500 |
| 8) | Nicaragua | 2,000 |
| 9) | El Salvador | 1,700 |
| 10) | Costa Rica | 1,575 |
Robusta Beans
| | | |
| --- | --- | --- |
| 1) | Vietnam | 18,150 |
| 2) | Brazil | 12,700 |
| 3) | Indonesia | 7,950 |
| 4) | India | 3,600 |
| 5) | Cote d'Ivoire | 2,100 |
| 6) | Uganda | 1,900 |
| 7) | Malaysia | 1,000 |
| 8) | Thailand | 900 |
| 9) | Cameroon | 525 |
| 10) | Togo | 525 |
Coffee Demand and Supply in a Roya Leaf Rust and Price-Sensitive Environment
In April, the price of arabica against robusta beans narrowed to a four-year low of 35 cents, but analysts and investors believe it'll have to tighten more before arabica demand jumps.
As for the roya leaf rust scenario, it's not the short-term effect that could end up with contracting arabica supply, as much of the crop has already been harvested this season. It's the longer-term effect that would make a difference in price, and that's what needs to be watched by investors. In that regard, supply isn't a problem in the near term, and rust shouldn't have any meaningful impact.
With the Brazil harvest about to get under way, the price of arabica futures could fall to as low as $1.20 a pound, according to Oscar Schaps, global head of soft commodities at INTL FCStone.
For now only about 2 percent of global coffee production is affected by the coffee fungus. That could change significantly over the next 6 months to a year. This is why the market has largely ignored the problem.
Brazil, which is by far the largest producer of arabica beans, has an abundance of supply this year, which has kept the price of the gourmet coffee bean down. That and the acceptance of robusta blends allows outlets to serve up less expensive brew to consumers.
The surging coffee exports from Asia is also putting downward pressure on coffee prices, the majority of that supply being robusta beans. In the last half year, Asian exports have jumped 13.9 percent higher while South American exports dropped 2 percent.
Nonetheless, that also could change because the next cycle could see robusta certified stocks in Vietnam and Indonesia drop on surging demand.
In the short term, the coffee rust situation will have little if any impact on prices. As time goes on though - probably in the fall of 2013 and early part of 2014 - roya leaf rust damage could result in an impact on arabica coffee prices which drive them higher.
Increased demand for coffee is coming from emerging markets, where a boost in disposable income has resulted in more coffee drinkers.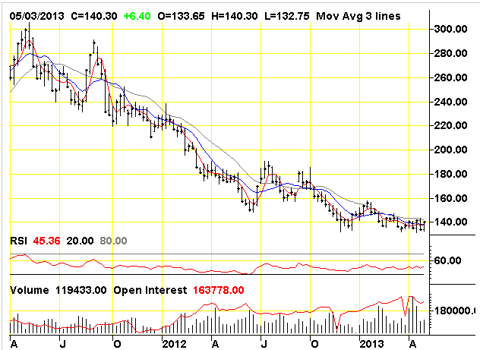 Click to enlarge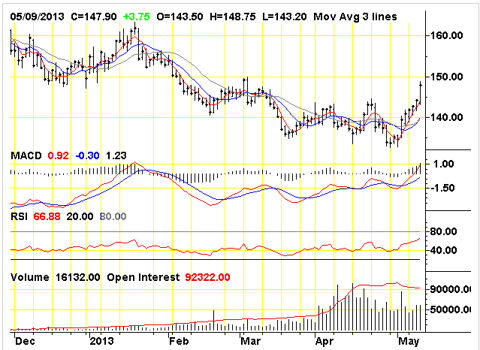 Click to enlarge
Impact of Roya Leaf Rust
As of time of this writing, the major impact of roya leaf rust is in Central America. Approximately 25 percent of the coffee crop in the region has been destroyed by the fungus; the worst outbreak since 1976, according to the International Coffee Organization.
Including Mexico, coffee production has dropped by 15.2 percent year-over-year, to 17.2 million bags. A 53 percent incidence has occurred so far.
Mexican coffee growers say coffee rust could affect as much as 30 percent of domestic production by the end of MY 2013-2014. Losses could surpass $480 million. The country is hoping aggressive steps will help in limiting the potential damage.
The ICO says exports from Guatemala will plunge from $960 million for the 2011-2012 crop to $350 million for the 2012-2013 crop. Honduras, the largest Central American coffee producer, could lose as much as 1.7 percent of its annual gross domestic product.
In El Salvador, it is estimated 40 percent of the coffee crop could be lost from the disease.
At this time, production from Brazil and Colombia are expected to make up for shortages, but there are some concerns in those markets as well, including the current strike in Colombia. Brazil raised its exports by 11 percent in March, 2013.
All of this is secondary to the more important long-term threat, which is the abandonment by workers of the coffee industry in the region, which would be difficult to replace if they migrate elsewhere.
Concerning the strike in Colombia, that hasn't had any adverse effect yet because of a significant amount of stored coffee beans. If the strike lasts into the summer months, lack of production would have an adverse effect on the arabica coffee market.
Even after raising subsidies on coffee, coffee farmers continue to protest because they demand price controls on their beans, wanting the government to enforce a minimum price. In the past that was the practice, and farmers want it reinstated.
As mentioned earlier, the seasonal coffee crop has been harvested for the most part in Central America, so it's the months ahead that will be most challenging and important concerning arabica coffee beans.
Challenges in Brazil Delivering Coffee
A secondary but important factor in the supply of arabica coffee is in the ability of Brazil to successfully deliver it to markets in the short term. That could alter the price scenario if it becomes a bigger problem.
The lack of infrastructure has resulted in the more important Brazilian ports being tied up. If those challenges aren't resolved soon, it could be bullish for arabica. Over the past several months, it has been a disaster.
Low demand at this time could temper that, but it's still an important part of the narrative.
Another factor for Brazilian coffee is the premium built into the price of coffee when the cold season arrived. A recent cold front approaching freezing temperatures, along with coffee rust, has pushed up the price of coffee over the last week.
Coffee ETFs One Way to Play the Coffee Trade
One the simplest and most profitable ways to invest in coffee is through coffee ETFs. The more pure plays are the iPath Dow Jones-AIG Coffee Total Return Sub-Index ETN (NYSEARCA:JO) and the iPath Pure Beta Coffee ETN (NYSEARCA:CAFE).
Both of these ETFs are a proxy for the market price of coffee.
The two funds represent exposure to unleveraged futures contracts. Even so, there are some significant differences, including the iPath DJ AIG Coffee TR Sub-Index rolling its future holdings on a monthly basis. The iPath Pure Beta Coffee ETN operates in a way to minimize the impact of backwardation and contango.
If a more liquid investment appeals to you, the iPath Pure Beta Coffee ETN is a superior investment option. It's also easy to understand.
iPath Dow Jones-AIG Coffee Total Return Sub-Index ETN - 3 Months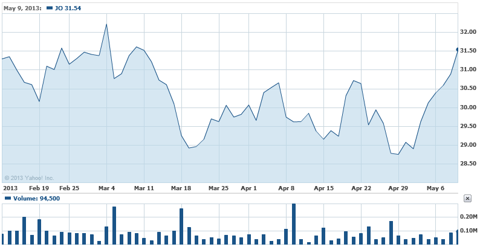 Click to enlarge
iPath Dow Jones-AIG Coffee Total Return Sub-Index ETN - 1 Year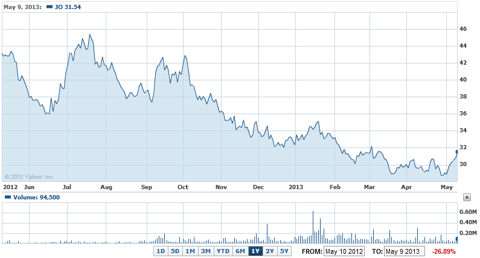 Click to enlarge
iPath Pure Beta Coffee ETN (CAFE) - 3 Months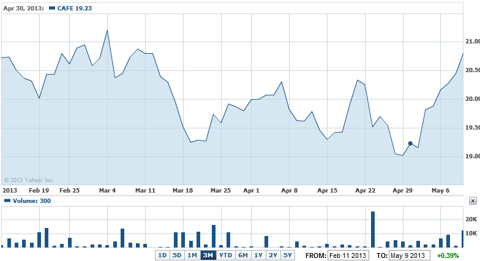 Click to enlarge
iPath Pure Beta Coffee ETN - 1 Year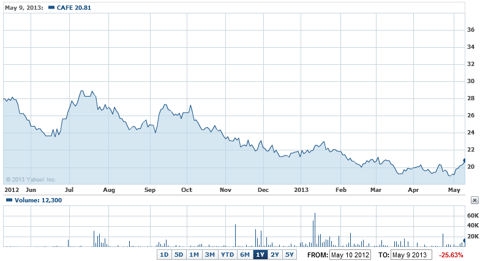 Click to enlarge
For those preferring coffee as part of a basket of soft commodities, the PowerShares DB Agriculture Fund (NYSEARCA:DBA) and iPath DJ-UBS Agriculture TR Sub-Idx ETN (NYSEARCA:JJA) are good options. With both of them, it's important to check on the commodities being held in the funds, along with the percentages of each one as part of the overall makeup of the holdings of the funds.
PowerShares DB Agriculture Fund - 1 Year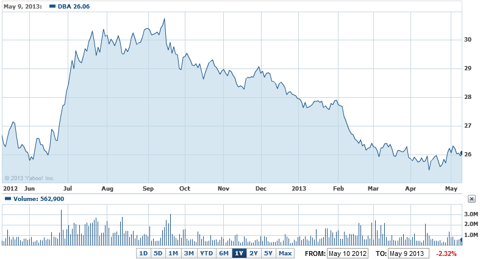 Click to enlarge
iPath DJ-UBS Agriculture TR Sub-Idx ETN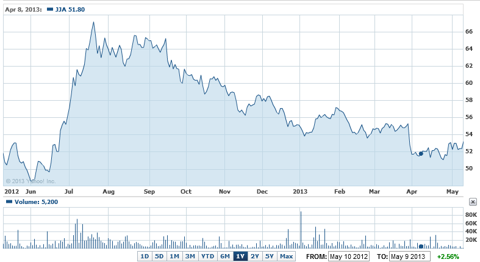 Click to enlarge
I'm not as bullish on these as the pure coffee ETFs play, because some commodities are getting hit harder than others, making the coffee holdings in the funds less effective. These can do well if the weightings of the commodities in the funds reflect other potentially bullish commodity segments.
Technical Indicators
Among the technical indicators pointing to the probability of higher coffee prices are the record levels at which traders are shorting coffee. If coffee prices do rise, the need to close their positions should push up the price of coffee.
In other words, coffee is in that hated stage from an investment point of view, and that is good news for us.
Other buy signals include deferred bull futures spreads and the money flow indicator. Together they seem to point to buy signals not only in the short term, but in the long term as well.
Historically these types of signals usually occur at the early part of a bull market.
Coffee Stocks
Coffee stocks like Green Mountain Coffee Roasters, Inc. (NASDAQ:GMCR), Starbucks (NASDAQ:SBUX), and Dunkin' Brands Group, Inc. (NASDAQ:DNKN) will do well if the price of coffee rises. They've been doing well over the last year or so even when it hasn't. Those that were hoping for a pullback at the end of 2012 and early 2013 have been disappointed, as these service companies have continued to soar in share price from the last quarter of 2012, as you can see in the charts below.
Green Mountain Coffee Roasters, Inc.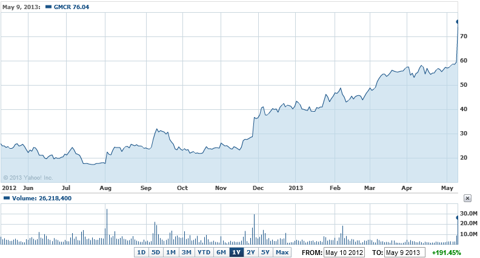 Click to enlarge
Starbucks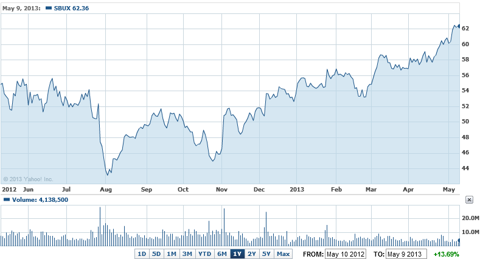 Click to enlarge
Dunkin' Brands Group, Inc.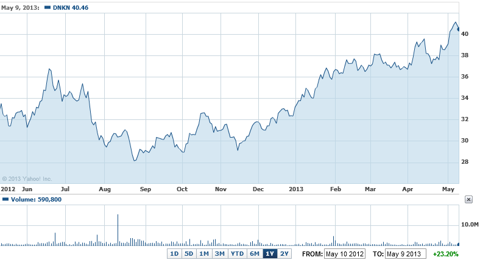 Click to enlarge
One thing inexperienced investors don't understand at times is just because a stock or sector continues to rise, it doesn't mean it won't go higher. I think in the current bullish market, with the price of coffee likely to go up even higher, there is still room for heavily exposed coffee companies to run.
The beaten down ETFs are probably a way to go to get more upside, but the three companies here look pretty strong going forward. As usual, dips offer opportunities to buy up more shares.
A good cup of coffee is still in favor, as consumers and investors continue to have at least a decent outlook on where things are going, although we'll have to watch sentiment closely.
Exposure to emerging markets with a growing middle class is also a big part of the story for each company. Coffee consumption in these markets grew by about 10 percent in 2012, and is sure to increase going forward.
Where arabica coffee matters with these stocks is if the price of coffee does continue to rise, the margins, along with earnings, will rise with them. That of course will lead to the share price of each company climbing even higher.
Conclusion
At this time, because of coffee reserves, roya leaf rust shouldn't be much of a factor in the short term. It's also why disruptions like the strike in Colombia and cold weather haven't had a big effect on coffee prices, although they have been up lately.
Demand for coffee continues to rise unabated, and consumers are not going to stop drinking their java. Emerging markets consumed 27.9 million 60kg-bags of coffee in 2012, while mature markets consumed 60.6 million 60kg-bags of coffee. The total for established markets was a gain of over 100 percent. Both markets aren't close to being saturated yet, and that means huge demand for coffee in the years ahead.
What could drive coffee prices through the roof would be a major infestation of roya leaf rust into Brazil. That would be the catalysts of catalysts for coffee.
This isn't hypothetical or theory though. There is already roya leaf rust in Brazil, although they manage it much better than their northern counterparts. What makes it a real danger is the change in agricultural practices in Brazil for growing more coffee beans.
The cost of increased productivity in Brazil has been the planting of trees closer together and the use of more chemicals in the form of fertilizers and fungicides.
The significance of planting trees closer together is that it creates an environment where the fungus can thrive, including increased humidity levels and less sunlight penetrating through the trees to reach the coffee plants. That means natural defenses against the disease are weakened.
As a result, the fungus is expanding in the nation, although it remains manageable. If the airborne disease were to invade numerous other areas in Brazil that are growing coffee in a way that past and present controls aren't as effective against, all bets are off as to how deep the damage would be.
Here's how the spread of coffee fungus was reported in Central America:
The wind-borne fungal disease could slash coffee output by as much as 40 percent in Guatemala by next season and is spreading at an alarming rate in El Salvador, Honduras, Costa Rica, the Dominican Republic and Mexico, a development that has helped nudge arabica coffee futures higher.
In spite of extensive use of fungicide in Brazil, there is nothing to suggest the same scenario couldn't happen there that is happening in Mexico and Central America. The country has admitted it is getting harder to control the disease. As a matter of fact, research confirm the more coffee yields are improved the more the fungus is likely take hold. Experts in Brazil say almost every area arabica coffee is produced in Brazil, there is leaf rust there as well.
Younger and more genetically diverse coffee trees would help to protect against the disease. This is something to look for in any significant coffee-producing country.
For the second year in a row, Brazil has enjoyed a terrific arabica crop, which has pushed the price of coffee down. In April, it hit a 3-year low of $1.327 a pound.
Consequently, investors have little interest in coffee, and that is definitely a contrarian indicator. Prices have recently started to move up, and based upon rising demand, coffee disease, and improved technicals, coffee deserves a closer look as things unfold over the next six months to a year.
With only about 2 percent of the coffee crop in Central America being affected by the disease at this time, that is expected to get worse as the year goes on. Coupled with drawing down of Brazilian coffee reserves, that suggests arabica prices could jump in the near future.
Over time, this scenario will continue to play out, with coffee prices reversing direction. It's a matter of when not if. For now, closely follow the coffee story over the next months as the effects of the disease and contracting supply affect the sector.
Disclosure: I have no positions in any stocks mentioned, and no plans to initiate any positions within the next 72 hours. I wrote this article myself, and it expresses my own opinions. I am not receiving compensation for it (other than from Seeking Alpha). I have no business relationship with any company whose stock is mentioned in this article.