I've come to realize through interaction with my twitter followers that most of the retail traders and do it from home guys would really appreciate a table of events for each week that will have market moving potential. The following table will outline any medium to high importance events, their currency, a forecasted number, a previous reading number, and my take as to whether the number will beat expectations (+), meet expectations (=), or miss expectations (-). Doing due diligence on these events and taking a position based on the opinion derived from that research is a way for traders to play the markets using beta movements from these events. My calendar is in no way entirely inclusive of all data events globally, simply the events I will be watching that I feel will impact my trading strategy of being either beta neutral or beta levered. The events in the tables are events that, in my opinion, will have a significant impact on the S&P 500 Index, which can be most closely be followed by watching the SPDR S&P 500 ETF Trust (NYSEARCA:SPY), and the Dow Jones Industrial Index, which can most closely be followed by watching the SPDR Dow Jones Industrial Average ETF (NYSEARCA:DIA). I hope this is helpful. I will try to provide updates once a week. Stay tuned.
That being said, I am bullish on most of the market moving events this week with the exception of the largest data points to be presented, those being anything to do with EUR GDP or most of the countries within the EU, including France and Italy this week. It will be an interesting study in what people put more importance into and believe in because I'm more than bullish on all the Chinese data coming out but I tend to belong to the camp that believes those numbers aren't entirely truthful and are being embellished. Regardless of what you believe, good data points move the needle, bad data points, depending on sentiment, move the needle. The other data points to watch globally will be the inflation readings coming out and determining what effect those will have on any currency movements which will greatly effect net importers of commodities, the US being one of those. Any large movements to the upside when it comes to the dollar, which can most closely be followed by watching the PowerShares DB US Dollar Index Bullish Fund (NYSEARCA:UUP), will drive the price of commodities down, in general, in the US. This would further contribute to my theory of being bullish to the upside when it comes to consumption and spending, explained in the second half of my article titled,"Time To Max Out Those Credit Cards: Why I'm Buying Visa, Mastercard, And Discover". Finally, it will be interesting to see the global markets, especially the US markets, reactions to any data misses with the global markets being at historic highs. Enjoy.
Monday: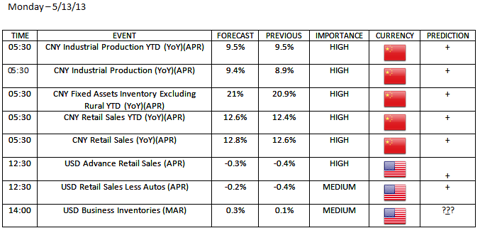 Click to enlarge
Tuesday: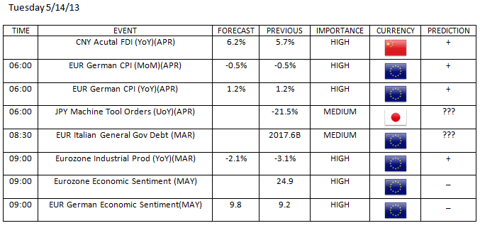 Click to enlarge
Wednesday:
Click to enlarge
Thursday: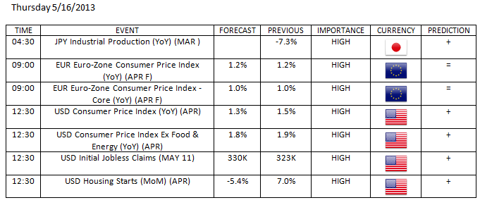 Click to enlarge
Friday:

Click to enlarge
Disclosure: I have no positions in any stocks mentioned, but may initiate a short position in SPY, DIA over the next 72 hours. I wrote this article myself, and it expresses my own opinions. I am not receiving compensation for it (other than from Seeking Alpha). I have no business relationship with any company whose stock is mentioned in this article.