In recent columns, I suggested to readers to maintain vigilance as US indices continue to make new all-time highs. Now is the time to be keenly aware of risk, precisely at the time no one is really considering it. To find compelling valuations, therefore, investors should seek out securities where general sentiment is timid, operating models misunderstood and where investors appear to be applying a large discount to risk assets.
To help ferret out opportunities, I ran a screen for companies which saw negative EPS growth in the previous five years, and are expected to grow EPS at over 25% over the next year and five years, respectively. The screen returned 26 results, seen below (courtesy, finviz.com):
| | | | |
| --- | --- | --- | --- |
| Ticker | Company | Industry | Market Cap ($M) |
| HMC | Honda Motor Co., Ltd. | Auto Manufacturers - Major | 73,164 |
| CHU | China Unicom (Hong Kong) Limited | Wireless Communications | 34,546 |
| RIG | Transocean Ltd. | Oil & Gas Drilling & Exploration | 17,431 |
| HTZ | Hertz Global Holdings, Inc. | Rental & Leasing Services | 9,930 |
| CPN | Calpine Corp. | Electric Utilities | 9,392 |
| YNDX | Yandex N.V. | Internet Information Providers | 8,778 |
| MHK | Mohawk Industries Inc. | Textile Industrial | 8,214 |
| MTW | Manitowoc Co. Inc. | Farm & Construction Machinery | 2,520 |
| MTH | Meritage Homes Corporation | Residential Construction | 1,874 |
| MDC | MDC Holdings Inc. | Residential Construction | 1,871 |
| HIMX | Himax Technologies, Inc. | Semiconductor - Specialized | 1,073 |
| HTHT | China Lodging Group, Limited | Lodging | 974 |
| SCOR | comScore, Inc. | Business Services | 677 |
| CALX | Calix Inc. | Communication Equipment | 456 |
| MOD | Modine Manufacturing Company | Auto Parts | 445 |
| MOVE | Move, Inc. | Internet Information Providers | 424 |
| WTSL | Wet Seal Inc. | Apparel Stores | 339 |
| SEH | Spartech Corp. | Rubber & Plastics | 331 |
| IIIN | Insteel Industries Inc. | Steel & Iron | 320 |
| (ELOS) | Syneron Medical Ltd. | Medical Appliances & Equipment | 299 |
| ADES | ADA-ES, Inc. | Pollution & Treatment Controls | 297 |
| (NYSE:ANW) | Aegean Marine Petroleum Network Inc. | Basic Materials Wholesale | 283 |
| CCIH | ChinaCache International Holdings Ltd. | Internet Information Providers | 113 |
| RLOG | Rand Logistics, Inc. | Shipping | 104 |
| OESX | Orion Energy Systems, Inc | Diversified Electronics | 48 |
| EDGW | Edgewater Technology Inc. | Information Technology Services | 45 |
Of the list, a few themes / types of companies pop out to me based on the results, including: (1) cyclicals/industrials; (2) automakers and parts manufacturers; and (3) small-cap companies headquartered outside the US. This article will cover two companies from the third bucket, little known small-cap companies.
Syneron Medical (NASDAQ:ELOS):
I previously wrote about Syneron Medical in August 2012, when the stock was trading at about $10/share. It has since underperformed the S&P 500, but underlying business fundamentals have improved.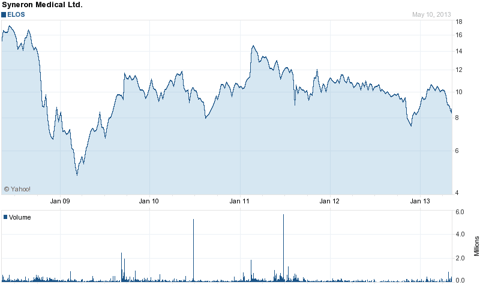 The recent sell-off in the stock quote appears to be due to fears related to the management transition, whereby Louis Scafuri indicated to investors he would step down as CEO, being replaced by company founder Dr. Shimon Eckhouse.
To give a brief overview, Syneron Medical is:
the leading global aesthetic device company with a comprehensive product portfolio and a global distribution footprint. The Company's technology enables physicians to provide advanced solutions for a broad range of medical-aesthetic applications including body contouring, hair removal, wrinkle reduction, improving the skin's appearance through the treatment of superficial benign vascular and pigmented lesions, and the treatment of acne, leg veins and cellulite.
The investment thesis for Syneron Medical is simple. The company is the #1 or #2 player in multiple professional aesthetic device segments, and should benefit from both a growing population of aging and overweight people looking for non-invasive medical procedures to improve appearance. The company has a market capitalization of just under $300 million, and is bolstered by $136 million in net cash. Sales reached an all time high $264 million in 2012, up 15% year-over-year. As sales expand, earnings leverage should become apparent in the operating model.
For more information, check out the investor presentation from February 2013. Syneron will report Q1 results on May 22, 2013.
Aegean Marine Petroleum Network, Inc. :
Another interesting company that appeared on the list is ANW, a marine fuel supply/logistics company headquartered in Greece but with operations around the world. Currently valued at $283 million, ANW also has net debt of about $108 million.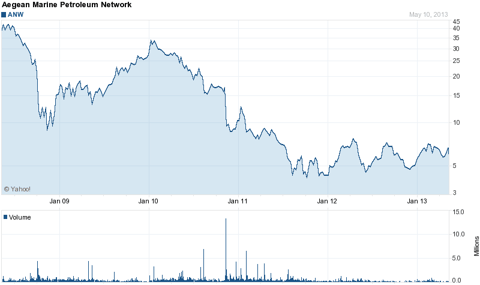 For a compelling article on areas of investor obfuscation around the accounting numbers / valuation, check out Phx Sun's article where the author discusses that absolute gross profit dollars generated by ANW is simple math: volume * fuel spread. The author posits that both revenue and gross profit %'s are not relevant measures and, in fact, are quite misleading when valuing the business because the commodity price of the fuel it sells creates opacity in both top line revenue and gross profit %'s.
All investors need to know is that improving fuel spreads and volumes lead to more value for shareholders.
There is more going on in the operating model, including moving some of the fuel storage onshore which reduces maintenance capex and the company did a solid job of reducing expenses in Q4 2012, as it sold some non-core assets to streamline its operations. ANW also appears poised to benefit from the growing trend of LNG transportation around the world.
Conclusion:
Rather than dabble in the myriad fairly or overpriced securities in the S&P 500 (NYSEARCA:SPY), contrarian investors should seek out the themes that are being ignored by institutional and retail investors, or that are stricken by fear for unfounded reasons. For being ignored or feared leads to compelling valuations. But, of course, investors in unheralded securities must be patient because it may take a long time for those companies to get noticed by others.
I'm focused on little known small-cap companies, looking for outsize returns coincident with low risk since purchase price dictates the risk/return relationship. I suggest investors do the same.
Disclosure: I am long ELOS. I wrote this article myself, and it expresses my own opinions. I am not receiving compensation for it (other than from Seeking Alpha). I have no business relationship with any company whose stock is mentioned in this article.
Additional disclosure: I may add to my position in ELOS prior to the earnings release on May 22, 2013.