Introduction
Most of my articles are related to the energy and the commodities sectors. My latest winning pick is Surge Energy (OTCPK:ZPTAF) that has risen from ~$2.70 to ~$4.30/share, yielding more than 50% to those who agreed with my bullish analysis, rejecting the bearish calls from some "analysts." My average on Surge Energy is ~$3/share, and my bullish articles are here and here.
However, my investments are not only associated with North America. I have a few other international markets on my radar, including Greece, which is getting hot lately. This is not because the basketball legend Michael Jordan is currently at a Greek island enjoying his honeymoon, or Kim Kardashian strolls on the shores of Mykonos these days, or the Russian billionaire Dmitry Rybolovlev just purchased Aristotle Onassis's island for his beautiful daughter.
These events are usual because there are many celebrities and stars who visit Greece every year. Greece is getting hot because the Greek government bonds might not be a wasteland, according to the latest news. Greek government bonds are again in demand although these bonds have already rallied strongly. This time these bonds are recommended by a debt strategy team at Morgan Stanley (NYSE:MS).
Paolo Batori, the bank's global head of sovereign strategy, hammered home the point. "This is one of our top fixed-income trades of the year," he said at the bank's 'macro ideas and insights forum.'
Mr. Batori told all that Greece will experience growth "this and next year" owing to improving macro parameters. Yes, growth. "Broad market expectations for the country's economy are just too doom-and-gloom," he suggests. "We believe that Greece is going to be an improving macro story this year and next. Greek growth is going to regain strength this year and turn positive next year," he said.
He also said that the chance of Greece leaving the euro now appears extremely slim. Structural reforms are starting to kick in, and the harshest form of austerity is "likely to fade away." He also thinks that 10-year yields are likely to fall to 9.5% by the end of the year.
After all, the party about the Greek bonds is not over, but it seems that it has just started according to Morgan Stanley.
Who Has Gained From The Greek Debt So Far?
The interest-rate spread between 10-year Greek and German government bonds hit its highs of 3,530.1 in March 2012. It remained over 2,000 until September 2012. Since then, it has been declining consistently and it closed at 832 last Friday.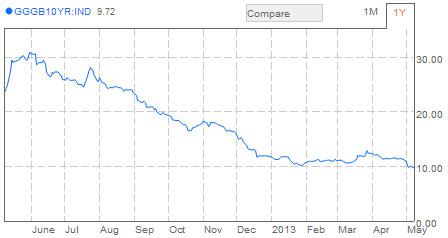 In February 2013, the ECB reported a net profit of €998 million for 2012, which was 37% more than 2011. The profit included a €555 million interest income from Greek government debt compared to €654 million a year earlier.
In December 2012, Third Point hedge fund managed by billionaire investor Dan Loeb, earned $500 million from Greek debt.
Pharo Marco Fund also gained from their position in Greek debt. In November 2012, Greek debt was the fund's top gaining position.
Other funds gaining from Greek debt include Seth Klarman's Baupost Group and Paul Singers' Elliott Associates.
The Turnaround Is Here
The drop of the spread has been coupled with a significant rise of the index of the Greek stock exchange. The index has risen from a low of ~500 points in June 2012 to a high of 1,034 points yesterday. This index was a bit higher than 6,000 points in 1999. Some analysts also say that 1,000 points isn't the end but it is just the beginning.
As expected, this rise also pushed Global X FTSE Greece (NYSEARCA:GREK) to its highest level. The Greek ETF has yielded 100% since last summer.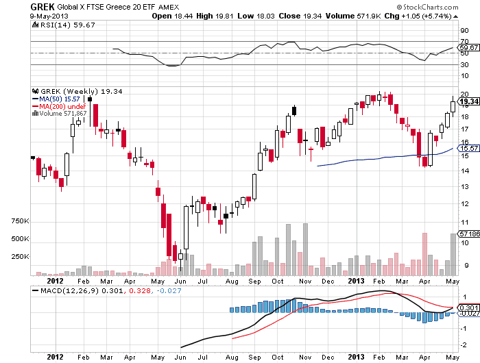 After all, which are the underlying factors that make Morgan Stanley be so bullish about Greece today? Is the index of the Greek Stock Exchange still in the beginning? Which facts helped Morgan Stanley formulate its bullish analysis? Apparently, Morgan Stanley has not made this bullish statement accidentally. Morgan Stanley is well aware of several changes that have taken place recently in the Greek economy. Let's check them out:
1) Firstly, Morgan Stanley is well aware of the international companies from several sectors that have budgeted or invested lately a significant amount of money for their activities in this pretty country, giving the green light to the "Invest In Greece" concept. I will talk with more details about it in the next paragraph.
2) Although the structural and labor reforms are still ongoing, they start to generate the first positive results with the economy slowly responding to the harsh austerity measures of 2012. For instance, the Greek Parliament approved an Omnibus bill that included a number of important measures, such as the dismissal of civil servants who have breached the code of conduct or have underperformed.
3) Greece announced few days ago that it had successfully completed its first major privatization with the sale of its stake in the gaming and lottery company, OPAP. The announcement is credit positive because it reflects improved investor confidence and will help the government meet its fiscal targets.
4) The Greek government outperformed its fiscal targets for the first quarter of 2013, reflecting its commitment to fiscal consolidation despite the poor growth outlook. In the first quarter of 2013, the state budget was in deficit of €1.4 billion, which exceeded the deficit target of €4.2 billion and was far lower than the deficit of €7.3 billion recorded in the first quarter of 2012. In fact, in the first quarter of 2013, the state budget recorded a primary surplus of €520 million.
Greece recently reported that its fiscal deficit for 2012 amounted to 9.5% of GDP. Thanks to the aforementioned reforms and privatization efforts, some projections bring the fiscal deficit down to 4% by year end. This will be a huge improvement in a record time.
5) The current account deficit shrank to 2.9% of gross domestic product (GDP) in 2012 from 9.9% in 2011. This is the lowest reading since at least 1999, according to available data. The reading had deteriorated during a debt-fuelled economic boom to a record deficit of 14.7% of GDP in 2008. The pace of the adjustment is obviously impressive. In a further sign of economic adjustment, consumer prices have stopped rising since 2012 for the first time since at least 1996.
6) It might sound funny but only one new Ferrari sports car was registered nationally in the whole of 2012. That, plus one used Ferrari sold, contrasted with 21 new and 37 used ones in 2007, the last year before Greece's recession started, proving how showy lifestyles are out of fashion in this country as of today.
The Early Foreign Movers Of "Invest In Greece"
As all know, "The early bird catches the worm." From an investment perspective, this motto translates into the highest-skilled workforce, the lowest real estate prices, the best locations, the best taxation incentives and the most affordable transportation rates. All these are the primary factors that contribute to the highest internal rate of return of a corporate investment.
With their recent investments in Greece, the following multinational corporations have also impacted Morgan Stanley to be bullish on the Greek bonds, showing the way to the next international investors:
1) In March 2013, GlaxoSmithKline (NYSE:GSK) announced that it plans to enhance its production in Greece with two more products. After a meeting with the Deputy Health Minister Mario Salma, the British pharmaceutical company said that it will not make a recall or consider removal from the country. On the contrary, it is seeking a robust framework for action. With the implementation of this project, the company is considering to obtain a product key, on behalf of the parent company and not only for the needs of the internal market.
So far, the company produces only Panadol throughout Europe, while other products are imported after the divestment of its production unit in Athens area in the late 1990's. Glaxo has ~5% market share in Greece. The country maintains Glaxo's medicines related to lung diseases, dermatology, oncology and a range of non-prescription products on painkillers, dental and energy drinks.
2) In late 2012, Kraft Foods (KRFT) separated the North American Foods business, which became Kraft Foods Group, from the international confection and beverage business now known as Mondelez International (MDLZ).
After all, Mondelez International maintains its current workforce, despite adverse economic conditions prevailing in Greece as well as at the same time wants to invest further in production facilities, human resources, research and development of products. The company plans investments worth 5.0 million Euros for the next two years, mainly on its chocolate factory Pavlides, which has increased its production capacity by 30-35%.
In Greece, Mondelez has around 580 workers who are going to receive wage increases of 1-2% in 2013. Kraft has established activities in more than two decades in the Greek market and has developed and maintains a significant activity of production and distribution of food products.
3) In March 2013, Hewlett-Packard Company (NYSE:HPQ) signed a deal with the Chinese giant COSCO and Trainose to use COSCO΄s cargo terminal at the port of Piraeus as a hub and Trainose΄s adjacent rail infrastructure to distribute its products in central Europe, the Middle East, North Africa, the eastern Mediterranean and eastern Europe.
The Greek Government plans to turn the Piraeus port, the country's biggest port, into a major transit hub for the Mediterranean Sea and Eastern Europe. The new railway network, which was delivered for Hewlett-Packard's commercial use, will reduce by about a week the time needed for the transportation of the company's goods from Asia to Europe through the Piraeus port.
4) In December 2012, Philip Morris International (NYSE:PM) opened a brand new production line in its Greek subsidiary Papastratos. The plant constitutes a 3 million euro investment with output to be exported to 15 countries.
Philip Morris will buy 50% of the Greek tobacco production from 2013 to 2015, supporting around 15,000 local tobacco farmers. The firm bought about 30% of the Greek production in 2012.
5) Eldorado Gold (NYSE:EGO) has several significant projects in Greece. The company's Kassandra mines consist of three mines. The first one is the Stratoni polymetallic underground mine that operates at a mining and processing rate of approximately 18,000 to 20,000 tonnes of ore per month and produces lead-silver and zinc concentrates.
The second one is Olympias, which is fully permitted and contains gold, silver, lead and zinc. The concentrate production from tailings commenced in Q3 2012.
The third one is Skouries gold-copper project that has proven and probable reserves of 3.6 million ounces of gold and 736,000 tonnes of copper. This is at the development stage.
In April 2013, the Council of State, the Supreme Administrative Court of Greece, upheld the validity of the Environmental Impact Assessment permit for the company's Kassandra Mines.
In Greece, Eldorado also owns the Perama Hill gold project in Thrace, which is a late-stage development project. All indications from the Greek Government agencies remain positive towards the project and the green light is expected to be given soon. Production is expected in 2015. Average gold production at Perama Hill is forecast to be 110,000 ounces per year at a cash operating cost of $278 per ounce.
Combined, Eldorado΄s four projects will provide some 2,000 jobs. The company aims to turn Greece into the largest gold producer in Europe. When all the mines are in full operation, the company estimates they will boost Greece's exports by 1 billion euros a year. According to Eduardo Mura, vice-chairman of Eldorado Hellas, the company has completed investments worth 100 million euros in the last 12 months in its goldmines in Chalkidiki and Thrace and planned to invest around 1.0 billion euros over the next five years.
6) Johnson & Johnson (NYSE:JNJ) and Unilever (NYSE:UN) bring additional production to the country. Johnson & Johnson is going to build new production departments for consumer products in the country, a step that will increase the investment for its Greek factory. Johnson & Johnson owns two other factories in Europe. In Greece, the consumer products division has 200 employees and 95% of the production is exported to more than 35 countries.
In late 2012, Unilever also formalized an investment initiative to begin production of 110 of its product lines in Greece. The 110 products will not be produced by Unilever's Greek plants but will be outsourced to other Greek companies. Unilever-Hellas currently exports products to 19 countries, with a turnover of 30 million Euro, accounting for 7.5% of its total turnover.
7) Henkel, one of the world's top detergent manufacturers, has returned to Greece for the production of detergents. Its domestic production will include 50 product codes-related to the Dixan, Neomat and Bref brands-that currently account for 75% of Henkel's total turnover in the home detergents and cleaning products markets in Greece and Cyprus. At the same time, its Greek production unit will cover the needs of the Cypriot market with production of around 50 codes of the Vernel, Der General and Pril brands.
Conclusion
It is clear that the Greek ship has changed its course, and it will not strike rock. Those who bet that the ship's name was Titanic have lost a lot of money. Greek exports are also rising, and additional international players will most likely increase their investments in Greece in 2013, creating a domino effect that will help both the local economy and the Greek Stock exchange.
Disclosure: I have no positions in any stocks mentioned, but may initiate a long position in EGO over the next 72 hours. I wrote this article myself, and it expresses my own opinions. I am not receiving compensation for it (other than from Seeking Alpha). I have no business relationship with any company whose stock is mentioned in this article.
Additional disclosure: I am long Surge Energy (OTCPK:ZPTAF)