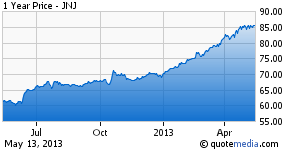 Johnson & Johnson (NYSE:JNJ) is going in for re-branding in a big way. It is putting in $30 million in a Band-Aid type ad campaign. This is the first time in a decade and its first global one ever that the company is indulging in a corporate re-brand ad campaign following recall of "millions of bottles and packages of Tylenol, Benadryl, Motrin and other over-the-counter medicines."
One wonders whether the re-branding exercise was needed especially as it carries a risk of reminding customers of the mistakes committed earlier. More so, the recall does not seem to have hurt the company as it has had a great year. However, bad news keep coming in with its license for making cosmetics at a plant outside Mumbai, India, revoked because it had "used an unauthorized process for sterilizing its baby powder."
This article looks at Johnson & Johnson's future growth scenario while highlighting its strong and weak areas.
Pharmaceutical business
Immunology and oncology
Johnson & Johnson reported total revenue of $17.5 billion in Q1 2013. Worldwide pharmaceutical sales contributed $6.8 billion, a 10.4% increase over the same quarter prior year. Operational growth was however 11.4% as the company had to take a 1% negative impact on currency.
Primary contributors to the operational growth were INVEGA SUSTENNA/XEPLION (injectable atypical antipsychotic for schizophrenia) STELARA (for severe plaque psoriasis), SIMPONI (for rheumatoid arthritis, psoriatic arthritis, and ankylosing spondylitis), REMICADE (for immune mediated inflammatory diseases) and PREZISTA (for HIV).
The recently launched products also reported strong sales. These include ZYTIGA (used with prednisone for metastatic, castration-resistant prostate cancer), XARELTO (an oral coagulant) and INCIVO (for genotype-1 chronic hepatitis C virus).
Oncology and immunology are strong growth areas for the company. Sales of immunology drugs grew by more than 16%. While the flagship immunology drug REMICADE saw sluggish sales, SIMPONI and STELARA registered substantial growth. This carries greater significance when viewed in light of stiff competition it has to face from generic drugs in the field of central nervous system.
Although its oncology segment is small, it presents a substantial growth opportunity for Johnson & Johnson. The segment registered 33.2% growth in Q1 2013. Sales of the newly launched ZYTIGA grew by 70%. The oncology division got a major boost with FDA granting Breakthrough Therapy Designations for oral ibrutinib, the company's candidate for treatment of 3 types of B-cell malignancies being developed by Janssen Research & Development, LLC and Pharmacyclics Inc. (NASDAQ:PCYC).
During the quarter, the company got FDA approval for a new class of medication for treatment of type 2 diabetes in adults, INVOKANA (canagliflozin). Canagliflozin, (an inhibitor of subtype 2 sodium-glucose transport protein - SGLT2) approved in March 2013, is the first drug in its class to be approved for sale in the U.S and is marketed by Johnson & Johnson under license from the developer, Mitsubishi Tanabe Pharma (OTCPK:MTZPY).
The company also submitted a Marketing Authorization Application to the European Medicines Agency seeking approval for a fixed dose therapy for treating type 2 diabetes using a combination of canagliflozin and immediate-release metformin.
With diabetes becoming a common worldwide malaise, the approval is expected to play an important role in Johnson & Johnson's future growth. Type 2 diabetes drug market, according to GBI Research, is expected to grow from $26 billion in 2011 to $50 billion in 2020 in developed markets.
In addition, the company submitted a New Drug Application (NDA) with the FDA and with regulatory authorities in Japan for approval of simeprevir (TMC435), the company's pharmaceutical division Janssen Pharmaceutica's candidate for treatment of hepatitis C. The drug is an NS3/4A protease inhibitor and currently in Phase III trials.
Consumer healthcare
Q1 2013 was marked by sluggish growth of consumer healthcare segment. Sales of $3.7 billion in the quarter represented an increase of 2.2% over prior quarter after taking into account the 1.1% negative currency impact. Whereas domestic sales grew 2.4%, international sales registered a growth of 2.1%. Most of it was driven by domestic sales of analgesics and upper respiratory offerings particularly due to a strong flu season and sound supply chain management.
With the FDA warming up to curb drug abuse, Johnson & Johnson is working towards developing and advancing abuse deterring versions of analgesics. Also involved in the race is Pfizer (PFE), the world's largest pharmaceutical company revenue wise, as well as specialty drug developers like Endo Health Solutions (ENDP) and Purdue Pharma L.P.
During the quarter, the company completed transactions related to the acquisition of Shanghai Elsker Mother & Baby Co., Ltd., a reputed Chinese baby care company.
Medical Devices and Diagnostics
Worldwide sales of medical devices and diagnostics contributed $7.1 billion to overall revenue for the quarter, up 10.2% from same quarter prior year. Most of it was due to last year's acquisition of Synthes, Inc., the world's largest maker of implants for bone fractures, surgical power tools and biomaterials. Synthes' products accounted for 14% to the sales growth of the segment.
The trauma fixation device space is another growth area for Johnson & Johnson. Driven by the ageing population of Europe, U.S.A., Japan and China the market for orthopedic trauma fixation devices is expected to grow at CAGR of 6% and reach $6.7 billion by 2017.
In the area of cardiovascular medical devices, the company's subsidiary, Biosense Webster continues to capture market share despite exit from the business of drug-coated heart stents. The negative impact from the exit will fade and future growth is expected to be driven by the re-launch of the company's vascular stent system, S.M.A.R.T. and the Vascular Closure Device, EXOSEAL.
Summary
That company faces a challenge from patent expiration of two of its products, Aciphex (for heartburn) and Procrit (for anemia due to kidney failure, HIV and cancer). Both drugs had combined annual sales $2.27 billion in 2012. The company also faces threat from generic drug makers that violate intellectual property rights.
I do not believe that loss of revenue due to patent expiration will have a major impact on a company with annual turnover of $67.23 billion. The company has shown its resilience against attacks from generic drugs and is expected to meet the challenge as before.
Johnson & Johnson is a health care conglomerate and the sixth most reputable company in the U.S. It is a constituent of Dividend Aristocrats, companies that have not only been paying regular dividends but also increasing them every year for the last 25 years. The company has increased its dividend this quarter also from $0.61 to $0.66 per share, payable on June 11, 2013 to shareholders on record on May 28, 2013. Even at a high P/E of 23.26, the stock gives a dividend yield of 3.09% at CMP of $85.46.
The growth story of Johnson & Johnson is well charted with new FDA approvals and expansion of medical devices division. It is one of those shares that should be in every income based and/or IRA portfolio.
Unless otherwise mentioned, all financial information sourced from: here.
Disclosure: I have no positions in any stocks mentioned, and no plans to initiate any positions within the next 72 hours. I wrote this article myself, and it expresses my own opinions. I am not receiving compensation for it (other than from Seeking Alpha). I have no business relationship with any company whose stock is mentioned in this article.