On April 18, Federal Natural Resources Minister Joe Oliver said that Canada would accelerate its East and West oil pipeline plans if Keystone XL was to be rejected by the U.S. administration. Part of the environmentalists' crusade against TransCanada's (NYSE:TRP) Keystone XL project rests on the notion that the pipeline will accelerate the climate change and carbon footprint in the country.
Moreover, Mr. Oliver said in a speech at the Center for Strategic and International Studies during a visit to D.C. on April 17, that the only thing the United States would accomplish with shutting the project would be undermining its own economy. Those oil sands (OTCQX:COSWF) are getting developed, whether the green lobby likes it or not, he said. He then added: "Rejecting this project would represent a serious reversal in our long-standing energy relationship." Nothing less.
The Keystone XL Pipeline Project
The Keystone XL Pipeline Project is a proposed 1,179-mile, 36-inch-diameter crude oil pipeline, beginning in Hardisty, Alberta and extending south to Steele City, Nebraska. This pipeline is a critical infrastructure project for the energy security of the U.S. and for strengthening the American economy. For more information about the benefits of the project, please read my article "Keystone XL Pipeline: A Flow Of Cash Up For Grabs" here.
Proposed Route Of Keystone XL Pipeline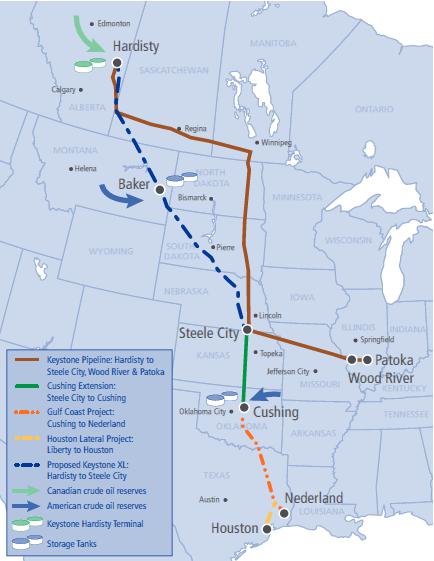 Source: TransCanada Corporation
However, Mr. Oliver remains "cautiously optimistic" that President Barack Obama will approve the project, since most impediments have been removed. A Keystone XL rejection would not be positive for the country, but it won't mean a cooling of relations with the United States, he said. Speaking to reporters in Calgary, Mr. Oliver said he does not share Alberta Premier Alison Redford's view that the loss of Keystone XL would damage ties between the two countries.
Along with transporting crude oil (NYSEARCA:USO) from Canada, the Keystone XL Pipeline will also support the significant growth of crude oil (NYSEARCA:CRUD) production in the U.S. from producers in the Bakken region of Montana and North Dakota. The pipeline will allow Canadian and American oil producers more access to the large refining markets found in the American Midwest and along the U.S. Gulf Coast.
Keystone Oil Pipeline Pump Station, Hope, Kansas

Source: NDEQ
TransCanada, A Leader For More Than 60 Years
TransCanada has been a leader in the safe and reliable operation of North American energy infrastructure, including a vast array of natural gas and oil pipelines, along with natural gas, storage facilities and nuclear, wind, hydro and solar power-generation facilities.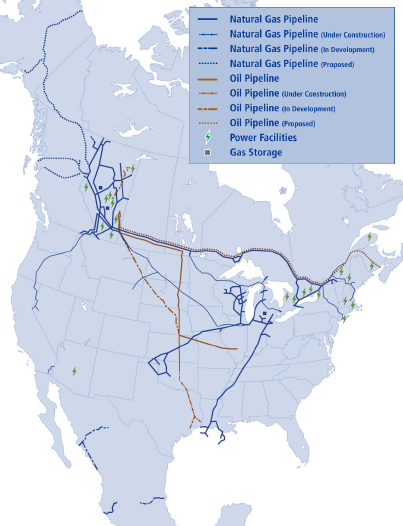 Source: RBC Capital Markets April 2013 Conference
TransCanada owns or has interests in $48 billion of long-life assets, primarily pipelines and power-generation facilities in Canada, the United States and Mexico. The company operates one of the largest natural gas transmission networks on the continent, a 42,500-mile system that taps into virtually every major supply basin and transports approximately 20% of North America's daily natural gas needs. For a comprehensive map of TransCanada's assets, click here.
Approximately one-third of the power generated comes from alternative and renewable sources, including low-impact hydro facilities in the Northeast U.S., the largest wind farms in New England and Quebec, solar generation in Ontario and its significant interest in Ontario's Bruce Power, the world's largest nuclear facility.
A Long-delayed Process Over A Controversial Project
In May 2012, TransCanada filed a new application for a Presidential Permit with the U.S. Department of State, a requirement for building any cross-border pipeline. TransCanada also chose to proceed with the southern portion of its Keystone expansion as a separate project, the Gulf Coast Pipeline Project.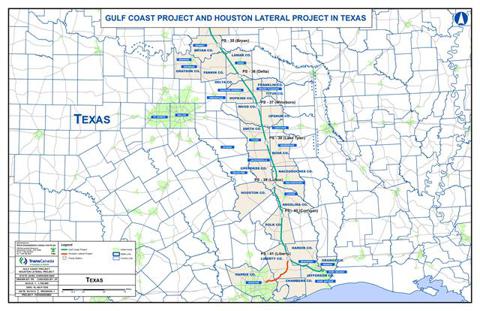 Source: TransCanada Corporation
In January 2013, Governor Dave Heineman approved TransCanada's proposed route in Nebraska. The revised route will minimize disturbance of land, water resources and avoid some special areas in the state, the sensitive Ogallala Aquifer.
On March 1, 2013, the U.S. Department of State released a Draft SEIS (Draft Supplementary Environmental Impact Statement) on Keystone XL that reaffirmed "there would be no significant impacts to most resources along the proposed project route".
Nebraska Reroute Of Keystone XL Pipeline
Currently, the Keystone pipeline transports almost one-quarter of Canada's crude oil exports to the U.S. and has moved more than 500 million barrels safely and efficiently since it began operating in 2010.
Keystone XL Pipeline Gulf Coast Segment Storage Yard, Texas

Source: HDR Engineering
Furthermore, TransCanada is also one of the largest providers of natural gas storage and related services, with more than 400 billion cubic feet of capacity, enough to meet the needs of nearly four million homes each year. Through its energy business, the company has interests in 21 facilities that have the capacity to generate 11,800 megawatts of electricity, enough to power more than 12-million homes.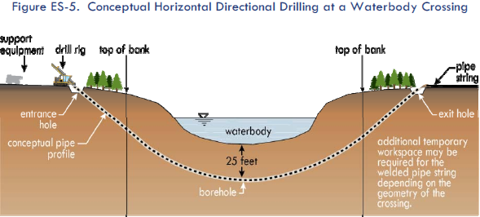 Source: TransCanada Corporation
The Fate Of The U.S. Economy In Obama's Hands
President Obama is expected to decide this summer whether to permit the project to carry oil from Alberta's oil sands and U.S. tight oil fields to refineries in the U.S. A public hearing was scheduled in Grand Island, Nebraska, near the halfway point of the north-south pipeline.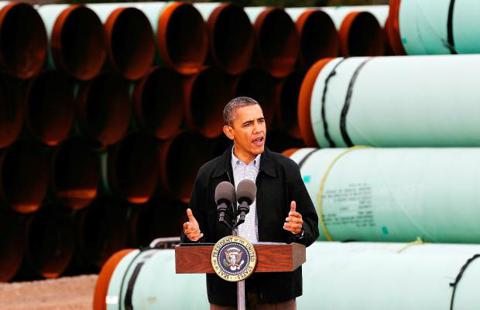 Source: Getty Images
With an anticipated decision on the Presidential Permit in 2013, the Keystone XL pipeline has a projected in-service date of second half of 2015. The pipeline will have the capacity to transport 830,000 barrels of oil per day to the Gulf Coast and Midwest refineries, reducing American dependence on oil from Venezuela and the Middle East by up to 40%.
Mr. Oliver added on his April 17 speech: "Make no mistake: Canadian resource development and export, including from the oil sands, will continue, Keystone or no Keystone," taking direct aim at environmentalists who hope that blocking the high-profile pipeline will be a death knell for future development of Canada's heavy crude. You can view the Keystone XL final evaluation report here.
As a matter of fact, Canadian oil is abundant and even China has entered into the dance by acquiring Nexen (NXY) for its share of the precious liquid a few months ago. North America has become the fastest growing oil and gas region in the world. By 2020, the U.S. and Canada could very much become independent to foreign oil and gas.
Endless Disputes From EPA And Its Proponents
On April 22, the Environmental Protection Agency weighed in with a letter finding fault with the State Department's Draft SEIS. The EPA rated State's environmental report as insufficient: "Based on our review, we have rated the DSEIS as E0-2 "Environmental Objections- Insufficient Information".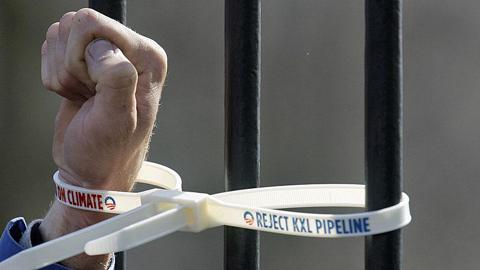 The EPA's letter has emphasized that, "oil sands crude is significantly more GHG intensive than other crudes, and therefore has potentially large climate impacts." Thus, the EPA recommended that as a permit condition, TransCanada be required to develop a plan for long term sampling and monitoring in the event of an oil discharge to assess and monitor these impacts as part of the spill response plan. The EPA claimed that the State Department used an outdated "energy-economic modeling effort" in its analysis that concluded tar sands oil would find its way to market without Keystone.
Whether the EPA's letter will have any impact on the State Department's "national interest determination" and final recommendation to the President, is hard to know. On TransCanada's part, the company said that it has had a co-operative relationship with the EPA throughout the four-year-plus review of the project and thereby is somewhat surprised over the EPA's reaction to its Keystone project.
TransCanada also said the EPA's recommendation that the State Department explore ways for the U.S. to involve itself to reduce emissions from the oil sands ignores Canadian sovereignty. The company said Alberta implemented greenhouse gas regulations in 2007.
Furthermore, the company said that the EPA is recommending more comparison of greenhouse gas emissions from oil sands crude against U.S. crude oil, but has ignored that the Canadian crude will be delivered by the pipeline, thus displacing heavy crude oil from Venezuela and Mexico. TransCanada's Keystone XL will offset as many as 200 ocean tankers per year, reducing GHG emissions by as much as 19 million metric tons, added the company.
Financial Outlook
Revenue for Q1 2013 totaled $2.25 billion, a rise from $2.09 billion for Q4 2012. Net income attributable to common shares was $446 million this quarter compared to $352 million in Q1 2012. Comparable earnings this quarter were $370 million or $0.52 per share, $7 million higher than Q1 2012. This was the result of higher net income from the Canadian Mainline because of the Q1 2013 impact of the NEB's decision on the Canadian Restructuring Proposal, higher equity income from Bruce Power and higher realized power prices from U.S. Power.
Regarding its cash and cash equivalents, it totaled $443 million at the end of Q1 2013, a drop from $551 million at the end of 2012. The long-term debt for Q1 2013 has increased slightly to $18.27 billion from $18.02 billion at the end of 2012. On the downside, the long-term debt to equity ratio remains very high at 108.83 compared to its industry average of 57.40 or its sector average with 28.95.
However, according to the company's Q1 2013 earnings release, several projects necessitating about $12 billion in investments are expected to be completed within the next three years: the Gulf Coast Project, Keystone XL, Keystone Hardisty Terminal, the initial phase of the Grand Rapids Pipeline, the Tamazunchale Pipeline Extension, the acquisition of nine Ontario Solar projects and the ongoing expansion of the NGTL System.
Comparable EBITDA for the Keystone Pipeline System was $12 million higher this quarter with $186 million than Q1 2012 with $174 million. This increase reflected higher revenues primarily resulting from higher contracted volumes, higher final fixed tolls on committed pipeline capacity to Cushing, Oklahoma, which came into effect in July 2012.
According to TransCanada's 2012 annual report, the Keystone Pipeline System generated approximately $700 million in EBITDA. The potential capacity of the pipeline is estimated at 1.4 million Bbl/d, including the Keystone XL part where it should deliver 830,000 Bbl/d of crude oil to the U.S. markets if the latter gets built and operated.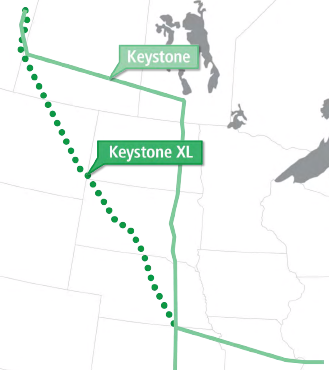 Source: 2013 Annual and Special Meeting
Therefore, the potential contracted EBITDA that would be generated by the project annually is estimated at $1.02 billion, with the entire pipeline system generating about $1.7 billion of contracted EBITDA when, and if, it is all completed. Currently, more than 1.1 million Bbl/d is contracted for an average term of 17 years and represents 33% of Canadian oil exports.
EBITDA Outlook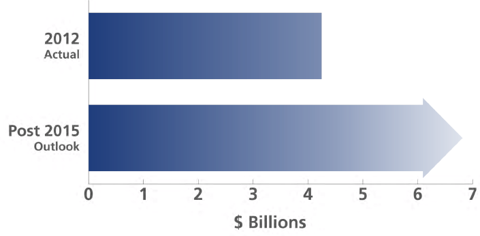 Source: 2013 Annual and Special Meeting
Total capex of the Keystone Pipeline System is estimated at $14 billion from which $5.3 billion is estimated in cost for Keystone XL, estimates that could increase depending on the timing of the permit. As of March 31, 2013, the company invested $1.8 billion in the project.
According to a recent commodity price report, the price of WCS heavy oil also rose from a mere $58.38 per barrel in February to $66.73 in March and about $68 in April, a welcome development for Alberta's hard-pressed steam assisted gravity drainage (OTCPK:SAGD) bitumen producers.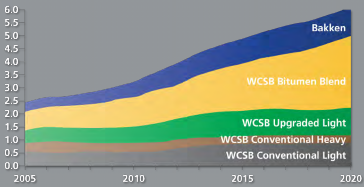 Source: 2013 Annual and Special Meeting
The CERI (Canadian Economic Research Institute) estimates that U.S.-Canadian trade activity generated by Keystone XL would increase the U.S. GDP by $172 billion over a 25-year period and increase U.S. employment by 117,000 jobs.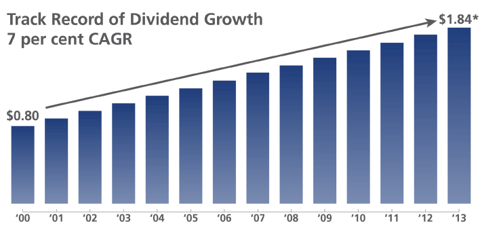 Source: 2013 Annual and Special Meeting
The company offers a steady growing dividend which has increased from $0.80/share in 2000 to $1.84/share this year. Currently, the dividend yields 3.71%, higher than its industry average of 2.04% but lower than 4.57% for the sector average. I believe that TransCanada has a huge upside potential and its shares' value should increase as well as its dividend payout, when its major projects like the Gulf Coast and Keystone XL pipelines come online. Keystone XL is expected to generate more than 1$ billion in annual contracted EBITDA, a substantial amount of earnings.
Bottom Line
According to a former senior figure in the State Department, David Gordon predicts that Barack Obama will almost certainly approve the Keystone XL pipeline. "I would say the chances are about four-to-one" in favor of the President approving the pipeline from Alberta to American refineries. Mr. Gordon was director of policy planning when Condoleezza Rice was secretary of state, and is currently head of research at the consulting firm Eurasia Group.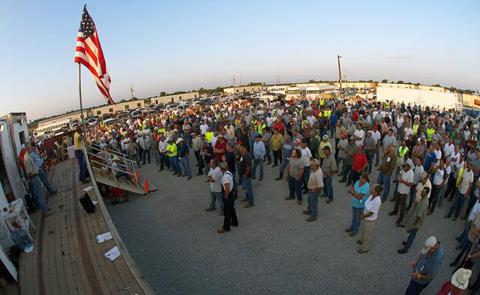 Source: TransCanada Corporation
I believe that the U.S. economy just can't do it without Keystone XL. The denial of thousands of jobs for U.S. families across the country in addition to millions of dollars in annual tax revenue for local governments would hurt the overall economy as well as depriving its citizens from the much needed black gold to respond to the global increasing demand and securing the energy for the country.
By buying a little more than 200 million barrels of oil per year from Canada instead of another oil supplier with whom the country's trading relationship is not as strong (Venezuela comes to mind), the trade differential is about $9 billion a year in potential U.S. exports. That translates into an additional 48,297 U.S. jobs per year, according to the Commerce Department.
Access to future reliable energy is at stake and President Obama knows what it means for the country. Moreover, its reelection doesn't oblige him to listen to environmentalists and its lobby anymore. Instead, Obama is well aware of the unique opportunity in his own hands to leave a legacy that will echo from this generation to the next.
Disclosure: I have no positions in any stocks mentioned, and no plans to initiate any positions within the next 72 hours. I wrote this article myself, and it expresses my own opinions. I am not receiving compensation for it (other than from Seeking Alpha). I have no business relationship with any company whose stock is mentioned in this article.