When AOL (NYSE:AOL) reported its latest quarterly earnings on May 8th, its stock took a plunge of 10% and Foxbusiness reported:

Shares closed Friday May 10th at $39.06, recovering some of the losses.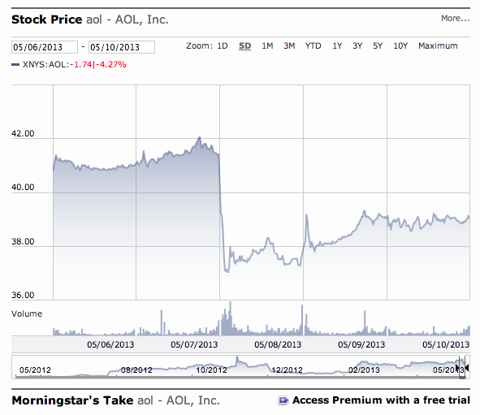 So why are shareholders getting restless? We think the following chart shows the story clearly: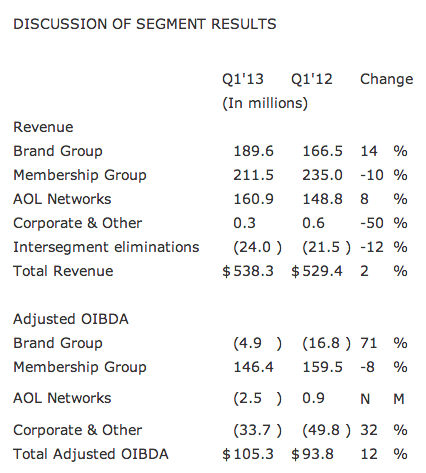 Here is a breakdown of the segment properties:
Brand Group
Membership Group
AOL Networks
Corporate & Other
AOL.com
AIM
ADTECH
Global business support costs
AOL Autos
AOL Mail
Advertising.com
Non-core operations
AOL Music
Subscription Services
AOL On
DailyFinance
Related search revenue

Be On (formerly goviral)

Engadget
Other
Buysight
Games.com
Pictela
Huff Post Live
Sponsored Listings
Huffington Post
Other
KitchenDaily
MapQuest
Moviefone
Patch
StyleList
TechCrunch
Related search revenue
Other Content Brands
What jumps out at us is the largest sector, the Membership Group where all of its OIBDA is derived, is dropping faster than their new Brand Group which is where the company has staked its future. Reuters reported:
AOL Chief Executive Tim Armstrong has invested heavily in content, including plowing well over $100 million into Patch, a group of hyperlocal websites that covers neighborhood news and events.

Even with all of that spending, the legacy subscription service is still the most profitable part of the company. The membership group, which includes subscriptions, posted operating profit of $146.4 million in the quarter.
The Membership group is where AOL's legacy dial-up internet customers are providing what arguably is the company's most profitable cash flow. Why? Because customers are still paying for dial-up service when they do not need it. Here is a link that describes this issue.
And here is AOL's link to end subscriptions. Our question is why can't AOL convert these demographically (credit worthy baby boomers) desirable customers to a new service such as magicJack's (NASDAQ:CALL) VOIP service? Transitioning these customers into a long term VOIP plan should be easy and preserves subscription cash flow rather than stopping it.
The numbers above are not encouraging for the Brand Group. They are still bleeding cash. We think the Patch.com effort for localized content is a failure. It has been sucking up cash and has not gained enough user traction to generate meaningful advertising revenue.
Henry Blodget recently wrote:
And the shrinking dial-up business is shrinking at a much slower rate than it used to--because AOL is finding ways of adding other value for its subscribers.

In fact, it is not inconceivable that AOL will find ways to add enough value for its subscribers that the subscription business will soon stop shrinking and start growing again. And if that happens.... wow. AOL will have a built-in marketing engine (content and ad network) with which it can market subscriptions at very low cost. And given the profitability of this business, AOL's profit could suddenly begin to grow very rapidly.
We highlighted the portion above to illustrate that CALL can help take the IF out of the equation. In fact, a tax efficient all stock acquisition of CALL by AOL could be accretive to AOL given its forward PE ratio of 16.9 vs. CALL's 5.8. We think operating synergies and elimination of duplicate infrastructure costs between these two companies would probably make a lion's share of CALL's top line net revenue, FY 2013 net revenues projected to be in the range of $155 and $160 million, drop down to AOL's bottom line. If AOL paid $500 million for CALL using 12.8 million shares, roughly $26 per CALL share, and $100 dropped to the bottom line, the 11.1% forward PE ratio differential would yield a $1.1 billion implied increase in market-cap giving AOL over a 2 to 1 accretive benefit.
Conclusion
We think AOL has pulled some rabbits out of its hat in the last 16 months, starting with the sale of their patent portfolio to Microsoft (NASDAQ:MSFT) for $1 billion. It recently completed an accelerated share repurchase (NYSE:ASR) program. The total amount of shares repurchased by AOL under the ASR Agreement was 18.4 million shares at a cap price of $32.69. This used $601.5 million. We think AOL should use its revalued higher currency, its shares, to make accretive acquisitions like CALL and others we will highlight later to rebuild cash flows on their strong core operations of subscriptions services and complimentary advertising platforms and opportunistically mine its vast email users.
Disclosure: I am long CALL. I wrote this article myself, and it expresses my own opinions. I am not receiving compensation for it. I have no business relationship with any company whose stock is mentioned in this article.