Yesterday afternoon after the bell, National Semiconductor (NSM) reported results for the fourth quarter of fiscal year 2009 ending May 2009. Revenue for the third quarter was $280.8 million, down -4.0% sequentially and down -39.2% year over year.

The gross margin was 59.3%, up 37 bps sequentially. The slight increase was mostly due to employee layoffs and cost reductions.

The utilization rate remained very low, increasing from 37% in Q3 to 38% in Q4. NSM is particularly hit by lower utilization rates as the company manufactures around 90% of its products in-house.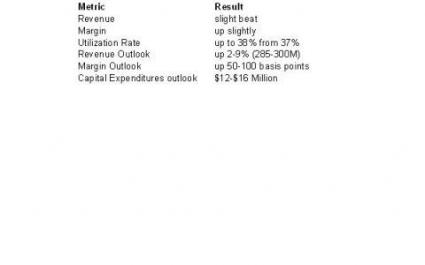 Quotables
CEO Brian Halla: "[O]ur earnings both with and without the restructuring charge were better than we originally projected. So how do we define improvement? Our bookings in the quarter grew for the first time in four quarters. This growth was up 30% from Q3 and resulted in a positive book-to-bill...

"Much of the order activity here seemed to be in preparation for several launches of new smartphone models that are scheduled to take place over the next couple of quarters from various handset suppliers we all know and love...

"Another area where we're ramping production is in the high brightness LED driver area. This also complements our already proven capability in LED drivers for handsets and laptops. We've had over 4,500 designs completed in the last month for the LED driver circuits, as recorded by our online Webench PowerWise LED design tool."
Sejuti Banerjea contribute to this post.