I was both humbled and awe struck by Michelle Sides, Chairman and Chief Operating Officer of Medical Marijuana, Inc.'s (OTCPK:MJNA), recent response to the attacks on the company's reputation and accuracy of its financials. Growlife's (OTCPK:PHOT) recent press release regarding its Letter of Intent (LOI) to Acquire Hydroponics Store Chain Rocky Mountain Hydro, Evergreen Garden Centers and 58Hydro.com was all but ignored. Cannabis Science, Inc. (OTCPK:CBIS), which has been allowed to market government patents and has strongly connected itself to the government research community, has garnered some doubt. Even what seems to be the industry's favored child, Medbox, Inc. (MDBX.PK), has seen some wild swings as investors have contemplated the stock's value.
So what's going on here? Well, much of the volatility is being driven by the fear and uncertainty in the industry's ability to grow while the conflicts between state and federal laws remain unresolved. The situation has been exacerbated by the mistrust related to the credibility of the industry's leaders and the fundamentals of the companies that they lead. Much of the debate has played out in the media, and because these companies are literally on the cusp of a new frontier, the court of public opinion seems to drive some price movements.
Medical Marijuana, Inc.
For example, the creation of the CannaVest entity has been portrayed as an attempt to mislead shareholders and that it is a worthless entity. The premise completely ignores the fact that using a shell company that has already gone through the process of going public is a cost avoidance method that is used often and is a completely acceptable practice allowed by the Securities and Exchange Commission (SEC). It is a complex transaction that provides a way for a new entity to quickly establish itself and focus on business operations.
In the CannaVest deal, the company is allowed to pay debt with equity for the sale of assets and intellectual property until revenue can be generated. In doing so, ownership interest, as investors, is transferred back to MJNA. There should be no expectation that the company becomes immediately profitable. It's not even a year old. Tesla Motors, Inc. (NASDAQ:TSLA) just turned a profit and the stock has been doing very well. Investors should also know that MJNA is going through an extensive audit process to add transparency and up-list the stock.
I wrote the following in a previous article to offer clear information about the CannaVest transformation:
"CannaVest was formally known as "Foreclosure Solutions, Inc" (FCLS.OB), an entity that was never profitable. Foreclosure Solutions was incorporated in Texas in November of 2010 with the intention of selling realtor services to homebuyers looking for foreclosed residential properties. The company was unable to obtain financing to start the business and subsequently changed it business focus and name.

On November 16, 2012 the company was purchased from H.J. Cole by Mai Dun Limited, LLC, Mercia Holdings, LLC, General Hemp, LLC and Bamburgh Holdings, LLC. The group acquired 5,000,000 shares from Cole and 1,979,900 shares of common stock from other shareholders in a series of private transactions for a total share count of 6,979,900 shares. As part of the transaction, Cole resigned (without any controversy) and Michael Mona, Jr. assumed the role of President, Secretary and Treasurer of the company.

The name change was only recently completed on January 29, 2013. The company has requested a new trading symbol which is expected to be assigned around the 26th of February."
As promised, CannaVest Corporation's new trading symbol (CANV.OB) is now active. The stock trades sporadically with very minute volume. I doubt that it will trade much until the business structure and profitability is better understood. It's actually up 22.7% YTD as of May 10th, but I think that is only related to curiosity about the stocks ability to trade. I bought 20 shares as a matter of due diligence myself.
Medical Marijuana will be posting audited financials soon and I expect that you should see some clarity on some business transactions, but don't expect the company to give away the farm as they are a competitive publicly traded company.
Growlife, Inc.
Growlife recently offered a very enlightening Investor Presentation that seemed to be completely ignored. The company is about to significantly improve its revenue through its most recent acquisition initiatives as mentioned above. They even adjusted their revenue guidance upward, receiving very little investor attention. I offered some very nice projections on this issue in my Instablog; you may want to take a look. The company is a fully SEC reporting diversified manufacturer that has no exposure to the risks associated with THC (the stuff in marijuana that gets you high). I think that this is one of the reasons that Medbox has gotten so much attention.
So why hasn't Growlife seen more growth in its share price? Growlife has a market cap that is below $100M. A company's market cap is derived by multiplying the company's share price by the number of shares outstanding. Companies with market caps below $100M don't get much media attention. This represents an opportunity as the company is just not getting the attention it deserves. Seeking Alpha (SA) does not publish articles on companies with market caps below 100M, but as mentioned above, the article that outlines the company's initiatives is available on the SA platform in my Instablog.
Cannabis Science, Inc.
Cannabis Science hasn't seen much press lately but did announce that they have a "Therapeutic Discovery Program initiated in the Netherlands, executed along U.S. guidelines for regulatory submission." I believe the company is using these types of associations to establish industry recognized facilities for research.
The company is pursuing many pharmacological initiatives. The company stated the following in its Form 10-K:
"Our business and product development will follow two parallel paths. We will create cannabis pharmaceuticals with and without psychoactive properties. Both of these lines will have numerous proven health benefits for treating autism, blood pressure, cancer and cancer side effects, along with other illnesses, including for general health maintenance."
The stock is down almost 16% YTD, and as a development-stage company, the stock will probably not see much support until its research efforts produce products that get closer to the final stages of clinical trials. The company is establishing itself as a very reputable entity in the medical research world and the stock could rise quickly if its research comes to fruition.
Medbox, Inc.
Medbox has a good business model, but competition is building fast. Being on the frontier, Medbox will have to compete for the market share that will develop as this industry expands. But, the good thing is that the industry is expanding and Medbox has a first mover advantage.
The company was recently featured in a Bloomberg Businessweek article where the CEO, Bruce Bedrick, discussed the company's plans to "dominate the industry." The article observes that Bedrick is addressing investing partner Joe Alvarez Jr. of NewGate Capital Partners who has some reservations about the stocks volatility. Alvarez was quoted as saying that "Wall Street plays games with our stock all the time," but he was very clear in his support of the company's potential for significant growth. The stock was up 16.84% Friday (May 10, 2013) to close at $29.21.
Medbox is down over 55% YTD but up over 47% for the trailing 30 days. The company's price swings, and the industry as a whole, are most likely due to Colorado's legislative debate, which is discussed below. I think that the company's ability to execute is dependent on the various states being able to implement medicinal and recreational policies, which I believe to be showing much improvement in recent days.
Legislative Update
Aside from much of the recent rhetoric surrounding the stocks in this sector, what has most likely moved the stocks lower in the recent weeks has been talk of the repeal of Colorado's marijuana legalization initiatives which were largely based on the debates about how taxes would be levied. The cloud was dissipated with the approval of Colorado House Bill 1317, which covers the implementation of legalized retail operations of marijuana. Colorado Gov. John Hickenlooper is expected to sign the bill into law.
At the federal level, H.R 1523 - Respect State Marijuana Laws Act of 2013 now has 15 co-sponsors from its initial 5 co-sponsors. The bill has also moved through the following committees and subcommittees: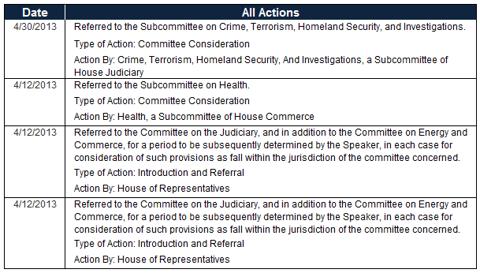 Click to enlarge
Conclusion
Two main components of successful investing are understanding and conviction. Change your investment strategy when the information changes and have conviction when it doesn't. There hasn't been much discussion about new information available in the industry lately. The most relevant, being Colorado's progress in setting taxes and rules for marijuana sales. I plan on writing "MJ Market Watch" articles to highlight industry advancements.
Micro-Caps are volatile and investors should be very cautious. But watch carefully for the companies that are trying to do the right thing. This is where you might find your biggest opportunities.
Disclosure: I am long OTCPK:MJNA, OTCPK:PHOT, CANV.OB, OTCPK:CBIS. I wrote this article myself, and it expresses my own opinions. I am not receiving compensation for it (other than from Seeking Alpha). I have no business relationship with any company whose stock is mentioned in this article.