General Electric (NYSE:GE) is very close to announcing its quarterly dividend payout. There are several reasons why I believe that the company will announce a dividend hike this quarter, rather than their usual 3rd quarter move.
The early completion of the NBC Universal sale to Comcast (NASDAQ:CMCSA), which added more than $17 billion in actual cash to the company coffers.
The last dividend hike, which was 12%, was announced in December of 2012, prior to the sale completion.
The recent earnings report, not only beat estimates, but the entire company structure is evolving to become much more efficient, including GE Capital, no matter what the naysayer's claim.
There were some downgrades of the stock which sent the share price down by almost 5%. It created a strong short interest, in which on further review, has caused small but steady short covering increases in the share price, since the dip (I suggested that it created a solid buying opportunity in this article, and was very accurate).
The company acquired Lufkin Industries in which GE is making more of a statement that it intends on growing the energy business segments, as well as relying on the aviation, transport, and healthcare divisions. As far as I am concerned, this will bode well for shareholders going forward in both the share price, as well as enhanced dividends from greater earnings.
An important comment made by a chief investment advisor during the company conference call:
The NBC sale helped GE's cash balance jump to $138.1 billion from $125.9 billion in the fourth quarter of 2012. The rise has led some investors to hope for yet another dividend hike. "I expect it (dividend increase) to go from 19 cents to 21 cents ... but I don't expect it this quarter. Maybe next quarter," *DeGan said. (*Jack DeGan, chief investment officer at Harbor Advisory Corp.)
I agree but my opinion is that the increase could happen THIS quarter, and maybe even a bit more in the 3rd quarter. Why sit on the cash when folks are a tad nervous about the dip in the European economic climate?
Keep in mind, I also am leaning towards the belief that Jeff Immelt has a desire to show shareholders more respect in the face of a mostly adversarial shareholder meeting conference.
Obviously this is my opinion, but I really do believe Immelt has the desire to assuage as least some shareholders who saw their dividends drop, after Immelt promised they would not. Not every shareholder will be happy no matter what, until Immelt and the BOD is replaced, but based on this one single chart:
The clear intent is to return shareholder value, and since the share repurchase announced previously, added another $10 billion in planned buybacks through 2015, the company still has over $138 billion in cash available. If MY crystal ball is working, why shouldn't GE announce a surprise dividend hike this quarter?
I would say it is 60%-40% in favor of a 10% pop in the dividend with the next announcement, coming sooner rather than later.
GE Has Done It Before, Why Not Again?
Take a look at this chart: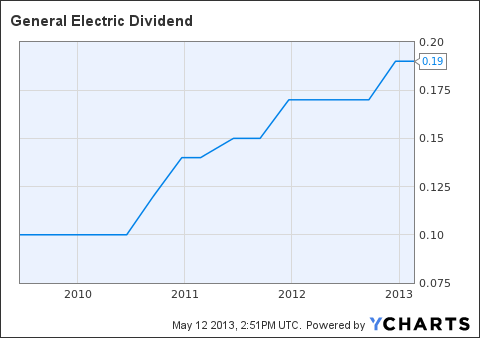 In 2011, the dividend was increased nearly 22% in two hikes. I believe that the company is in even better shape to have a repeat performance right now.
Let's see if my thesis is correct, or not. Either way, GE will most definitely increase dividends in 2013 rather significantly, from my vantage point.
Disclaimer: The opinions of the author of this article is neither a recommendation to buy or sell any security. Please do your own research prior to making any investment decisions.
Disclosure: I am long GE. I wrote this article myself, and it expresses my own opinions. I am not receiving compensation for it (other than from Seeking Alpha). I have no business relationship with any company whose stock is mentioned in this article.