When a video of a 3-D printed gun firing a bullet was circulated on the internet, the removal of 3-D gun designs showed the changes that will be taking place in U.S. military defense. It may already be too late, since Forbes reported that the blueprints were downloaded nearly 100,000 times. It also highlighted the enormity of changes that will be taking place in manufacturing and trade. One of the 3-D printing companies to focus on is 3D Systems. The strong interest in 3D Systems (NYSE:DDD) resumed in the last two months, and is justified. Despite issuing additional stock after 3D Systems' shares touched $45, shares are well-above $30 at the start of April 2013. The shares were supported by solid first-quarter results.
Sales increased 31% to $102.1 million in the first quarter compared to last year. Sales were driven by a 61% increase in sales of printers and other products.
Quarter Ended March 31, 2013

(in thousands, except per share amounts)

2013

2012

% Change

Revenue:

Products

$68,452

$49,397

39%

Services

33,627

28,523

18%

Total revenue

102,079

77,920

31%
Source: 3D Systems Q1/2013 Press Release
Revenue growth outpaced expenses, with the exception of interest and other expenses. Despite the rising expenses, 3D Systems improved gross profits to 38%, while gross profit margin was 52.4%.
| | | | |
| --- | --- | --- | --- |
| (in thousands, except per share amounts) | 2013 | 2012 | % Change |
| Total cost of sales | 48,602 | 39,067 | 24% |
| Research and development | 6,504 | 4,933 | 32% |
| Total operating expenses | 35,958 | 28,883 | 24% |
| Interest and other expense, net | 10,067 | 2,682 | 275% |
More Upside Possible
New product launches are expected to support growth for 3D Systems. The company cited the launch of Cube and CubeX 3-D printers helped support sales. Eight new models of its ProJet 3510 printer were commercialized. In all, sales of the printers contributed to $39.7 million of the total revenue for the quarter.
Strong Cash Flow
3D Systems generated $10.7 million in net cash from its operating activities. The company decreased its cash balance by $45.4 million to $110.5 million.
Strong Forecast
Materials gross profit margins improved steadily over the last few years. From the current low 70s, 3D Systems forecasts margins will continue to rise.
The printer product mix includes new products with a lower price point, but professional products are growing, and have a sustained average selling price ("ASP"). This will help maintain the current ASP and margins.
Risks
GAAP earnings were just $0.06 per share. 3D Systems arrived at a non-GAAP $0.21 per share by adding back the following:
3.8 million of amortization expense
$2.2 million of acquisition and integration expenses
$2.2 million of stock based compensation
$5.7 million (loss) on conversion of convertible notes
$0.5 million of noncash interest expenses and a loss on the litigation settlement
Day Sales outstanding ("DSO") rose to 79 days from 72 days. The company said that a shift of sales to resellers contributed to the rise, but expects DSO to return to historical levels over the next few periods.
Competitive Analysis
3D Systems is outperform Stratasys (NASDAQ:SSYS) in the year-to-date, but Stratasys is up 4,900%, compared to 1,850% for 3D Systems.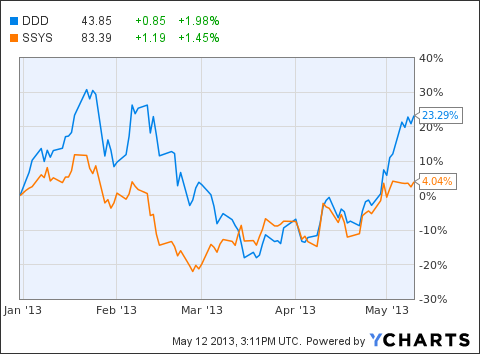 DDD data by YCharts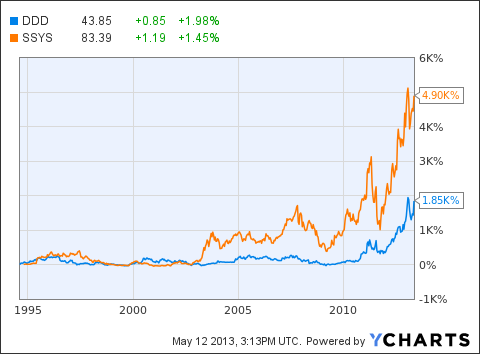 DDD data by YCharts
Stratasys grew revenue by 30% (GAAP) in its most recently reported quarter, while gross margins grew to 58%. Operating as a percentage of sales grew 27.1%. Stratasys earned $1.49 per share, up 59.1% (all latter figures are non-GAAP).
The company had $155.5 million in cash and investments and day sales outstanding were 61.7 in the last quarter.
Stratasys also said it expected earnings will be between $1.80 - $1.95 per share: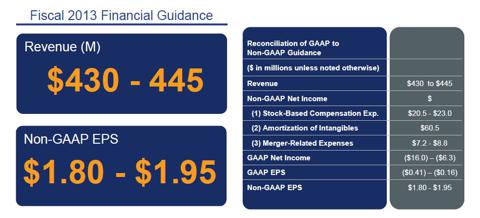 Source: Stratasys
At a recent share price of $83.39, Stratasys trades at a forward P/E of between 43 - 46.
The consensus estimate for 3D Systems is earnings of between $0.99 - $1.06, which implies a forward P/E of between 41 - 44.
Yearly Earnings Forecasts

Fiscal

Consensus

High EPS*

Low EPS*

Number of

Over the Last 4 Weeks

Year End

EPS* Forecast

Forecast

Forecast

Estimates

Number of Revisions

Up

Down

Dec 2013

1.02

1.06

0.99

2

2

0

Dec 2014

1.27

1.27

1.27

1

1

0

Dec 2015

1.43

1.43

1.43

1

1

0
Source: Nasdaq.com
Additional Thoughts
The risk of a short squeeze is rising for 3D Systems. By April 30, 2013, the days to cover rose to 8.98, up from 8 on April 15. The pattern was similar for Stratasys. Insider buying exceeded sales, supporting a view that management was confident for its future.
Despite the recent aggressive share issue of 7.1 million shares at $40 per share by 3D Systems, positive momentum still exists for the company. If traders take profits, causing shares to pull back, it may provide another entry point for investors who missed the recent rally that began in March.
Disclosure: I have no positions in any stocks mentioned, and no plans to initiate any positions within the next 72 hours. I wrote this article myself, and it expresses my own opinions. I am not receiving compensation for it (other than from Seeking Alpha). I have no business relationship with any company whose stock is mentioned in this article.