All data and information in this article is either from the companies' SEC filings or S&P stock reports.
I recently funded some retirement accounts and have since been looking for an investment to park the cash in. Unfortunately, I haven't had much luck finding something that I feel confident will do well at current prices. As Warren Buffett says, an investment opportunity should "hit you over the head" and I haven't gotten that feeling lately. So, it was exciting when my screener brought up Western Digital Corp. (NYSE:WDC) and Seagate Technology PCL (NASDAQ:STX). Both companies are leaders in the internal and external electronic storage device industry. Chances are, if you've ever needed some extra storage space for your computer files, music or photos, you've come across them in your search for a good, durable hard drive. Yet, the valuation on these stocks seems shockingly low. WDC is trading at a P/E of ~7, while its P/B is 1.66 and STX, Western Digital's biggest competitor, which is trading at a P/E of ~ 5.5 and a P/B of 5.2. The question is, why are both companies trading at such low multiples and will either one be a good investment for the long-term.
Quick Comparison
The following is a quick comparison of WDC's and STX's pertinent information and ratios. FY 2011 both experienced flooding in their Thailand facilities, which is why they both had weak revenue and earnings in that year.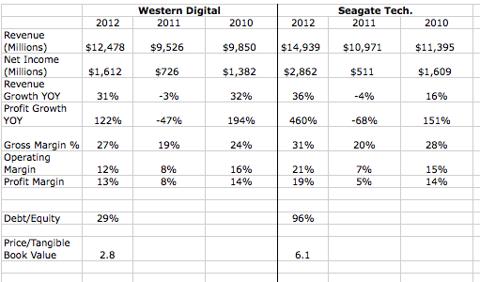 When looking at the financial statements for STX and WDC, one can quickly see a big difference. (Per share data is calculated based on current amount of shares outstanding.)
Western Digital's balance sheet is one that shows conservatism. According to WDC's most recent quarterly data, they have a debt/equity ratio of 0.25, current ratio of 2.28 and a tangible book value of $24.32 per share, of which $16.86 is in cash and cash equivalents. For FY 2012, the income statement showed a profit of $1,612 million or $6.75 per share. S&P analysts recently raised their estimates to $8.50 per share for FY 2013. As shown above, in FY 2012 they had gross margins of 29% and profit margins of 13%, the return on equity was 24.5%. In FY 2012, they had free cash flow of $2,350 million. In March 2012, they acquired HGST for $4.3 billion, of which $3.5 billion was in cash. In 2012, they started to pay a dividend, and seem to be continuing to do so in 2013. The current dividend yield for WDC is 1.7%.
Seagate's balance sheet is not as conservative. They currently have a debt/equity of 0.75, current ratio of 1.92 and a tangible book value of $6.67, of which $5.32 is made up of cash. In FY 2012, they showed profit of $2,862 million or $7.98 per. S&P analysts expect their operating earnings to fall to $5.11 per share in FY 2013. Seagate stopped its dividends during 2009 and 2010. However, since 2011 they have gone back to paying dividends, which currently yields 3.7%.
Acquisitions
In the last few years both WDC and STX had major acquisitions:
In 2011, WDC bought HGST, another leading company in the hard drive space, for $4.7 billion in cash and stock. In relation to this acquisition, WDC borrowed $2.8 billion and recognized goodwill of $1.8 billion.
In August 2012 STX acquired 65% of LaCie S.A. for $111 million of which $107 million was in cash and the other $4 million in contingent liabilities. They recognized an $13 billion of goodwill. Since then they have spent another $60 million acquiring another 29% of LaCie S.A., bringing their ownership up to 94%. In 2011, STX bought Samsung (OTC:SSNLF) HDD business. The deal was valued at $1.1 billion and consisted of stock and cash. Seagate recognized $427 million of goodwill on the deal.
Future & Uncertainties
Western Digital and Seagate's main business product are hard drive disks (HDD), which are commonly found in computers, laptops, servers and other traditional computing devices. However, such drives aren't found in tablets, smartphones or other handheld devices, which use solid state drives (SSD).
SSDs are smaller, use less power and are less prone to break if dropped. However, they are more expensive to manufacture, although the costs are coming down quickly. On the other hand, HDDs are cheaper to manufacture and, although they use more power and are more prone to breaking due to their moving mechanical parts, they are the storage of choice for cloud computing and high data uses. (See Wikipedia)
Both Seagate and WDC feel that hard drive disks are still the best place for their enterprises to be at this time. However, with consumers moving to mobile, WD and Seagate may be caught flat-footed. This is why analysts are giving these companies a "sell" rating. They see the need for SSDs growing while the need for HDDs falls. This will cause slower growth and lower profits for both Seagate and WD. It should be noted that both companies have made acquisitions that put them into the SSD market, however, it still remains a relatively small part of both companies.
Valuation
When valuing a company, the hardest part is what Warren Buffett refers to as the "what-will-they-do-with-the-money" factor. This is to say that we, as (small) investors, have no say in what management will do with assets and cash they currently have or will earn as time goes by. Yet, it is this factor that is most important when valuing a company. Therefore, we must try to come to a figure that represents the true value of the shares based on what the future holds.
It's clear from their financial statements that, Seagate has, in the past, enjoyed better earnings power compared to Western Digital. In this respect, their leverage has served them well. However, as FY 2009 shows, this can be to their detriment in bad times - STX reported a $3 billion dollar loss on $9.8 billion in revenue. WD, on the other hand, reported profits of $454 million on $7.45 billion in revenue in the same year.
If analysts are correct on expectations of the future, STX will most likely have a harder time due to its higher leverage. However, I wouldn't be too concerned, in FY 2012 operating earnings were 12.90x interest. Even according to analysts' dire expectations of the future STX should make enough to cover the interest charge with a wide margin.
It's doubtful that WDC and STX will have as bad a future as S&P analysts suggest. In fact the "fair value" given to WDC by S&P analysts is $69, 18% higher than its current price, even as they give a "sell" rating on the stock. This is because they see the stock declining over the next 12 months. However, over the long-term they feel that the stock is worth more than it's currently selling at
It should also be noted that during a WDC conference on Wednesday April 24, 2013, management mentioned:
"Over the last 5 years, the revenue contribution of our non-PC related business has grown from 35%, in fiscal year '08 and is projected to account for more than 50% of our revenue in fiscal year '13. As a reminder, our monthly fee-related business is comprised of our branded products, consumer electronics and enterprise business, which includes SSDs." (Seeking Alpha Transcripts)
Although I don't know what percentage of STX's revenue came from non-PC related business, I would not be surprised if it was in line with WDC's. However, it is clear that both companies are taking steps to move away from PCs.
For the aforementioned reasons, I think it's reasonable to value these companies at an enterprise value of 10 times EBIT. When calculating this figure, it is preferable to use average earnings of, say, the last 5 years. This includes the recession years, which should give us an idea of how to value these shares in an economic downturn, especially STX. We will also base values on EV, which means that 10 times EBIT will equal a hypothetical EV that we would be willing to pay. Based on this EV, we will be able to calculate backwards to what we think the equity of the company is worth. However, since both companies have made major acquisitions that greatly impact their businesses, an average of the last 5 years may not be a great indicator of what the future earnings power of either company may be. Therefore, we will also take FY 2012's earnings and use a multiple of 8. We can then use the average of these two valuations to come to a conclusion about what we think the shares are worth.
To do this calculation we will take the hypothetical EV (EBIT x 10) and add back in the excess cash and deduct the value of the companies' debt and be left with an amount that we feel is what the equity is worth. We then divide this by the amount of shares currently outstanding, arriving at the price per share that we would be willing to pay.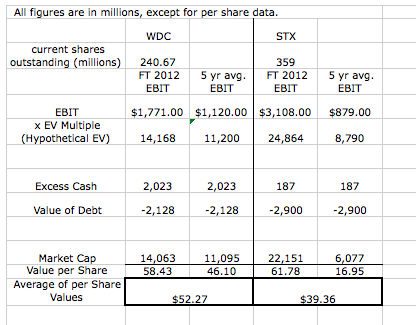 While the above calculation tells us what the shares of each company are worth at this time, Benjamin Graham warns us that we must always add in a "margin-of-safety." As such, investors should only be willing to buy these stocks at prices lower than the amount we calculated above.
Therefore, although both stocks are currently priced with low P/E ratios, investors should realize that they are not getting a bargain or as deep a discount as they may think. Although I do think that these stocks will do well over the long-term, they do not seem priced low enough for an investor that is looking for value.
Disclosure: I have no positions in any stocks mentioned, and no plans to initiate any positions within the next 72 hours. I wrote this article myself, and it expresses my own opinions. I am not receiving compensation for it (other than from Seeking Alpha). I have no business relationship with any company whose stock is mentioned in this article.