Screening the NYSE for undervalued stocks, I'm coming across a lot of stocks that are in the auto industry or related to the auto industry, possibly because of the industry's cyclical nature and the current state of the economy. Among those I found a company with promising fundamentals, similar to last week's Advance Auto Parts (NYSE:AAP), this week with Cooper Tire & Rubber Company (NYSE:CTB)
Cooper Tire & Rubber Company is a global company with affiliates, subsidiaries and joint ventures that specialize mainly in the design, manufacture, marketing and sales of passenger car and light truck tires.
With headquarters in Findlay, Ohio, Cooper Tire has manufacturing, sales, distribution, technical and design facilities in 11 countries around the world.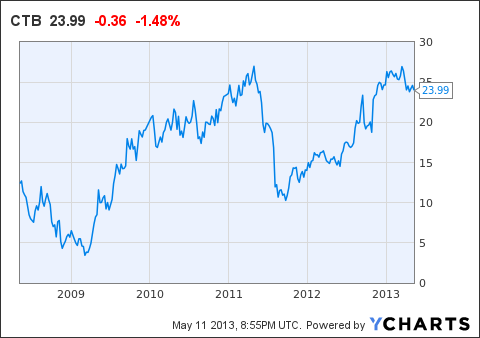 Strategic Plan
Cooper's strategic plan is aimed at creating shareholder value (always a good thing when a company has its priorities straight) and management is trying to accomplish this by developing a competitive cost structure and improving profitability, by driving top line profitable growth and by building organizational capabilities.
Turnaround
As a tire manufacturer Cooper is somewhat tied to the cyclical auto industry, although only last year it started to supply tires for new cars in the USA to Ford (NYSE:F). In China, being a supplier to car manufacturers is a key part of its strategy. Cooper experienced net negative income in 2008 of 200 million and has been restructuring.
By going through some of the numbers I want to make the case that Cooper is now a leaner operation, better able to withstand bad years, yet ready to profit when the economy turns around.
Competitive Cost Structure
To see how the company's competitive cost structure is doing I pulled up a few graphs from YCharts. The first one shows revenue growth compared to costs of goods sold.
Over the last 12 months we are seeing a wider margin develop. It's not clear what is causing the widening, so nothing to get too excited about, but it's a start. If it turns out to be sustainable that would be great. Revenue growth shows that the company is successful in growing the top line.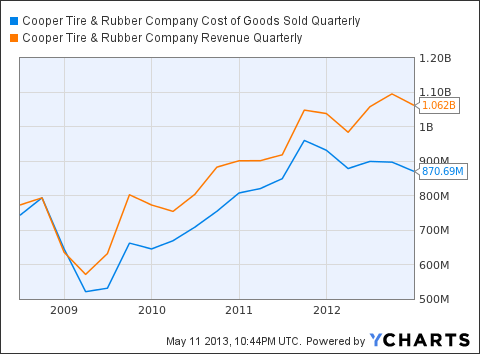 CTB Cost of Goods Sold Quarterly data by YCharts
SG&A stands for all direct and indirect selling expenses and all general and administrative expenses of a company. If management is doing a good job, SG&A is not getting out of line with revenue growth and preferably rises at a slower rate. SG&A expenses look ok.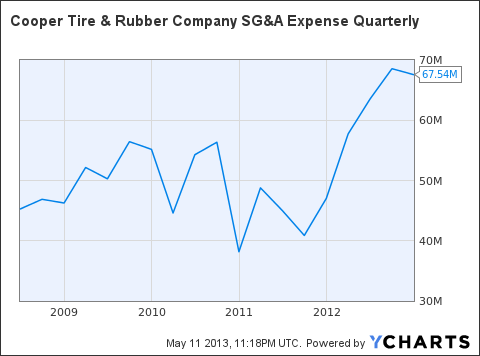 CTB SG&A Expense Quarterly data by YCharts
The company is working hard to improve profit margins, even in hard times and I pulled up a chart showing gross profit and net profit of its operations. It appears that management's work is paying off, as margins are creeping upward. This is part of its strategic plan, and it's a positive signal this appears to have an effect, although it could be attributed to other factors as well.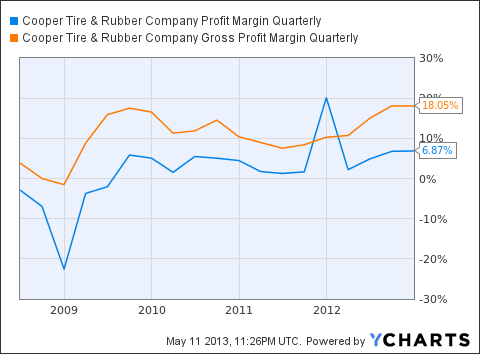 CTB Profit Margin Quarterly data by YCharts
Top Line Growth
Another one of management's goals is to grow top line growth. It has been doing a good job of that 2010-2012. Revenue growth appears to be slowing down right now, but if it continues to grow margins like it said it would, in the Q1 2013 Earnings call, this doesn't have to be a problem at all. Excellent earnings growth can be attained with temporary slow top line growth.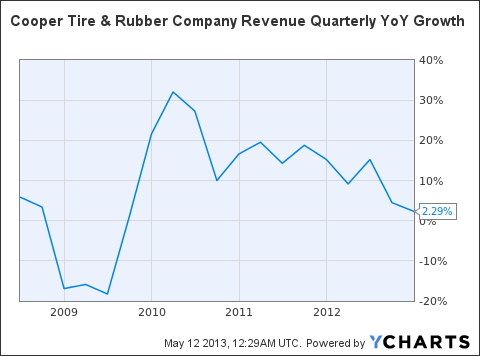 CTB Revenue Quarterly YoY Growth data by YCharts
Management has been executing its strategic plan, though perhaps the economy helped to improve the fundamentals for Cooper Tire & Rubber. Now, let's examine the valuation of the company to see if this turnaround is something attractive to buy into.
As the chart at the top of the article shows the shares have been going up in value and right now they go for $24.
However, because earnings have been growing as well, the stock is still trading at a P/E of 6.9 (TTM) and a forward P/E of 7. Book value of the stock is $12 as of the Q1 2013 earnings report. Debt to equity ratio stands at about 0.49 and according to the Altman Z-score of 3.6 the company is financially sound. Cooper also pays a quarterly dividend and it has done so for 40 years straight.
Conclusion
Although by no means a raging success, it seems management succeeded turning the ship in a different direction. The numbers indicate the company is significantly more lean and mean then it was in 2008.
They have been doing a good job growing earnings throughout the last few years. A period that can hardly be described as a period of booming business. Going by the forward P/E, analysts are not expecting a significant uptick in earnings anytime soon. Fellow Seeking Alpha contributor Todd Renfro wrote an extensive analysis of how earnings might develop for CTB.
Meanwhile, insiders have been increasing their ownership of the company a net 63% over the last twelve months. I think they are doing the right thing. The stock is available at $24, given that there is significant book value, a (small) steady dividend, management on the right track, and that the company is priced like earnings will decline or stay flat over a prolonged period. Earnings staying flat or declining remains a possibility of course, it could even do significantly worse if there is a new downturn in the economy.
However, if the company continues business like it has over the past few years, or even manages to grow earnings and margins at a slightly lower rate, the stock could still be valued 1.5x higher. Not to mention the possibility the cyclical auto industry will finally get going.
Disclosure: I have no positions in any stocks mentioned, and no plans to initiate any positions within the next 72 hours. I wrote this article myself, and it expresses my own opinions. I am not receiving compensation for it (other than from Seeking Alpha). I have no business relationship with any company whose stock is mentioned in this article.