Over the last few months, Intel (NASDAQ:INTC) has announced a series of corporate initiatives and new products in an effort to revive slumping demand for its PC processors and to retain its competitive position in the forthcoming post-PC era. As the personal computing platform is shifting from desktop PC and notebook computers to smartphones and tablets, Intel hopes to dominate the new market as it once monopolized the PC chip market. Investors have seemed to like the shift in focus as shares of Intel has risen more than 25% off its low made in November 2012. Given Intel's track record of past technological innovations and manufacturing prowess, it's not surprising to see investors opting to shrug off their concerns for recent dismal PC chip sales trends and instead look towards a more promising future. I want to explore whether there is much upside left in the stock considering the transitioning that Intel is going through.
Intel was once a fast growing technology company that dominated the PC chip industry with 80% - 90% market share for a very long time. As a growth stock, its shares tended to trade at a premium to the S&P 500 Index.


(Source: Morningstar.com)
However, starting in 2010 when smartphones and tablets began to pick up wider and quicker acceptance, Intel experienced sharply slower revenue growth and much lower gross margins which resulted in its quarterly earnings and free cash flow barely showing any growth over the last three years. At the same time, Intel's PE multiples had plunged from the 20x to low 10x and Intel shares were trading at a rather significant discount to the S&P 500 Index. Intel's dividend yield also rose substantially from 2.5% to as high as 4.5% during the same period. In other words, Wall Street quickly recognized that Intel would no longer grow as fast as previously and therefore would not afford Intel share price the same premium multiple it once enjoyed as a growth stock.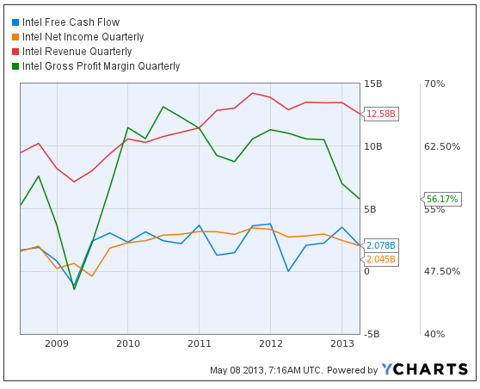 In 2012, Intel's PC Client Group sales which includes desktop and notebook processors totaled $34.3 billion, representing 64% of overall 2012 sales. Revenue from sales of smartphone and tablet processors were not significant enough to be listed separately but was grouped under Other Intel Architecture Group whose total group revenue contribution in 2012 was $5 billion and unprofitable. By 2015, if the current PC sales trend prevails, I estimated that the PC Client Group sales to decline by 5% - 10% or more. Therefore, the new Atom processor recently announced for smartphones and tablets from Intel needs to quickly generate at least $3 - $5 billion revenue just to make up for the lost revenue from the personal computing platform sales.
Technically, the new chips from Intel could well be a serious contender to the existing ARM architecture used in most iOS and Android smartphones and tablets. But in terms of the timing of market acceptance, 2013 would most likely be a year during which we will see little revenue contribution as Intel focuses on design wins and then production and sales would ramp up during 2014. This suggests that we likely won't see the new Atom processor contribute meaningfully to Intel's topline and bottom line results until 2015. Therefore, unless we see faster than anticipated growth at Intel's Data Center Group that makes up 20% of 2012 revenue, we will likely see another two years of stagnant revenue growth in 2013 and 2014.
I arrived at my base case 18-month price target range estimate of $24 - $28 per share for Intel based on the following assumptions:
Wall Street EPS estimates have continued to trend down and 2013 and 2014 EPS estimates are now at $1.87 and $2.00 per share, respectively, and well below the $2.13 EPS in 2012.
Current market conditions prevail and the current consensus EPS estimate of $2.00 per share in 2014 is achievable.
Until Intel can demonstrate faster growth, Intel should continue to trade as a value stock and at a meaningful discount to the S&P 500 Index.
There is a possibility of future small multiple expansion if Intel is on track to take market share away from competitors or holds up better than currently expected in PC chip sales. Therefore, it would be reasonable to assume that Intel shares can trade at a PE multiple range of 12x - 14x.
At the current trading price of around $24, I feel Intel shares are fairly valued and likely priced in much of the current low expectation. Given that no growth in EPS is expected in the next two years, future additional upside in share price from this point would need to come from multiple expansion which would be difficult to sustain if not followed by improved fundamentals. If the current market rally continues and Intel trades around $28 in the next few months, Intel shares would then look over-valued as share prices are likely running ahead of the fundamentals, unless Intel can surprise us on the upside in the next few quarters.
Disclosure: I have no positions in any stocks mentioned, and no plans to initiate any positions within the next 72 hours. I wrote this article myself, and it expresses my own opinions. I am not receiving compensation for it (other than from Seeking Alpha). I have no business relationship with any company whose stock is mentioned in this article.