As goes energy and metals... so goes the Loonie. I've been bearish energies and metals for some time now, see below:
…so the Canadian dollar is a natural short within this thesis.
After appreciating 3% in the last three weeks, I'm calling an interim top at 0.9977 with expectation of a bearish trade over the next couple of weeks. A breach of the lower Fibonacci level and the 20-day MA (dark blue) would confirm a trade south. My suggestion is to gain bearish exposure via futures while simultaneously selling out-of-the-money puts 1:1.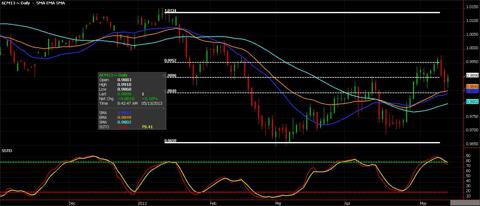 Two economic releases due out this week could work to move this cross. The Bank of Canada (BoC) reports April's CPI on Friday. Consensus expectations are for a rise of 0.9%. U.S. CPI will be out a day ahead, on Thursday, with stronger expectations for a 1.4% bump in prices.
The Canadian dollar futures contract is worth $100,000 so every 1-cent move represents a gain/loss of $1,000. June futures are currently trading at 0.9900. I'm targeting a trade south to the March lows, at .9650, giving us a potential window of profit worth $2500. If you sell out-of-the-money puts against short futures you should be able to pick up between 40% and 60% of this move, depending on the delta of the options you sell, assuming the .9650 target is reached.
Risk Disclaimer: The opinions contained herein are for general information only and not tailored to any specific investor's needs or investment goals. Any opinions expressed in this article are as of the date indicated. Trading futures, options, and Forex involves substantial risk of loss and is not suitable for all investors. Past performance is not necessarily indicative of future results.
Disclosure: I have no positions in any stocks mentioned, and no plans to initiate any positions within the next 72 hours. I wrote this article myself, and it expresses my own opinions. I am not receiving compensation for it. I have no business relationship with any company whose stock is mentioned in this article.