The narrative of a weak economy affecting high-value purchases such as automobiles has clearly impacted the performance of Ford's (NYSE:F) stock. In the year-to-date, it has risen by 11.4%, fractionally higher than the return of rival General Motors' (NYSE:GM) stock, but lower than the returns on the Dow Jones Industrial Average (+15.3%), the S&P 500 (+14.5%) and the Dow Jones U.S. Auto Index (+12.7%). Ford's performance also trails that of Toyota (NYSE:TM), which has surged 28.4% in 2013.
YTD Performance: Select Auto Cos. V. Indices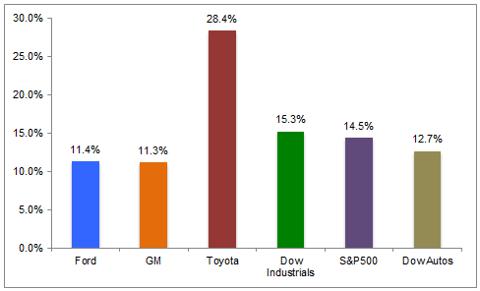 Source: Bloomberg
Oddly, the popular narrative doesn't meet the facts: data from the Wall Street Journal suggest that light vehicle auto sales (that is, cars and trucks) have actually risen by 6.9% in the year through April, despite the fact that the economy has grown by only 2.5%, slower than the 3% economists had been expecting. Moreover, reports suggest that American automakers such as Ford and GM are finally gaining traction in the global auto market.
Don Draper, the fictional advertising man depicted in the hit TV series Mad Men, who recently made a pitch to General Motors, has a popular aphorism: "If you don't like what's being said, change the conversation."
That could very well apply to Ford. The conversation regarding it shouldn't be that it's a bulwark in a lagging sector but that it has consistently performed better than its peers since 2009, increasing its market share and now making inroads into international markets. That its stock has lagged doesn't represent a failure so much as an opportunity for investors to buy it at cheap levels.
Does this new line of conversation hold water? We believe it does.
Solid Earnings Potential
You wouldn't know it by the company's lagging returns but Ford has actually had a good run of earnings recently: it has beaten analyst estimates in the past four quarters by an average of 18.8%. In fact, it beat estimates by 10.8% or 4 cents in the first quarter of 2013. In contrast, Toyota has actually missed earnings by an average of 5.7% over the past four quarters and was 35% short of expectations in its last reporting quarter. Yet Toyota's stock has returned nearly 2.5 times what Ford's has.
Presumably, Toyota's good fortunes are the result of rebounding international sales outside of Japan - yet from an upside perspective, Ford actually has a better story: Toyota is already established in emerging markets but it is Ford that is making headlines in China, particularly with its Kuga SUV, a variant of its popular Ford Explorer, which has sold nearly 10,000 units in just two months. That might not seem like a lot, but 10,000 units is just under half the number of vehicles that Mazda sold in the U.S. in April. More importantly, it shows that Ford is making significant inroads in a market that is currently dominated by rivals such as GM.
Moving back to the domestic space, Ford saw sales rise further in April, picking up 18% compared to a climb of around 11% for both GM and Chrysler and a sales contraction of 1% for Toyota. Meanwhile, in the year-to-date, Ford's total light vehicle sales have risen by nearly 13%. Its closest rival is GM, which saw sales grow by just under 10%. More importantly, Ford has grown its U.S. market share to 16.3% through April 2013 - 0.8 percentage points higher than a year earlier. GM and Chrysler's shares of the market have grown by half that rate or less and Toyota has actually seen a moderate contraction of 0.1 percentage points.
Ford is expected to see its earnings grow by 20% in its June quarter but, oddly enough, is anticipated to see overall earnings decline by a penny for the year. Ostensibly, weak sales across its European operations will offset gains made by Ford elsewhere.
Meanwhile, Ford's earnings are forecasted to rise by just 10.5% on average over the next five years, while Toyota's and GM's are expected to rise by 44.9% and 17%, respectively. The culprit for this is unfavorable base effects - the fact that Ford has been a solid performer works against it in terms of revenue upside whereas GM only recently emerged from Chapter 11 bankruptcy. Toyota's buoyancy is a bit more surprising: it has seen both its American and Japanese sales contract.
In our view, analysts covering Ford are over-estimating the potential performance of its rivals - this is already evident with Toyota, which has missed estimates in two of the past four quarters while GM has come under in its December quarter. That's hardly surprising - analysts are slow to revise the more forward-looking portions of their estimates but, in Ford's case, it appears that they're coming around. In the past week, Ford has seen multiple upward revisions to earnings estimates for this year and next. Moreover, on balance, analysts have revised estimates higher for Ford over the past 30 days.
Given this and the high expectations for its rivals, it isn't hard to see that Ford may have a considerably higher upside.
Fairly Attractive Valuation
Not surprisingly for a company that the market is underestimating, Ford's shares are cheap, trading at just 9.6x trailing earnings and 8.5x forward earnings. In contrast, its industry is trading at more than double that multiple at 19.5x trailing earnings and 14.7x forward earnings. Meanwhile, Ford is also paying a higher dividend, with a yield of 2.8% - nearly double its peers' 1.5% and 33% more than the S&P 500's.
That being said, Ford does need to continue working on its profitability: its gross margins, averaging around 21% over the past five years, are around 8% poorer than the industry while the company's pre-tax margins are 35% lower.
More significantly, while Ford has very high levels of cash - its quick and current ratios are 2.5 and 2.8, respectively (these are high for any company, not just autos) - it also has very high levels of debt. Specifically, Ford has a total debt-to-equity ratio of 6 - the rule of thumb is that companies should aim for a ratio no greater than 2.5. Indeed, its ratio is more in-line with the financial industry, which regularly has companies leveraging at 2.4x equity or greater.
That being said, Ford's high level of leverage is not so much the product of over-extending itself as it is the result of the losses it registered in previous periods: these ate into its equity base, creating the impression that the company is over-borrowing when it is actually working off losses. Indeed, Ford has bolstered its net assets over the past three years from a net deficit of $700 million in 2010 to a surplus of $17 billion in its latest quarter.
What's more, Ford has actually managed to keep its overall debt at relatively stable levels while maintaining the high levels of cash it needs to keep creditors happy. In our view, while its debt levels do bear monitoring, it is ultimately a non-issue given Ford's liquidity, ongoing profitability and robust forward earnings prospects.
Conclusion
The appropriate conversation regarding Ford should be thus: "company with solid fundamentals and strong earnings potential is undervalued by market focused on false assumptions." The fact of the matter is that Ford is growing in its key U.S. market, is making very notable inroads in emerging markets and its European operations have likely bottomed-out. That means that Ford is likely to surprise on the upside going forward and, that being the case, we foresee the stock climbing to $18 a share - 27% more than its current level and 18% higher than the consensus estimate.
Disclosure: I have no positions in any stocks mentioned, but may initiate a long position in F over the next 72 hours.
Business relationship disclosure: Black Coral Research, Inc. is a team of writers who provide unique perspective to help inspire investors. This article was written Jonathan Lara, one of our Senior Analysts. We did not receive compensation for this article (other than from Seeking Alpha), and we have no business relationship with any company whose stock is mentioned in this article.
Additional disclosure: Black Coral Research, Inc. is not a registered investment advisor or broker/dealer. Readers are advised that the material contained herein should be used solely for informational purposes. Investing involves risk, including the loss of principal. Readers are solely responsible for their own investment decisions.