The U.S. healthcare facilities and services industry turned upward in a strong 2012, climbing by 35% versus S&P 500's 13%. Despite relatively soft fundamentals in 2012, the industry's outperformance was linked to greater certainty on PPACA (The Patient Protection and Affordable Care Act, commonly called Obamacare), and the November elections.
U.S. Hospitals Patient Historical Volume Trend, 2001 - 2012

Source: Deutsche Bank
Analysts noted that in order for the industry to outperform again, investors will need more visibility on the extent of additional Medicare cuts coming out of the debt ceiling debate. However, PPACA's impact in 2014 and beyond should outdo any budget deal on entitlement cuts. Hence, analysts expect investment weightings to increase in the healthcare facilities and services industry throughout 2013.
U.S. Healthcare Stocks Comparative EBITDA Margins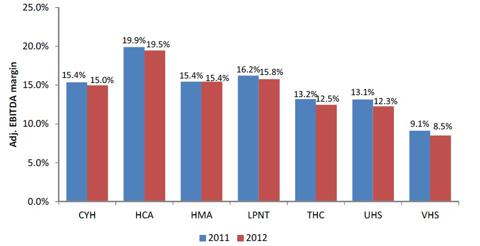 Source: Deutsche Bank
Today we want to discuss four stocks in the healthcare sector with strong fundamentals to take advantage of the expected increase weighting of the healthcare sector investor's portfolios.

Source: Yahoo Finance
Amsurg Corporation (NASDAQ:AMSG) partners with more than 1,800 physicians to develop, manage and operate more than 235 outpatient surgery centers across the United States.
Earnings Growth. Amsurg Corp.'s first-quarter 2013 EPS was 52 cents, 2 cents higher than last year's EPS, staying in line with analyst consensus estimates. AMSG's target price was raised by Cantor Fitzgerald, which has a hold rating on the stock, from $29.00 to $31.00. EPS also met the high end of the company-provided guidance range. However, reported EPS stood at 56 cents, considering one-time pre-tax gain related to the deconsolidation of a surgery center joint venture.
Revenues. Sales increased 14% to $260.1 million in the first quarter of the year, in spite of a 2% decline in same-center revenues; the significant upside in sales was primarily attributed to the acquisition of 17 health centers in 2012.
AMSG Annual Revenues, 2008 - 2012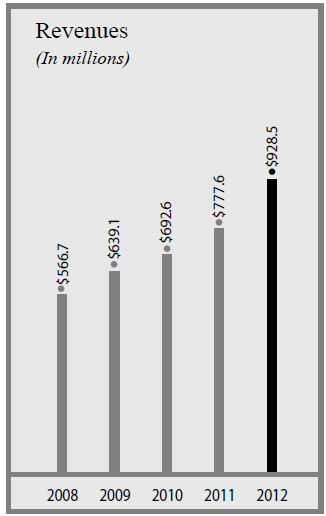 Source: Company Reports
AMSG entered a joint venture with a hospital system and accordingly held controlling interest in one surgery center, resulting in a $2.2 million gain on the deconsolidation.
Operating Margins. AMSG has an operating margin of 30.27%. This is 215.89% lower than that of the Healthcare sector, and 538.61% higher than that of the industry operating margin. The operating margin for all stocks is 969.83% lower than AMSG.
Earnings Guidance. AMSG reiterated its 2013 revenue guidance to the tune of $1.06 to $1.09 billion. The analyst consensus estimate of $1.07 billion remains within the range.
Price-to-book Valuations. The price-to-book ratio of AMSG is estimated at 1.52X. This is 77.11% lower than that of the Healthcare sector, and 70.31% lower than that of the industry. The P/B for all stocks is 74.15% higher than AMSG.
Daxor Corporation (NYSEMKT:DXR) is biotechnology company focused on developing innovative medical instrumentation. Daxor's most know product the BVA-100 Blood Volume Analyzer, is the first instrument approved by the FDA to quickly, directly measure a patient's blood volume.
Net Margin. Daxor Corporation has a net profit margin of 49.51 %, which signals sound execution of its competitive policies and good control over expenditures and variable costs. DXR had an annual average earnings growth of 37.8% over the past 10 years.
DXR has consistently used a small portion of its net income to buy new equipment or invest in new facilities, indicating that the company may require minimal investment to stay competitive. This leaves extra money to spend on growing its business and potentially buying back stock. An estimated 15.89% of profits were spent on capex.
Daxor Corporation, S&P 500 and Value Line
Medical Supplies Index (Performance Results)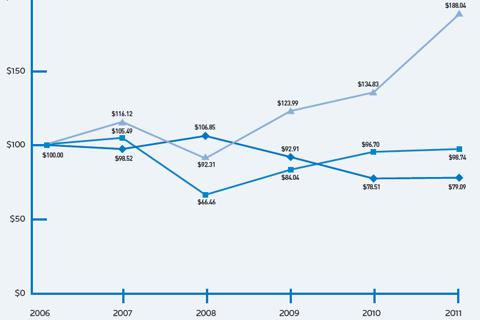 Source: Company Reports
Stock Valuations. DXR has a market capitalization of $31.9 million with P/B of 0.89X, which is 86.6% lower than that of the Healthcare sector. The stock's dividend yield is 2.63%.
Verenium Corporation (NASDAQ:VRNM) is an industrial biotech company that develops enzymes for industrial processes.
Overall Fundamentals. Verenium Corp. strengths can be perceived in multiple areas, such as robust revenue growth, solid stock price performance and notable equity returns.
Revenues. VRNM broke the trend of growing revenues reporting just $43.4 million, down 23% from $56.0 million a year prior. The primary reasons for the fall in revenue are:
Adverse conditions in the corn ethanol industry decreased revenue from grain processing, which resulted in lower operating rates and increased pressure from competition.
Reduction in revenue from the animal health and nutrition segment due to toll manufacturing revenue being released in 2011.
Margins. Gross profit decreased by 22% to $16.8 million from $21.5 million the previous year. Gross margin diminished to 34%, versus 38% in 2011. The decrease was primarily caused by: (1) a shift in sales mix from higher margin grain processing revenue to VRNM's lower margin supply agreement with DSM Food Specialties; (2) implementation of upgrade projects at its manufacturing facility, which resulted in idle capacity charges and incremental inventory reserves; and (3) write-offs associated with certain inventory, which did not meet defined product specifications.
VRNM Historical Revenue & Margins Performance (in millions)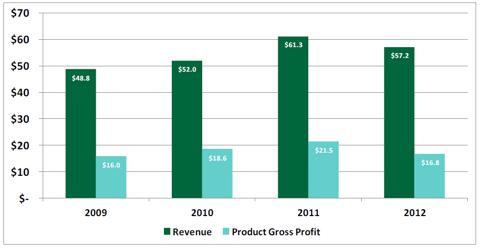 Source: Company Reports
Price-to-book Valuation. The price-to-book ratio of VRNM is approximately 0.95X. This is 85.69% lower than that of the Healthcare sector and 92.94% lower than that of the industry. The P/B for all stocks is 83.84% higher than VRNM's.
Spectrum Pharmaceuticals (NASDAQ:SPPI) is within the pharmaceuticals industry and creates revenue by acquiring, developing and commercializing pharmaceuticals.
Overall Fundamentals. Spectrum Pharmaceutical's measures of return to shareholders and margins are typically above those of its peers. In the last four quarters, SPPI earned profits of $94.55 million, or 35.32% of its sales. The average operating margin for the biotechnology industry was 13.46%, which is 114.55% below the company's 30.68%. SPPI's return on equity, based on trailing 12-month earnings, is not only astounding at 33.21%, but it's greater than the 25.85% return on equity from the year earlier.
SPPI Product Revenues and Net Profits, 2011 - 2012
(In millions)

Source: Company Reports
EBITDA. SPPI's $91.45 million EBITDA, shows a remarkable increase by 49.03% from the twelve months ended a year earlier, in which core operations generated $61.36 million.
Price-to-Book Valuation. Price-to-Book ratio of SPPI is 1.51X. This is 77.26% lower than that of Healthcare sector, and 88.78% lower than that of industry Price-to-Book. The P/B for all stocks is 74.32% greater than SPPI.
Disclosure: I have no positions in any stocks mentioned, and no plans to initiate any positions within the next 72 hours.
Business relationship disclosure: Black Coral Research, Inc. is a team of writers who provide unique perspective to help inspire investors. This article was written Hans Centena, one of our Senior Analysts. We did not receive compensation for this article (other than from Seeking Alpha), and we have no business relationship with any company whose stock is mentioned in this article.
Disclaimer: Black Coral Research, Inc. is not a registered investment advisor or broker/dealer. Readers are advised that the material contained herein should be used solely for informational purposes. Investing involves risk, including the loss of principal. Readers are solely responsible for their own investment decisions.