When you combine hands-on experience with inherent know-how, then figure-in gumption and an ounce of ambition, many times you have a winner. And where there's a winner there is money to be made.
In this writer's opinion, Rob McEwen is such a winner. He is founder and (former) first CEO of Goldcorp Mining (NYSE:GG), the world's second largest gold mining company and is current owner and driver of McEwen Mining (MUX), which closed Friday at $2.23, up 5.19% - and LexamVG Gold (LEXVG.PK), the small-cap explorer with promising potential.
It has been whispered, and is anticipated here, as well by an informed reader of a previous article (an analyst who traveled to McEwen's Mining properties in Mexico), that it would make perfect sense for Rob McEwen to merge LexamVG Gold with McEwen Mining in his quest to build another super miner the likes of Goldcorp.
A mining company worthy of trading on the S&P 500.
McEwen's knowledge and ambition have come to define him. Now fixated on qualifying McEwen Mining for inclusion on the S&P 500 by 2015, he adds in his MUX web site language that the company will be recognized as "a high-growth gold producer focused on the Americas."
And no easy accomplishment that, considering only one other gold miner today trades on the prestigious index. That company is Newmont Gold (NYSE:NEM). Yet, many believe McEwen's objective is realistic.
This article takes a look at some of McEwen's assets and was sourced in part from information provided by McEwen Mining as the Q1 2013 Operational and Development Update was made available - and LexamVG Gold after a favorable digital resource model [pdf], including an optimized Whittle Pit, was completed for their Buffalo Ankerite Property North and South, located in the historic Timmins Gold Camp in central Ontario, Canada.
The ace in the hole
Updated resource estimates for LexamVG Gold's other Timmins properties, the Davidson Tisdale, Fuller and Paymaster projects remain in progress. There are however, NI 43-101 resource estimates for all of the company's projects. (Note: The Paymaster project is a JV split; LexamVG 60% - Goldcorp 40%).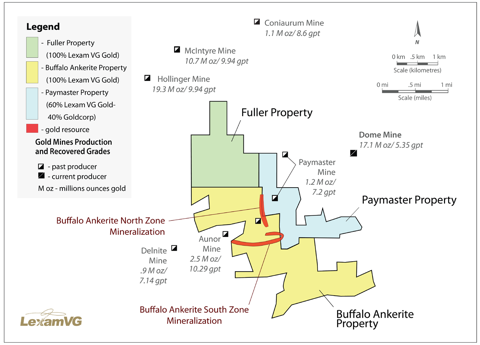 Courtesy LexamVG Gold
What has become Rob McEwen's mantra: the best place to find gold is next to a gold mine is what he puts into practice in the planning and development of his companies.
McEwen is not only positioned next door to Goldcorp in the Timmins Gold Camp, but MUX's San Jose Gold Mine interest in Argentina is located near GG's Cerro Negro complex, while other MUX properties in the U.S. adjoin the Barrick Gold (NYSE:ABX) Cortez mine in Nevada where McEwen's Gold Bar project (in the permitting stage) is on pace to begin construction in 2014 and commercial production in 2015 with resources of 592,928 gold ounces measured and indicated.
McEwen Mining's El Gallo project in Sinaloa, Mexico, where Phase 1 realized commercial production starting January 1, 2013 is surrounded by other operating mines belonging to Goldcorp, Pan American Silver (NASDAQ:PAAS), Coeur d' Alene (NYSE:CDE), Fresnillo PLC (OTCPK:FNLPF) and Great Panther Silver (NYSEMKT:GPL) among others.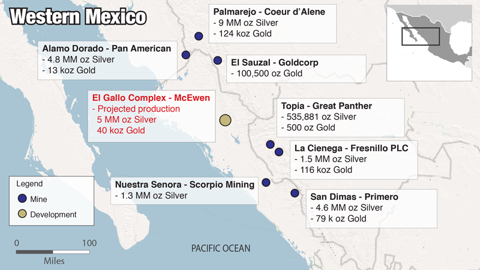 Courtesy McEwen Mining
In Q1 of 2013 the El Gallo mine produced 6,673 gold ounces and 5,640 silver ounces, representing 6,781 gold equivalent ounces. The mine remains on track to produce 27,300 gold equivalent ounces in 2013. Gold equivalent ounces are calculated at a 52:1 silver-to-gold ratio.
In total, all MUX properties included, McEwen Mining's NI 43-101s show measured and indicated resources of 4,195,536 million ounces of gold (4,195,536M oz Au) and 106,339,302 million ounces of silver resources (106,339,302M oz Ag) measured and indicated.
And the super-miner puzzle pieces continue to be put in place by McEwen with the LexamVG Gold, Buffalo Ankerite in-pit resources established at 235,000 ounces of gold indicated at a grade of 2.54 g/pt Au.
More good news for Mr. McEwen as this confirms a viable target for the exploitation of the property given the CEO's ultimate goals and (due in lesser part) the proximity of the project to current existing mining infrastructure in Timmins.
The Buffalo Ankerite property is 1,214 acres, easily accessible by highway, neighboring less than a mile from Goldcorp's Dome Mine to the east, and surrounded by three other (non operating) mines that generated more than 50 million of the 70 million ounces of gold attributed to the historic Timmins Gold Camp. Reinforcing his mantra: the best place to find gold is next to a gold mine.
During the period between 1926 and 1953, the Buffalo Ankerite property alone produced 1,018,000 ounces of gold at an average recovered grade of 6.51 g/pt Au.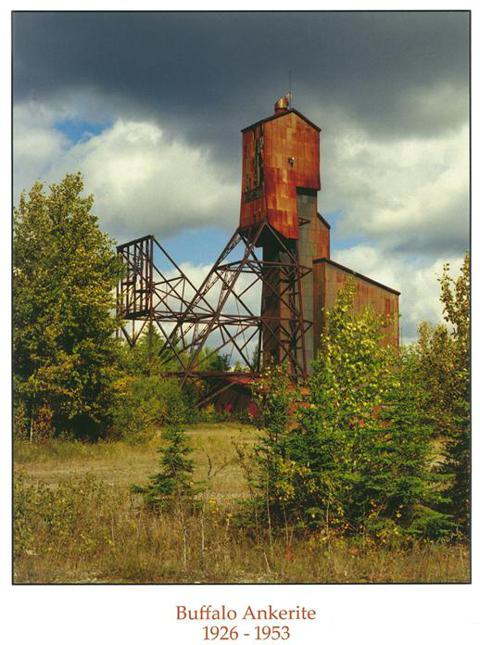 Courtesy LexamVG Gold
Once resource estimates for all four LexamVG properties have been completed, McEwen will initiate a Preliminary Economic Assessment, PEA, to determine the economic viability of mining these properties via open pit methods and Rob McEwen's vision will behold yet another sunrise.
In conclusion, by mid-year 2015 Rob McEwen's cumulative commercial gold production should be more than double what it is today and his company, known as a high-growth gold producer focused in the Americas - perhaps will be trading on the S&P 500.
A cautionary note to U.S. investors in the LexamVG Gold update warns that all resource estimates are calculated in accordance with NI 43-101 and the Canadian Institute of Mining and Metallurgy Classification system. The standards differ from those generally permitted in reports filed with the SEC.
However, that said, it was reason enough for this U.S. investor to have doubled his long position in LexamVG Gold, today.
Disclosure: I am long OTCQX:LEXVF. I wrote this article myself, and it expresses my own opinions. I am not receiving compensation for it (other than from Seeking Alpha). I have no business relationship with any company whose stock is mentioned in this article.