Steadily declining mortgage rates so favorable to mortgage REITs leveled off near the end of last year and began rising during Q1 2013. Despite the recent bounce, the trend remains up and is reinforced by widely reported improvements in the residential real estate market.
Click to enlarge images.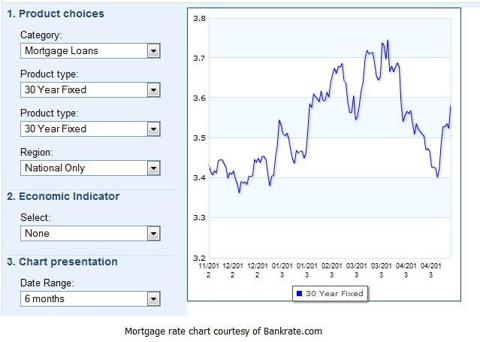 Mortgage REITs earn income two ways: yield spread income earned on a portfolio of mortgage securities purchased with leveraged shareholder capital, and appreciation in the value of portfolio securities as market rates decline. The decline in mortgage rates over the past few years resulted in gains in portfolio value, but compressed yield spread income opportunities. When mortgage rates leveled off at the end of last year, the opportunity for portfolio gains disappeared and managers were left with compressed yield spread as the only source of income. Regretfully, our fund managers must borrow money in the competitive financial markets to leverage shareholder capital since they are not allowed to borrow from the Fed window at the low 0.25% rates offered to member banks.
During the first quarter our fund managers were further challenged by rising mortgage rates, which had the unfortunate consequence of reducing the market value of mortgage securities held in their portfolios. These losses are reported as unrealized loss on securities held for sale under Other Comprehensive Income in the financial statements, and they affect the bottom-line earnings and book value of the funds.
The mREITs
Table 1 below presents information about mortgage REIT funds that fall into three categories. REITs that invest only in residential mortgages issued or guaranteed by a government agency: American Capital Agency (NASDAQ:AGNC), Armour Residential REIT (NYSE:ARR), CYS Investments (NYSE:CYS), Hatteras Financial Corp. (NYSE:HTS), and Annaly Capital Management (NYSE:NLY). Hybrid mREITs that invest in agency and non-agency residential mortgages: Apollo Residential Mortgage, Inc. (NYSE:AMTG), MFA Financial, Inc. (NYSE:MFA), American Capital Mortgage (NASDAQ:MTGE), and Two Harbors Investment Corp. (NYSE:TWO). Diverse hybrid REITs that invest in agency and non-agency RMBS as well as CMBS, commercial properties, loans, asset-backed securities, and excess mortgage servicing rights: Dynex Capital, Inc. (NYSE:DX), Invesco Mortgage Capital, Inc. (NYSE:IVR), AG Mortgage Investment Trust, Inc. (NYSE:MITT), Newcastle Investment Corp. (NCT), New York Mortgage Trust, Inc. (NASDAQ:NYMT), and Starwood Property Trust, Inc. (NYSE:STWD).
Share prices in Table 1 are as of May 10, 2013. Current yield is the most recent dividend amount annualized and divided by the current share price, which does not consider the effect of extraordinary dividends that funds may pay at year-end. Reviewing book value per share, we see that all of the agency-only funds in the top section continued the decline that began in the previous quarter. Only HTS came close to sustaining its book value. In Q1 most of the hybrid REITs in the middle section also suffered declining book value, with only MFA managing to power through the quarter and increase shareholder value. The diverse hybrid REIT funds in the bottom section reported mixed results, with DX, NCT, NYMT, and STWD posting increases while the rest reported declines.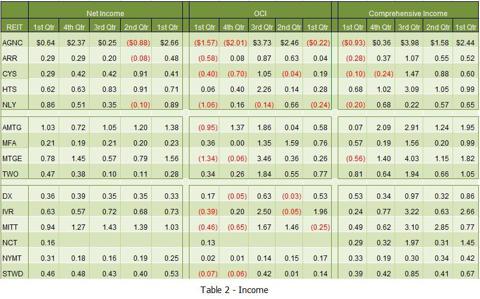 Income Analysis
Net Income is income earned from yield spread net of expenses. OCI for these funds is primarily unrealized gains and losses on the portfolio as a result of changes in market interest rates. Comprehensive Income is the sum of net income and OCI. The funds must earn comprehensive income in excess of dividends paid to avoid a return of shareholder capital that would reduce book value. During the first quarter most of these funds did not earn enough comprehensive income to cover the dividend they paid, which resulted in the reductions in book value per share reported in Table 1.
Discussion
The current economic environment is generally unfavorable for mortgage REITs. Agency-only fund managers have few options to sustain earnings and dividends. As mortgage rates rise, the funds will suffer unrealized portfolio losses that are likely to overwhelm whatever net income they can generate from the compressed yield spreads. Investors should consider that when the Fed scales back and eventually eliminates the quantitative easing program, mortgage rates might suddenly rise with devastating effect on the financial performance of agency-only REITs in particular and mortgage REITs in general. Funds that invest only in adjustable rate mortgage securities and funds that invest in subprime mortgage securities purchased at substantial discounts to par are less sensitive to rising market mortgage interest rates than agency-only funds.
Among agency-only funds, HTS stands out for reporting consistent Net Income and OCI during the period under review, a consequence of its unique portfolio strategy to invest almost exclusively in adjustable rate mortgage securities. Because the yield on these securities moves up and down with market rates their market value is far less sensitive than fixed-rate securities to changes in interest rates. ARR has already announced monthly distribution amounts through June 2013 somewhat easing shareholder anxiety about future income.
Hybrid MFA and diverse REITs NYMT, NCT and STWD also reported consistent income throughout the period. NCT announced it will spin off on May 15 a new fund, New Residential (NYSE:NRZ), that will take the excess MSRs, non-agency RMBS, and other NCT assets with a goal of generating 15%-20% returns. NCT will focus on existing commercial real estate investments while investing opportunistically in senior housing, real estate debt, and other assets, also targeting 15%-20% returns. Each shareholder of NCT will receive one share of NRZ. The split will allow investors to target the segment of NCT's very diverse investment portfolio that is of most interest. NCT provides more details on the investor relations page on its website.
STWD announced in early January the acquisition of LNR Property LLC and Auction.com. STWD expects the transaction to be accretive to earnings and cash flow in 2013 and 2014, resulting in enhanced dividend coverage for STWD shareholders. Investors are impressed and they have bid the price of STWD up sharply following the Jan. 24 announcement. STWD has aggressively announced an increase in its Q2 dividend to $0.46, up from $0.44. Interested investors can find more details on STWD's investor relations website.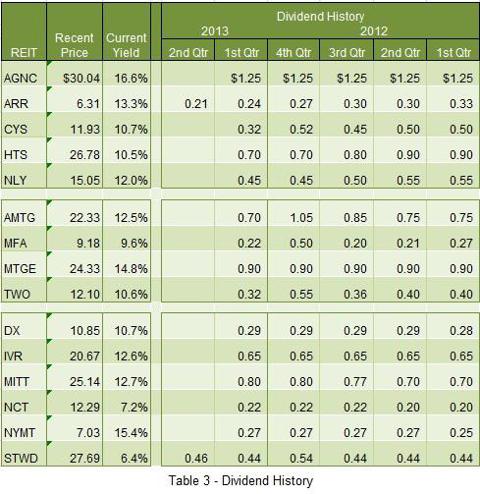 Disclosure: I have no positions in any stocks mentioned, and no plans to initiate any positions within the next 72 hours. I wrote this article myself, and it expresses my own opinions. I am not receiving compensation for it (other than from Seeking Alpha). I have no business relationship with any company whose stock is mentioned in this article.