Recently I have wanted to purchase a new laptop to replace my desktop, so this past week I decided to do some shopping. My price target is very small because my computing needs are not too sophisticated, so I started off by checking out the $199 Acer Chromebook. Though I like the Chromebook because it is very sleek and simple, it does not suit my needs in the sense that I'd like to run Microsoft Office products on it. I know Google (NASDAQ:GOOG) has its own suite of products but I guess I'm old-fashioned; this dog does not want to learn new tricks. This got me thinking about searching for a Microsoft (NASDAQ:MSFT) operating system and actually got me to think about looking into the stock as well.
Valuation
By taking a look at the valuations of the company first, we'll be able to determine if the stock is inexpensive or not. In terms of trailing twelve month P/E ratio, Microsoft appears to be fairly valued with a value of 16.85. But as a long-term investor, it really isn't about what the price has been but what it's going to be in the future, which leads me to look at the 1-year forward P/E and PEG ratios. From these parameters it's very simple to deduce that Microsoft is priced inexpensively relative to the 1-year forward looking P/E ratio with a value of 10.65; but the analyst estimated 5-year EPS growth rate of 8.53%, which is used to calculate the PEG ratio is not large enough with respect to the trailing twelve month P/E ratio to give an actual PEG of 1.98, which is a bit high for my taste. This suggests to me that Microsoft is inexpensive on a short-term basis, but not for the long term.
Financials
On a financial basis the things I look for are the dividend payouts, return on assets, equity and investments. Microsoft boasts a dividend of 2.81% with a payout ratio of 45.44% while sporting return on assets, equity, and investment values of 13.01%, 22.57% and 16.91% respectively. These are all very respectable values but not high enough for me personally to consider jumping into the stock. If maybe you look at the valuation section and say that you like the stock for capital gains on a short-term basis and would like to wait for adjusted growth forecasts then maybe the 2.81% dividend is healthy enough for a buy and wait approach.
Technicals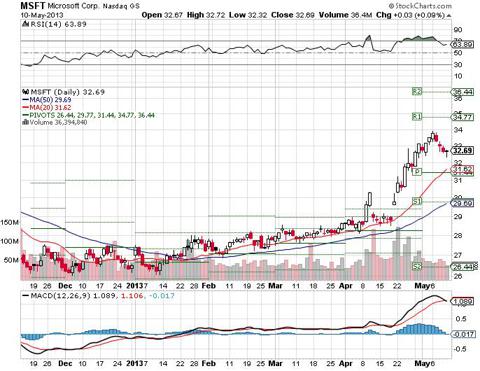 According to the relative strength index graph (RSI), the stock is dropping below the overbought value of 70 and I would look for continued selling pressure based on the moving average convergence-divergence graph (MACD), which measures momentum because the black line is now crossing over the red in a downward trend. If selling pressure does come to fruition I'd first look for the stock to press up against the 20-day moving average as the first floor of resistance, and right now that stands at a value of $31.62 but is always subject to move since it is a daily average.
Recent News
Microsoft reported most recently on Apr18, and EPS of $0.72 beating analysts' estimates by $0.04. But the revenue of $20.49 billion missed analysts' estimates by $71 million.
The CFO will be leaving at the end of Fiscal Year 2013.
ValueAct Capital has taken a $2 billion stake in the company.
The next Xbox will debut on May 21.
Conclusion
Much like my attempt at purchasing a laptop, any purchase of Microsoft will be in a holding pattern for me. I don't see anything too exciting going on with the company at the present time. I will however place it on my watch list and wait to see if it gets cheaper, if there is a dividend increase or wait for earnings estimates to be raised by analysts, which will then allow me to do some more research before I jump into the stock. In the meantime I will be looking for other places to park my cash in an attempt to "correctionize" my portfolio because I feel the market is getting frothy here.
Disclaimer
Please remember that these are only my opinions and that you should do your own homework. Only you are responsible for your trades. Happy investing!
Disclosure: I have no positions in any stocks mentioned, and no plans to initiate any positions within the next 72 hours. I wrote this article myself, and it expresses my own opinions. I am not receiving compensation for it (other than from Seeking Alpha). I have no business relationship with any company whose stock is mentioned in this article.