I've been struggling to come up with themes for new articles in this relentlessly up and up stock market so I'm going to make this simple by identifying funds that I believe are still buys and funds that I believe are sells. Let's start by going over which equity based high yielding closed-fnd funds (CEFs) have had the best NAV total return performances so far this year through May 10, 2013. Though most investors like to focus on a fund's market price performance, it's really the NAV performance that will tell you much more about how a fund is truly performing.
Table I below sorts all of the fund's I follow by their total return NAV performances which includes all distributions added back but not re-invested. Funds which have outperformed the S&P 500, as reflected by the total return performance of the SPDR S&P 500 Trust ETF (SPY), up 15.2% through 5/10/2013, are shown in green and those that have not kept up are shown in red. Note: These top 30 or so funds are out of about 100 equity CEFs I follow. If you would like to see all the funds sorted by their NAV, market price and other data, please go to my website (link along left column here) and request the Equity CEF Performance Spreadsheet And Analysis.
Table I - Sort By Total Return NAV Performance YTD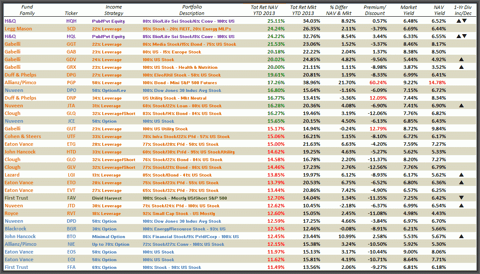 Here you can see that the leveraged funds, shown in orange, dominate the top spots whereas the option-income funds, shown in light blue, generally have underperformed. Funds shown in olive green use a "dividend harvest" strategy and funds shown in purple use an "other" strategy, in this case, public and private equity.
If I was able to show more funds down the list, more and more of the option-income funds would show up compared to the leveraged funds which is not a surprise since the option-income strategy is more of a defensive strategy. This does not mean that I wouldn't be investing in the option-income funds since, as I've pointed out before, the bonus with option-income funds is that their market prices can be very forgiving in an up market even if their NAVs lag their benchmarks. On the other hand, leveraged funds' market prices can show strong appreciation in a bull market environment but will not be so forgiving if we ever go into a down market period.
Of course, in the current market environment, the leveraged equity CEFs have generally seen better NAV total return performances than any other strategy (as shown in Table I) though again, that doesn't necessarily mean the market prices have to follow suit. The great feature of CEFs (which can also be a source of much frustration) is that their market prices can be subject more to the whims of investors whereas the NAV prices are only subject to the performance of the fund's holdings.
Its this difference between the two that gives rise to investing opportunities and if you follow the NAV and market prices of these funds, you will find more opportunities, both short and long term, than with just about any other security class in my opinion. So how do we measure that opportunity? Well, one way is to simply compare the performance of a fund's NAV with the performance of its market price. All else being equal, this should be a good start to narrowing down which fund's market prices may still be attractive and which may have gotten too far ahead of their NAVs.
Table II below sorts the equity CEFs by the difference between their NAV total return performances YTD and their market price performances. The top fund's which have seen their NAVs perform better than their market prices so far this year are shown in green and others that are less than but no more than a 5% difference are shown in black since I consider that to be more neutral. Again, only the top 30 or so funds are shown.
Table II - Top Funds Between NAV and Market Price YTD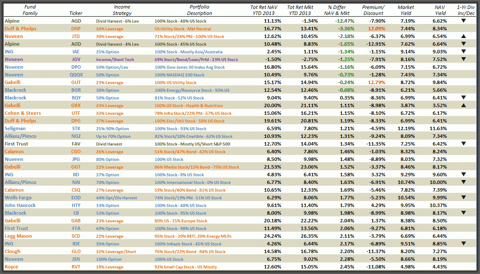 And finally, Table III below flips this list and shows the bottom funds sorted by the percentage difference between their NAV and market price performances. Funds which have seen their market prices appreciate more than 5% over their NAV prices YTD are shown in red.
Table III - Bottom Funds By Difference Between NAV and Market Price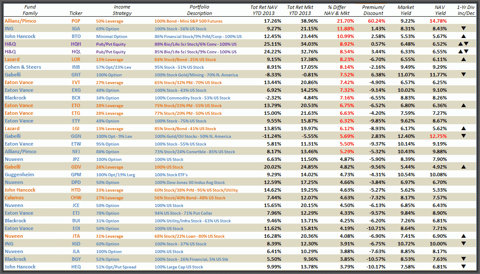 So with these tables, which you can refer back to, we can start to discuss funds which I believe are still attractive and funds which I would be lightening up on. Of course, other factors such as a fund's current discount/premium valuation, its comparative yield and other performance measures are also taken into consideration when I make these recommendations.
4 Funds To Buy
The first fund, the Nuveen Tax-Advantaged Dividend Growth fund (NYSE:JTD), happens to be a leveraged fund I've liked for quite awhile and I even went so far as to predict a distribution increase earlier this year, which the fund did declare on March 1st. You can read that article here, CEF Distribution Increases For 2013, which also includes other funds which have raised distributions and a few I still expect to raise for 2013.
Despite all that positive news, JTD has really not outperformed at the market price level and shows up as #3 in Table II above for funds whose NAVs have outperformed their market prices. JTD is a 30% leveraged mostly US stock based fund with about 23% of its total portfolio invested in fixed income preferred securities. With a 7.0% current market yield trading at a -6.4% discount, which has been widening recently, I believe this offers a good entry point in a continued bull market environment.
The second fund, Nuveen Dow 30 Enhanced Premium & Income fund (DPO), I wrote about just a couple weeks ago and shows up as #7 on the list in Table II above. The reason I like DPO is that you know what you are getting with this fund. DPO only owns the Dow Jones Industrial Average (DJIA) component stocks and enhances its income by selling call options against 50% of each DJIA position. Though selling call options is more of a defensive strategy, DPO also uses leverage in the form of swaps to get additional DJIA exposure so that the fund's NAV can outperform the actual DJIA, all the while offering a very sustainable 7.2% current market yield. At a -6.1% discount and the BEST NAV performance of any option-income fund YTD, up 16.8%, DPO is a good fund to own if you feel the DJIA will continue to outperform the other major indices.
The third fund is also a leveraged fund that I have liked for awhile and is a prime candidate for a distribution increase this next declaration period in June in my opinion. Showing up as #13 in Table II, the Cohen & Steers Infrastructure fund (NYSE:UTF) may be at a 5-year high on its market price but its superior upside potential (both at NAV and market price) combined with a -8.1% discount price to NAV makes it still very attractive. Compare that to #2 on the list above (NYSE:DNP), which is a very similar leveraged global utility fund but yet trades at a 11.9% premium and UTF is comparatively undervalued. Though you might think of global utility funds as boring, leverage has helped propel UTF's NAV up 163% and its market price 195% from the lows of the market since the 1st qtr. 2009.
The fourth fund, showing up as #10 on the list is the BlackRock Energy & Resources Trust (NYSE:BGR). The BlackRock equity CEFs have fallen out of favor over the past 18 months as a series of distribution cuts for many of their option-income funds have caused investors to lose faith in them. This is something I warned would happen in 2011 when many of the BlackRock funds traded at premium valuation levels and unsustainable 12%+ NAV yields. Unfortunately, even the BlackRock funds which had sustainable NAV yields and were never in danger of a distribution cut seemed to suffer as well just by virtue of being from the same fund family.
BGR is in that situation currently but offers some solid upside features. As its energy and resources name implies, BGR is a sector specific CEF that focuses on stocks involved in the exploration, production and distribution of energy and natural resources. BGR's income strategy is to sell options against a relatively low 30% of its portfolio which when combined with its portfolio dividend income, easily covers its low 5.7% NAV yield, but because the fund trades at a -8.9% discount, investors can pick up a 6.2% windfall market yield currently. Though BGR's NAV performance is not that much different over the short or long term as the SPDR Energy Select ETF (NYSEARCA:XLE), the fact that BGR's portfolio tends to include more mid cap energy stocks than XLE and uses an option-income strategy means the fund can offer greater appreciation potential while offering a higher yield. And with an NAV at $28.63, significantly higher than its inception $23.83 NAV back in late 2004, BGR is also now in a position to raise its distribution from that very low 5.7% NAV yield. I would imagine BlackRock would also like to show one of its option-income equity CEFs raising distributions and no other fund is in a better position than BGR.
Certainly, BGR's market price and NAV performance will be highly dependent on the energy and energy exploration sector, but at a -8.9% discount and the potential for a distribution raise in June, BGR offers a great opportunity for a fund that is very unappreciated as shown in this 3-year Premium/Discount graph.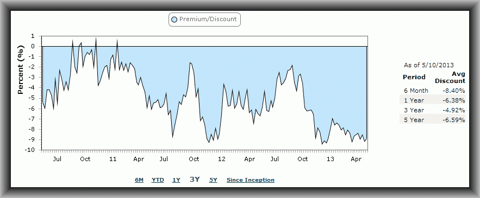 Another fund in the energy sector that investors like to point out as undervalued is the Petroleum and Resources fund (NYSE:PEO). PEO's portfolio is much more similar to XLE than BGR with its top 10 holdings essentially mirroring XLE. PEO also trades at an even wider discount than BGR and in fact, has one of the widest discounts of all CEFs at -13.4%. Investors often wonder why PEO trades at such a consistently large discount as shown in this 3-year Premium/Discount graph.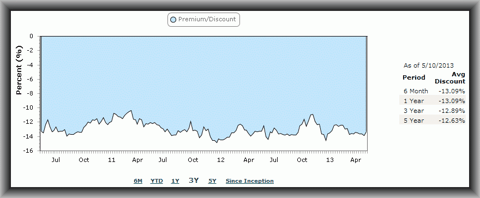 The reason why PEO hasn't reduced its discount over the years is because it really doesn't separate itself from XLE and in some ways is more limiting due to its lower liquidity and lack of option availability compared to XLE. And finally, contrary to what most investors believe, PEO really only includes a current yield of 1.6%, which is really no different than XLE, despite its stated 6% annual distribution to be made to shareholders. The balance of the 6% comes either from realized capital gains, which are taxable, and/or will be classified as Return-of-Capital (ROC). In any event, I believe BGR offers a better way to play the energy sector if you're looking for something different than XLE.
Finally, you'll see that #1 and #4 on the list are from the Alpine funds, (NYSE:AGD) and (NYSE:AOD). For those who have followed my articles, I have been bearish on these funds for years, arguing that their "dividend harvest" income strategy has been an NAV destroyer even while these funds traded at lofty premium valuations. Now that the funds have finally dropped to significant discounts after slashing their distributions by 50% this past January, something that I had warned would happen, I still believe there are more attractive funds out there that have a proven turnaround story.
When you can buy other equity CEFs like the Eaton Vance Enhanced Equity Income fund (NYSE:EOI) at a similar discount level of almost -11% and yet with a significantly higher yield now at 8.6% than AGD or AOD, I don't know why you would take a chance on the Alpine funds when EOI has definitely shown that it has turned the corner and is showing much better NAV total return performance since its distribution cuts from 2010 to early 2012. The same could be said about the Eaton Vance Enhanced Equity Income fund II (NYSE:EOS) as well. Though I wouldn't necessarily be selling AGD or AOD at this point, I believe the jury is still out as to whether their large distribution cuts will finally allow these two funds to grow their NAVs, something that is already being proven by other funds such as EOI and EOS.
4 Funds To Sell
Looking over Table III, which shows all of the bottom sorted equity CEFs whose market price total return performances have outdistanced their NAV's YTD, the Allianz/PIMCO Global StocksPlus & Income fund (NYSE:PGP) stands out as #1. PGP is a hard fund to criticize or recommend because on one hand, the fund can show incredible NAV upside during strong market periods, due mostly to its large positions of S&P E-mini futures, but it also has huge downside potential if the bond or equity markets turn negative.
PGP has relied on a strong fixed-income and stock market over the last 4-years to show unparalleled NAV and market price appreciation but I have a hard time believing that will continue to last. Already, PGP's NAV performance is starting to show the weight of its $2.20 annual distribution per share, which has never changed since inception. Where it shows up is that less and less of PGP's distribution is being attributed to income while more and more is showing up as Return-of-Capital, which is a much more dangerous sign in a leveraged CEF than an option-income CEF.
This should not be a surprise when you realize that PGP pays the same $2.20 per share annual distribution with a current $14.89 NAV as it did when it went public with a $23.83 NAV. That low current NAV combined with its high relative distribution translates to a 14.8% NAV yield, which will be a huge ball and chain on the fund if the bond and/or equity markets ever turn down. Whether we are at that inflection point yet is open to debate but with a market price at almost $24 representing a 60.2% premium over its $14.89 NAV, PGP is by far the most dangerous fund to own despite its upside potential.
#2 on the list, the ING Global Advantage & Premium Opportunity fund (IGA), and #3 on the list, the John Hancock Bank & Thrift Opportunity fund (BTO), are also sells in my opinion based on their skyrocketing market prices compared to just average NAV total return performances YTD. BTO was one of the best performers in 2012 as the banking sector soared but so far this year, I don't see the NAV performance to warrant such a move in its market price.
IGA I actually had as one of the most undervalued funds in an article as recently as February, Most Undervalued Funds, when it was at a -7.2% discount but since then the fund has appreciated significantly compared to its NAV. Both IGA and BTO now trade at slight premium valuations and I believe there are better valuations out there.
Besides IGA, several funds that I have written about positively over the past year or so also show up on this list. These include the Cohen & Steers Global Income Builder (NYSE:INB), #7 on the list. INB is a fund that I have endorsed many times but as a leveraged option-income fund with only a modest 8.9% YTD NAV total return performance, I don't believe a 17% market price return justifies that. I would wait for INB to pull back from its current -1.9% discount, which is at the high end of its valuation range as shown in this 3-year Premium/Discount graph.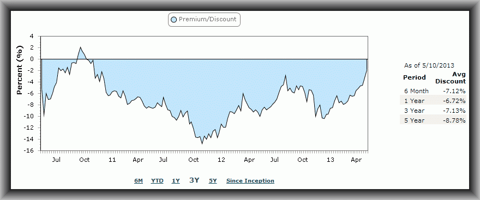 And finally, several of the Eaton Vance funds show up on this list which is just an endorsement to how well most of the Eaton Vance equity CEFs have performed recently. It wasn't that long ago that the Eaton Vance equity CEFs, both their option-income and leveraged funds, were trading at the widest average discounts of all fund families, typically between -10% to -15% discounts. Since then, many of the Eaton Vance equity CEFs have performed so well at the market price level that I believe a few have even gotten ahead of themselves.
The Eaton Vance leveraged funds, (EVT), (ETO) and (ETG) all trade at much more reasonable discounts of -4% to -6% now and though I wouldn't recommend selling them, I do expect a pullback along with the markets at some point this summer. Even a fund like the Eaton Vance Tax-Managed Global Diversified Equity Income fund (NYSE:EXG), a fund that I wrote positively about many times over the past two years and received more flack from investors than any other fund, has made such a strong move to the upside relative to its lower NAV performance that I hesitate to endorse it now either. My, how far we have come!
Summary
So in summary, here are the 4 funds to buy and the 4 funds to sell...

Disclosure: I am long JTD, UTF, INB, XLE, EOI, EOS, EXG, EVT, ETO. I wrote this article myself, and it expresses my own opinions. I am not receiving compensation for it (other than from Seeking Alpha). I have no business relationship with any company whose stock is mentioned in this article.