Starbucks (NASDAQ:SBUX) share price continues to get hotter, reaching new all time highs, valuing the company at $48 billion.
When coffee gets too hot to handle, coffee drinkers reach for a java jacket to protect their hands from getting burned. Investors in Starbucks shares may need to reach for the investment equivalent of the java jacket: the SELL button.
While Starbucks is a great company, it also sells at a premium valuation. Investors seeking high risk-adjusted returns over the long term, must buy great companies at good prices, not premium prices. For purchase price invariably dictates both investment risk and return.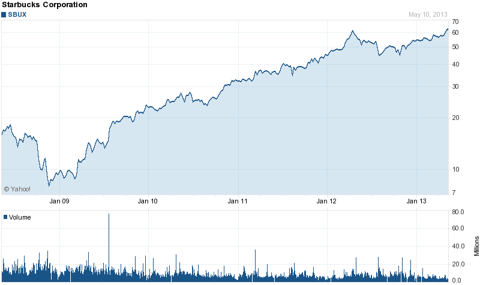 Valuation:
At $48 billion, Starbucks trades at about 3.6x last twelve months ("LTM") sales; 18x LTM operating cash flow; 18x LTM EBITDA to enterprise value; and 35x LTM earnings.
Based on those multiples, investors are pricing in significant future growth for the Starbucks franchise.
Sure, Starbucks plans to open 350 new stores in FY 2013 and renovate 1,400 existing stores. Over the next 5 years, Starbucks expects to open 5,000 new stores, half of which will be in the Americas.
Sure, recent acquisitions such as Evolution Fresh, Teavana and La Boulange offer growth opportunities, but that potential future growth appears to be significantly priced into the equity.
I'm not so sure, however, that the growth prospects are much different than they were in 2008, when the stock traded at much lower levels. And, from my perspective, the competition is becoming much more fierce in all its segments, with a significant number of local, startup companies offering premium quality and branded coffee gaining share.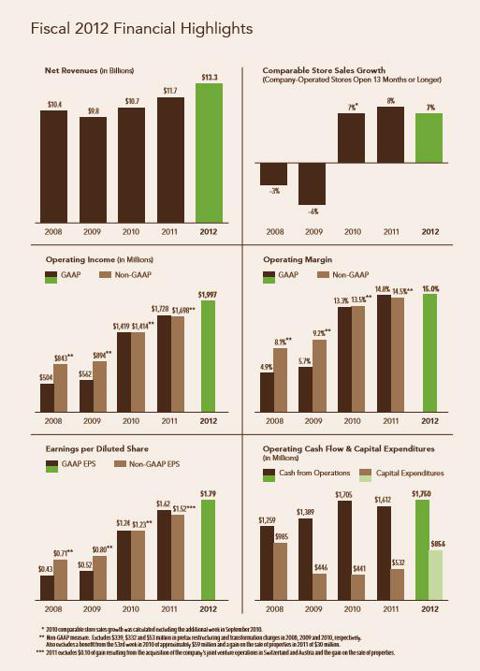 Competition:
The coffee market is extremely competitive. Along with other established coffee purveyors such as Dunkin' Brands (NASDAQ:DNKN), Green Mountain Coffee Roasters (NASDAQ:GMCR), fast foot chains are encroaching on the market including McDonald's (NYSE:MCD) and Wendy's (NYSE:WEN).
Private equity group Joh A. Benckiser is becoming a player in the global coffee business too. In the last year, the PE group bought D.E. Master Blenders for $9.8 billion, Peet's Coffee for $1 billion and Caribou Coffee for $340 million. The takeout multiple for Peet's was 21x enterprise value to LTM EBITDA, implying a large premium to underlying value, and about a 40% premium to the Peet's quote before the deal was announced.
Moreover, small premium brands like Ristretto Roasters and Stumptown Coffee Roasters are popping up at an increasingly frequent rate, offering coffee connoisseurs an alternative to Starbucks.
Conclusion:
Starbucks was a steal in 2009 at under $10 a share, when the fundamentals didn't decline nearly as much as the share price. When investors feared that consumers would never buy another premium latte, that was an opportune time to pick up shares in Starbucks (as with everything else that was on sale). Now, at a price about 8x higher than the lows of 2009, the all important price and value gap has narrowed considerably, and in my view, price exceeds value. Revenues have only increased about 27%, while profits increased about 2.5x from 2008 (non-GAAP) levels, mostly on the back of a higher operating margins.
I wouldn't short Starbucks in this Fed-induced stock market rally because its anyone's guess how high stocks could go. But at a $48 billion market capitalization, Starbucks appears more than fairly valued.
Realizing Starbucks is the number #1 player in the coffee market, they deal in an industry with relatively low barriers to entry, as evidenced by a number of small, premium brands sprouting up and the increasing number of private equity deals in the coffee market. Because of the low barriers to entry and the premium valuation, I think Starbucks is an "avoid" at today's prices.
Take heed and reach for that java jacket. Look for better opportunities (and coffee) elsewhere.
Disclosure: I have no positions in any stocks mentioned, and no plans to initiate any positions within the next 72 hours. I wrote this article myself, and it expresses my own opinions. I am not receiving compensation for it (other than from Seeking Alpha). I have no business relationship with any company whose stock is mentioned in this article.