If you are looking for companies that are growing their businesses, it helps if the economy they are in is actually growing too. The most evident place this situation exists today is in China.
I did a screen to screen for growth. My criteria were:
Projected EPS growth over the next five years of greater than 25%.
Revenue growth last quarter of greater than 15%.
Price to cash flow (TTM) of less than 15.
I got a list of 5 stocks back. Two of these stocks were in a region of the world which has been consistently growing – China. This fact provides a little added security to your investment. If the overall region's economy is growing, a top performing stock is likely to be able to keep growing.
The names of these two stocks are China Green Agriculture, Inc. (NYSE:CGA) and China Automotive Systems, Inc. (NASDAQ:CAAS). The actual statistics in these categories are:
| | | | |
| --- | --- | --- | --- |
| Stock | Projected 5yr EPS Growth | Q1 Revenue Growth | Price to Cash Flow |
| CAAS | 37.50% | 16.55% | 7.1837 |
| CGA | 35.00% | 26.31% | 11.6715 |
(This data is from TD Ameritrade)
Next I looked at what they did. The CGA profile from Yahoo Finance says:
China Green Agriculture, Inc. engages in the research, development, manufacture, and distribution of humic acid organic liquid compound fertilizers in the provinces in China. Humic acid is a natural, organic ingredient for a balanced, fertile soil, and the primary constituents of organic matter. The company produces approximately 119 fertilizer products. It markets its fertilizer products to private wholesalers and retailers of agricultural farm products. The company was founded in 2000 and is based in Xian, the People's Republic of China.
This all sounds like music to my ears. I know agriculture stocks in the US and Canada have been doing well. I know grain commodities futures are one of the things people are buying as a hedge against inflation. I know grain commodities have been strong lately. I know the world population is growing. I know all of those people have to eat. This stock just makes sense.
The CAAS profile from Yahoo Finance says:
China Automotive Systems, Inc., through its interests in Sino-foreign joint ventures, engages in the manufacture and sale of automotive systems and components for the automobile industry in the People's Republic of China. The company offers automotive parts, power steering gears, automotive steering gears, steering pumps, sensor modular, and electric power steering. It also offers integral power steering gear and pinion power steering gear for light and heavy-duty vehicles and cars. The company was founded in 2003 and is headquartered in Jing Zhou City, the People's Republic of China.
This again sounds good to me. I know the Chinese car market has recently surpassed the US car market as the leader in new car sales. The population of China is much bigger than that of the US. (1.3B compared to 0.3B people). The Chinese economy has still been growing even through this worldwide recession. It makes sense that the auto industry (and by extension the auto parts industry) would be growing in this still quickly growing economy. I am cheered by this news.
Let's examine a few more details about these stocks just to be sure they are in good shape. The following table was compiled with data from Yahoo Finance and TD Ameritrade.
| | | |
| --- | --- | --- |
| Stock | CGA | CAAS |
| PE | 13.2 | 17.2 |
| FPE | 8.88 | 12.50 |
| PEG | 0.32 | 0.42 |
| Price/Sales | 4.76 | 1.05 |
| Price/Book | 3.56 | 2.10 |
| Price/Cash Flow | 11.77 | 7.13 |
| Short Interest | 0.20% | 1.59% |
| Held By Institutions | 22.75% | 4.33% |
| Shares Outstanding | 18.6M | 27.0M |
| Debt to Capital | 11.56% | 37.46% |
| Quick Ratio | 2.86 | 1.1 |
| Gross Margin | 56.10% | 28.39% |
| Net Margin | 35.66% | 8.96% |
| Float | 18.4M | 4.6M |
| Average Daily Volume | 175,122 | 42,577 |
Both of these stocks still look good to me. They both seem to be worthy of investment. However, there are a few caveats. They are both lightly traded (see average daily volume statistics above). Therefore they can likely swing wildly. If the market goes down dramatically, they may go down with it (at least temporarily). Of the two, CAAS is the most worrisome. It has the smallest float. It has smaller margins. It is held less by institutions. It has the higher debt to capital percentage. Still it does have good P/CF, P/B, and P/S data. It is worthy of investment.
CGA may or may not become the biggest grower, but I like it the most. It is starting to garner institutional interest, but it is not yet mostly owned by institutions. As the institutional interest likely grows in the near future, the stock price should take off. It has high margins. It has the bigger float and the higher average daily volume. Plus, absolutely no one wants to short this stock. That is usually a good sign. This is the kind of stock Peter Lynch used to love.
As a final check, let's look at the charts. Both of the near term charts look good.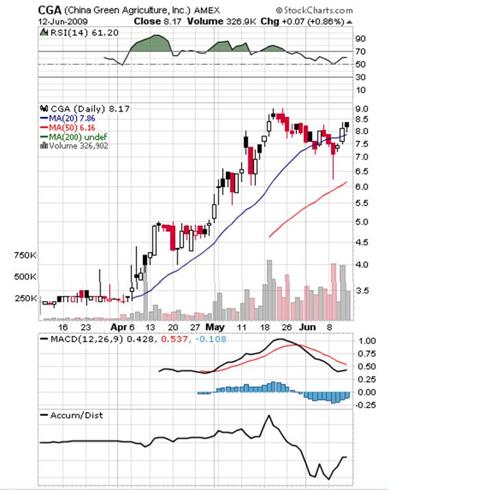 We can see that CGA is above its 50-day moving average. It has retraced recently. Now it seems to be on another leg up. It is still well below its 200-day moving average. This stock fell precipitously from a high of about $29 last August. It has been moving up strongly recently. It seems likely this will continue.
We can see that CAAS is clearly above both its 50-day and its 200-day moving averages. It seems to be heading higher. It is under accumulation.
In summary, both of these stocks look like good near term and long term investments. However, the clear caveat is that they are lightly traded. If there is another big market downturn, they will likely get hammered because they are so lightly traded (i.e. some people will have to sell, so the stocks will go down). Some people say the markets are about to retreat now. Some say there is 10% more upside before we see a significant retracement. I am afraid I have no crystal ball to tell me exactly what the overall markets are going to do. These stocks do both seem likely to be longer term winners. They are stocks that should be on your radar. The timing of your buy and sell decisions is your own. Good luck.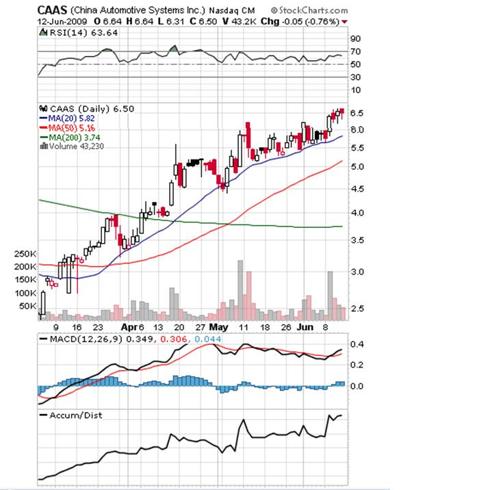 Disclosure: I currently have no position in CGA or CAAS. These stocks are on my radar though.