Most markets in the developed world have rallied sharply since hitting the lows of March this year. For example, the S&P 500 has rallied 40% from its March lows. Fed officials and many others have been talking up the economy and there has been talk of "green shoots" appearing in the economy. Some economists are projecting a recovery in the second half of this year.
Despite rallies in the stock markets and talk of recovery, the recent Global Financial Stability Report by the IMF states that economies of the developed world will experience a deeper protracted recession due to further deterioration in residential and commercial real estate markets, tight lending conditions and rising defaults in corporate and consumer loans.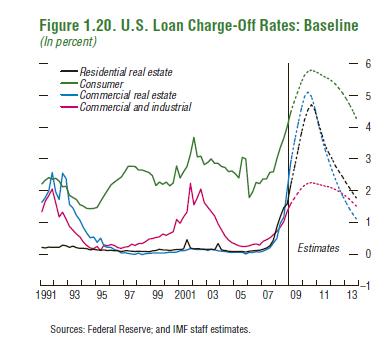 Futures are pointing to further declines in the US and UK residential mortgages of both prime and subprime loans. Loan workout programs and foreclosure moratoriums have failed to reverse the decline in the housing market. The charge-off rates in the U.S. residential real estate market is projected to peak in late 2010. Commercial mortgages are projected to follow the residential markets and have already begun to worsen in the US and UK.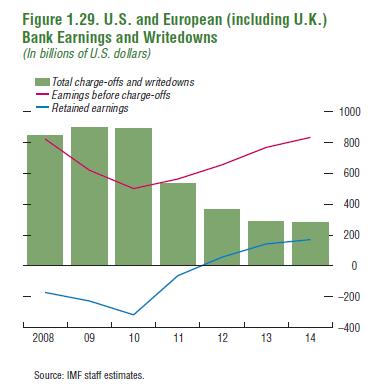 Source: Global Financial Stability Report, Responding to the Financial Crisis and Measuring Systemic Risks, April 2009, IMF
Write-downs by financial institutions in 2010 are estimated to be equal to the total for write-downs in 2009. European and US Bank earnings before provisions are projected to drop between a third and half all the way through mid-2010. Total charges are expected to peak at 4.2% in the US, 3.4% in the UK and 2.8% in the Eurozone. These levels are well above those experienced during the Great Depression in the US. Banks in Europe and the US will likely post losses through 2010 though a modest rebound to flat returns is possible in 2010.