Stocks with exposure to copper such as Freeport McMoRan (NYSE:FCX), Rio Tinto (NYSE:RIO), BHP (NYSE:BHP), and Xstrata (XTA) have been on a bit of a roller coaster recently due to the red metal's volatility. In the long-term, many predict copper stockpiles to rise, prices to continue to fall, and global production to increase - leading to a severe oversupply situation. However, some recent forecasts for the other side of the equation - consumption - don't necessarily paint such a bleak picture.
Refined copper consumption in 2013 will most likely continue to be relatively flat in North America and slightly negative in Western Europe; however, India and China are both forecasted to continue their high levels of consumption through the year and well into 2014/15. In fact, total Asian consumption is forecasted to increase by approximately 4.5%-5% in 2013.
The below chart, presented by BofA Merrill Lynch at last month's World Copper Conference, does a great job of presenting their forecast relative to historical.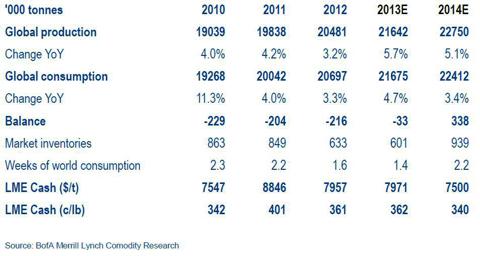 Click to enlarge
Yes, production will continue to increase - slightly outpacing consumption. However, their consumption forecast (most others I've seen are in the same ballpark) shows decent growth. Despite the supply/demand imbalance, global inventories will be returning to a level that is well within historic averages.
Although many producers will continue to experience increasing costs due to declining ore grades, electric costs, labor costs, etc. - at current prices most major producers are still able to maintain healthy margins. Several recent forecasts put copper prices in the range of $8,00/ton, moving to $9,000/ton by year end. This would allow producers to reap some profits in the near term. Although 2014-15 may not be banner years, they will still be profitable for most copper producers - setting them up nicely to enjoy growth driven by Asia, beyond 2015.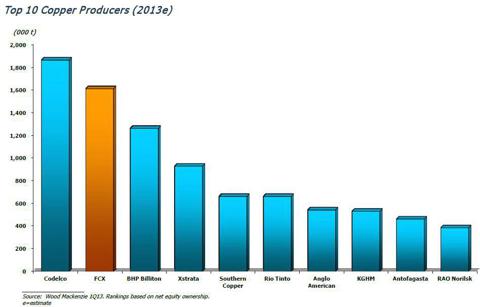 Click to enlarge
The closest company to a pure copper investment is Freeport McMoRan and, although I can't claim to be an expert on the myriad of changes related to the planned acquisition of Plains Exploration & Production Co. (NYSE:PXP), they will remain the largest publicly traded copper producer in the world. From a cost perspective, FCX is well positioned to capitalize on continued long-term demand. So although the road may continue to have some bumps, the long-term outlook for some of these well-run copper producers is not quite a bleak or volatile as recent news would indicate.
Disclosure: I am long FCX. I wrote this article myself, and it expresses my own opinions. I am not receiving compensation for it (other than from Seeking Alpha). I have no business relationship with any company whose stock is mentioned in this article.