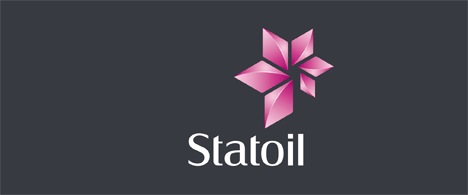 Over the past few years Norwegian oil company Statoil (NYSE:STO) has gotten much publicity while investing heavily in the Bakken and Marcellous shale plays. However, the company has quietly assembled one of the best portfolios in the Gulf of Mexico ("GOM").
STO's recent decision to move ahead with partner Exxon Mobil (NYSE:XOM) to develop the Julia field is a very significant event for the company because Julia compliments STO's existing working interest in the Chevron (NYSE:CVX) operated Jack and St. Malo fields.
This article will show why STO has an excellent portfolio in the GOM. Let's start by reviewing Statoil's currently producing assets in the GOM.
STO's Producing Fields In The Gulf Of Mexico: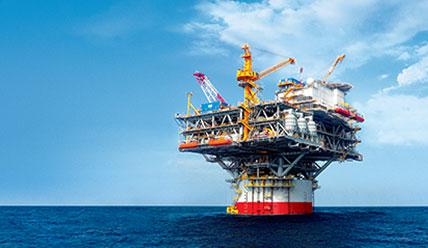 The Tahiti Platform
The Tahiti field was one of the largest discoveries to date in the GOM. The field is operated by Chevron and began production in May 2009. STO has a 25% interest. Tahiti consists of seven wells in three locations connected to a floating facility. The facility has a processing capacity of approximately 155,000 barrels of oil and 70 Mcf of natural gas per day. Gross average daily production was 110,000 boe in 2011.
Thunder Hawk production started in July 2009. The oilfield located in Mississippi Canyon block 734 and is operated by Murphy Oil (NYSE:MUR). STO has a 25% interest in Thunder Hawk. The development consists of a semi-submersible floating production facility with a processing capacity is approximately 45,000 boe/d. The gross average daily production was 12,900 boe in 2011.
Anadarko (NYSE:APC) operates the Caesar Tonga field. Statoil has a 23.6% working interest in the field, which has an estimated resource base of 200 to 400 million boe. First production started in March 2012 and is currently approximately 40,000 boe/day.
Spiderman is a deepwater gas field and is part of the Anadarko operated Independence Hub. Statoil has an 18.3% interest in the field. The hub is a floating production facility. Gross average daily production in 2011 was approximately 22,000 boe/d. The hub has a processing capacity of approximately one billion cubic feet of natural gas per day. Statoil has contractual rights to 12.7% of the total capacity through May 2012 and 6.4% for five years thereafter.
The Murphy-operated Front Runner oilfield started production in 2004. Statoil has a 25% interest in Front Runner. Gross average daily production was 7,000 boe/d in 2011.
Obviously, STO has a wealth of currently producing assets in the GOM. Now let's take a look at the fields in development.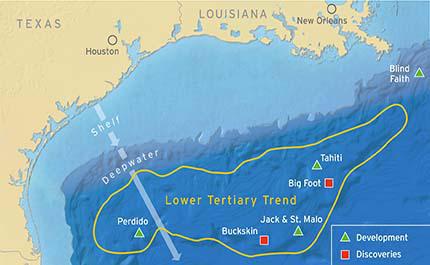 Fields In Development:
Tahiti's Phase 2 will add two producing and three water-injection wells to the existing development. Injection from the first two water-injection wells is expected to start in the first quarter 2012, while first oil from additional producers is expected in the first quarter 2013.
The Big Foot project development will have production capacity of 75,000 barrels of oil and 25 MMcf/day of natural gas. Discovered in 2006, the Big Foot is estimated to contain total recoverable resources in excess of 200 million oil-equivalent barrels. Chevron is the operator and has a 60 percent working interest in the Big Foot project. Statoil has a 27.5% interest. The first oil from Big Foot is scheduled in late 2014.
A fourth development well was expected to be drilled and completed in late 2012 as part of the planned phase one development.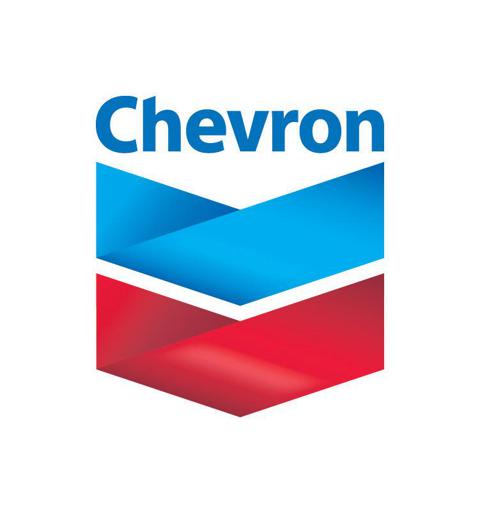 The Jack and St. Malo fields are located within 25 miles of each other approximately 280 miles south of New Orleans, Louisiana, in water depths of 7,000 feet. The fields are estimated to contain combined total recoverable resources in excess of 500 million oil-equivalent barrels. The project will be comprised of three subsea centers tied back to a hub production facility with a planned capacity of 170,000 barrels/day and 42.5 MMcf/day of natural gas. Startup is anticipated in 2014. Chevron has working interests of 50 percent in the Jack field, 51 percent in the St. Malo field, and 50.67 percent in the host facility. Statoil has a 25% working interest in Jack and a 21.5% interest in the St. Malo field.
Now it is time to take a look at the subject of the day: the Julia field. Julia was discovered in 2007 and is estimated to have nearly six billion barrels of resource in place. ExxonMobil is the operator and has a 50% working interest. Statoil is a partner and also holds a 50% stake. The first oil is expected by mid-2016. According to Exxon:
The initial development phase is being designed for daily production of 34,000 barrels of oil and includes six wells with subsea tie-backs to the Jack & St. Malo production facility operated by Chevron U.S.A. Inc. Julia project front end engineering design has been completed and the engineering, procurement and construction contracts have been placed.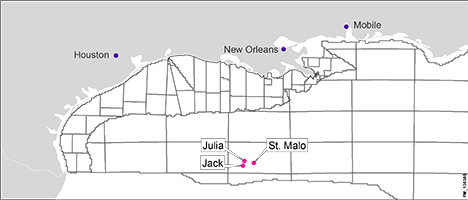 Subsea Tie-Backs
The subsea tie-backs from Julia to the Jack and St. Malo fields connects all three together. And STO has a working interest in each one, which I will summarize here:
Julia: 50%
Jack: 25%
St. Malo: 21.5%
Considering the planned production of Julia is 34,000 boe/day and CVX management expects peak production from the Jack, St. Malo, and Big Foot fields will reach 100,000 boe/day, STO's share of these new projects alone could be in the neighborhood of 42,000 boe/day.
The subea tie-back of Julia to the Jack/St. Malo facility is also bullish for Chevron. Chevron owns 50.67 percent in the Jack/St. Malo host facility.
The Logan Discovery
Statoil last year made a significant discovery called Logan in Walker Ridge. Logan is estimated to hold between 1 billion and 2.5 billion barrels in place, though the volumes that can be recovered are so far unclear. Evaluation is ongoing, and an appraisal well will be drilled this year.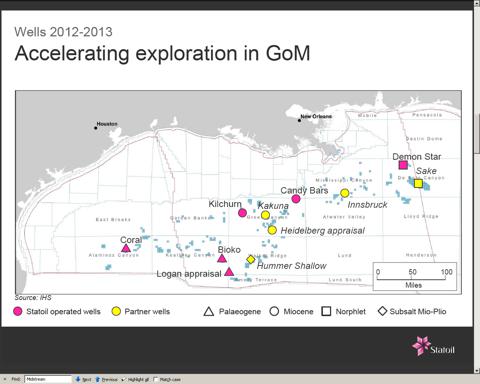 The following slide from Statoil's Q4 2012 presentation summarizes the company's equity production share in North America. Marcellus gas and Bakken oil continue to lead the way. However, note the company's total of GOM production from Tahiti, Caesar Tonga, and Spiderman is equal to roughly 35,700 boe/day. With an additional potential of another 42,000 boe/day coming online over the next couple years from Jack, St. Milo, and Julia, the GOM will become a significant contributor to STO's long-term base production.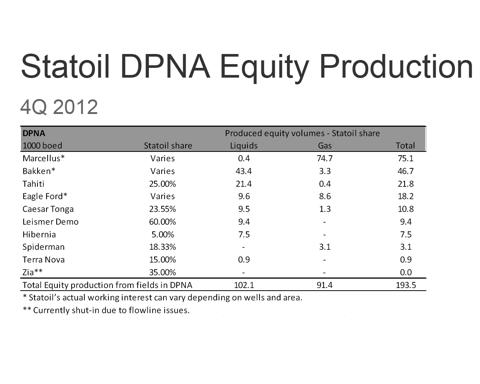 Summary and Conclusion
Statoil has significant and growing production assets in the Gulf of Mexico's deepwater. Its partnerships with companies like Chevron and Exxon Mobil bring a combination of technical strength, deep pockets, good management, and long-term viability to the projects.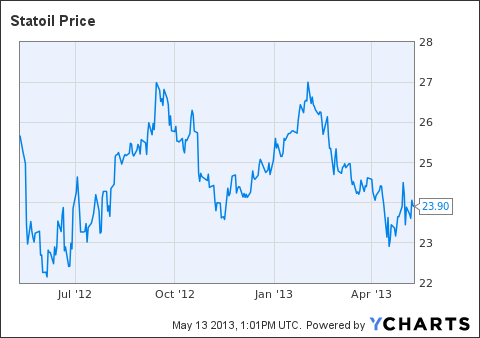 Statoil = $23.90
Mkt Cap = $76 billion
P/E (ttm)= 7.2
EPS (ttm) = $3.31
Div (Yield) = $0.87 (3.6%)
STO has been shedding non-core assets, like West Quarna 2 in Iraq, to focus on its recent discoveries and more profitable areas like North America. While the Marcellus is the company's largest producing asset at 75,000 boe/day in the U.S., it's low cost natural gas. The Bakken is the company's second largest producing area at 46.7 boe/day, but the Bakken is capital intensive due to fast depletion rates and still has takeaway transport issues. Current production in the GOM is only around 35,700 boe/day, but it is set to more than double in the coming years. And these are long-term producing assets: Julia is expected to produce for 40 years. Despite all the hoopla about the shale plays, the GOM could turn out to be STO's best investment in the U.S. over the long-term.
With a P/E of 7.2 and a yield of 3.6%, STO is undervalued. Analysts point to Norway's 67% ownership of Statoil for its stock price discount compared to its peers. However, Norway's likely next prime minister is talking about cutting the country's stake in the company. In addition, STO is also a nice insurance policy against future geopolitically induced oil price spikes.
Regardless, with a stable dividend and a price that bounces quite predictably between $23 and $27, savvy investors can time purchases of STO shares in an IRA or 401k account to bank tax advantaged yield.
Disclosure: I am long CVX, STO, XOM. I wrote this article myself, and it expresses my own opinions. I am not receiving compensation for it (other than from Seeking Alpha). I have no business relationship with any company whose stock is mentioned in this article.
Additional disclosure: I am an engineer, not a CFA. The information and data presented in this article was obtained from company documents and/or sources believed to be reliable, but has not been independently verified. Therefore, the author cannot guarantee its accuracy. Please do your own research and contact a qualified investment advisor. I am not responsible for investment decisions you make. Thanks for reading and good luck!