Northstar Realty Finance (NRF) is a commercial REIT that originates, invests in and manages commercial real estate securities. At the time of this writing, it is priced at $9.88 per share with a market capitalization of $2.12 billion, enterprise value of $5.8 billion, and a dividend yield of 7.69%.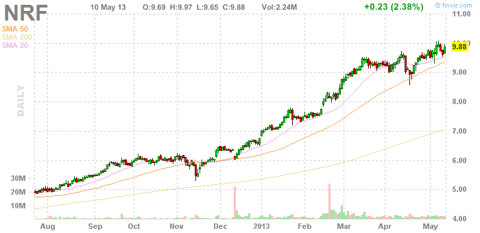 NRF is a strong sell for the following reasons:
1. Aggressive Accounting
2. Poor Quality of Earnings
3. Opaque Book
4. Substandard Franchise
5. Egregious Valuation
6. Substantial Insider Selling
Aggressive Accounting
In July 2010, NRF acquired a CDO from CapitalSource Inc. for $7 million.
NEW YORK, July 8, 2010 /PRNewswire via COMTEX/ --

NorthStar Realty Finance Corp. announced today that an affiliate of CapitalSource Inc. (NYSE: CSE) (NYSE:I) delegated to NorthStar collateral management and special servicing rights, and the associated fees, relating to CapitalSource's approximately $1.1 billion collateralized debt obligation consisting primarily of first mortgage loans on commercial real estate (the "CDO") and (ii) sold to NorthStar the CDO's Class J notes (approximately $50 million current balance), the CDO's Class K notes (approximately $60 million current balance) and the CDO's equity. Total consideration paid in the transaction was $7 million.
In the 2010 10-K, NRF realized an AFFO of $76.2 million from the CDO that cost $7 million in less than 6 months.
In July 2010, we were delegated the collateral management and special servicing rights, and acquired the original below-investment grade notes, of a $1.1 billion commercial real estate loan CDO for $7 million. The assets acquired and liabilities assumed were recorded at their then fair market values. Even though we acquired the most junior certificated notes in the CDO that as of the acquisition date were, and continue to be, non-cash flowing, U.S. GAAP requires that we consolidate the assets and liabilities underlying the notes, and treat each asset and outstanding note as separate and distinct from each other. All of the loans acquired and CDO note liabilities assumed were recorded at discounts to their outstanding principal balances. Going forward, the acquisition discounts on the loans are accreted as non-cash interest income to the estimated recovery values of the loans. We elected to fair value the CDO note liabilities assumed, therefore cash interest expense from the liabilities is recorded as interest expense, and inter-period changes in market value of the liabilities are recorded as unrealized gains (losses). This results in the recognition in our income statement of cash and non-cash interest income from the loans, and interest expense and unrealized gain/loss mark-to-market adjustments of the liabilities. This accounting may result in our recognition of net income from the CDO well in excess of the actual net interest margin generated, and our AFFO may be different than GAAP net income because AFFO excludes unrealized gains and losses from mark-to-market adjustments. Furthermore, while we may have significant GAAP net income and corresponding AFFO as well as operating cash flows, we may not be receiving any cash distributions from our acquired notes. Instead, such cash would be used to amortize the issued liabilities. Also, the portion of interest income recognized from amortization of the acquisition discounts on the loans may never be realized because the face amount of the CDO note liabilities issued may ultimately be greater than amounts recovered from the assets.

For 2010, we recognized $67.2 million of interest income ($26.9 million cash and $40.3 million non-cash accretion), $4.0 million of cash interest expense and $113.1 million of unrealized losses relating to the acquired CDO. AFFO and net loss from the CDO were $76.2 million and $33.2 million, respectively, for 2010.
You would think that the people of CapitalSource with over a decade of experience in CDOs would be smart enough keep such a good deal.
Poor Quality of Earnings
Non equity REIT's are supposed to make money from spread. Given that NRF is mainly non equity, one would suppose it has a very healthy and growing spread business.. but alas, NRF does not. Despite the fact that the common share count has increased 75% YoY, net interest income has actually decreased.
From the 10-Q:
| | | |
| --- | --- | --- |
| | March 31, 2013 | March 31, 2012 |
| Interest Income | $70,335 | $80,816 |
| Interest Expense on Debt and Securities | $11,397 | $13,734 |
| Net Income Expense on Debt and Securities | $58,938 | $67,082 |
| Basic weighted average number of shares | 176,675,176 | 102,247,118 |
| Diluted weighted average number of shares | 188,213,000 | 107,393,827 |
Since 2009, NRF's net income has been dramatically negative. Even when adding in depreciation and amortization, FFO has still been miniscule. It seems NRF makes most of its money booking "one time" unrealized losses on investments. Those booked unrealized losses on investments are the primary reason why NRF's AFFO is positive and it pays dividends.
Opaque Book
"Never invest in a business you don't understand."
- Warren Buffett
The market has historically put a premium on transparency and discounted opacity because history has shown that companies that have hard-to-read books sometimes have something to hide.
NRF's books are extremely hard to read. It is filled with SPEs, VIEs, PE joint venture funds in addition to all the run-of-the-mill CRE REIT alphabet soup securities such as CDOs, CMOs, CMBS, etc. Management itself admits that they may be unfamiliar with the asset classes they may deal with.
From the 10-K (page 42):
We have in the past and expect to continue to make opportunistic investments that may involve asset classes and structures with which we have less familiarity. For example, in December 2012 we entered into a subscription agreement to invest in the PE Fund JV that is expected to own limited partnership interests in approximately 50 real estate private equity funds. We have in the past and may in the future also determine to invest in residential real estate, manufactured and multi-family housing and other asset classes with which we have limited or no prior experience.
Given that most of NRF's AFFO in the past 4 years are from one time unrealized/realized gains and losses on investments which are very hard to predict, NRF should do better and improve transparency so that the average shareholder can understand it.
Poor Franchise
NRF wants investors to think that it has a strong and diverse franchise. Here is another interpretation:
Companies typically focus on one thing and try to do that one thing very well (e.g. Coca Cola and Coke). When unprofitable companies try to do other things, it leads investors to believe that they cannot realize a profit in the niche they specialize in (i.e. competitors have competitive advantages).
So let's examine NRF's competitive advantages/disadvantages:
NRF has a large Debt/EBIDTA ratio (~4 billion debt vs. annualized income from operations ~$100-$120 million)
NRF cost of capital is higher than most competitors.
NRF has a $2.2 billion CMBS secruity portfolio with average credit rating of CCC/Caa2 (i.e. 'junk bonds').
Most of assets in NRF's asset management division are for NRF or the JV partner.
NRF is very proficient at raising secondary shares that increase common share count and issuing preferred shares that are senior to common shareholders.
From 10-Q,
In February 2013, NorthStar issued 34.5 million shares of its common stock at a public offering price of $8.39 per share and received net proceeds of $280 million.

In April 2013, NorthStar issued 8 million shares of its new 8.5% Series D Preferred Stock at a par value of $25 per share and received net proceeds of $194 million.
Egregious Valuation
Valuation Ratios as of March 31, 2013
| | | |
| --- | --- | --- |
| | NRF | CLNY |
| Share Price | $9.88 | $23.21 |
| Common Book Value | $5.31* | $18.58 |
| Adjusted Book | $6.78 | $19.67 |
| Price Per Share/Book | 1.86 | 1.25 |
| Price Per Share/Adjusted Book | 1.45 | 1.18 |
If NRF were valued at CLNY's 1.25 price/common book ratio, NRF would be worth only $6.63 a share. Considering that CLNY is fundamentally a much better company with little debt (~$150 million), transparent books and net interest income that increases every year, one can argue that NRF deserves a lower multiple than 1.25.
*The main reason why NRF's book value increased QoQ was because the secondary priced much higher over book than NRF did.
Substantial Insider Selling
Management seems to agree that this company is overvalued. Since last week, NRF insiders have unloaded almost $9 million worth of shares.

While it is common for a company's management to sell shares, it is uncommon for multiple members of management to sell so many shares in such a short span. Given the magnitude and speed that management is bolting for the exits, it might be prudent for the common shareholder to consider leaving too.
Conclusion
NRF is a house of cards with aggressive accounting, opaque books, poor quality of earnings, high debt and a management that is keen to sell. It is this author's belief that the only reason why NRF's share price is so high is the chase for yield in the present low interest rate environment. While NRF may be able to sustain the dividend in the short term, given the fundamentals beneath and inevitable rising of interest rates, it will eventually have to answer to the laws of financial gravity. Given all the risks, NRF should trade no higher than true adjusted book value and is a strong sell.
Disclosure: I have no positions in any stocks mentioned, but may initiate a short position in NRF over the next 72 hours. I wrote this article myself, and it expresses my own opinions. I am not receiving compensation for it (other than from Seeking Alpha). I have no business relationship with any company whose stock is mentioned in this article.