This past weekend's events in Iran and in Israel are good reminders that the Middle East is a region in transition. The 300 million citizens of the Middle East and North Africa (MENA) nations make up only about 6 percent of the world's population. But the Mideast plays a disproportionate role in world affairs as its hydrocarbon resources are central to global economic development, and its fractious regional politics often threaten global peace.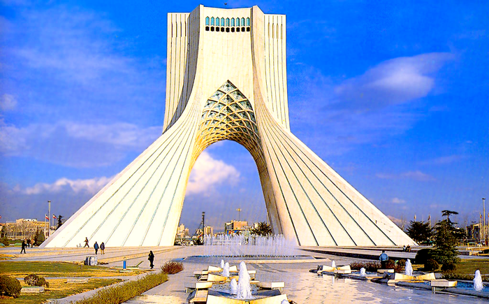 Economically, the region has seen strong growth in the past decade as crude prices stayed strong and most countries opened themselves up to foreign investment. Since 2000, growth has stayed above 5% in the region and the Middle East is now the second richest part of the emerging world, behind Latin America, - with GDP per capita now around $7,000.
Along with other emerging economies, output and shares in the Middle East crashed spectacularly in 2008. Mideast economies have been slower to recover in 2009, however, as low crude prices fed concerns over the ability for Middle Easterners to pay down debt accumulated during the boom. Much of the first quarter was dominated by speculation that Dubai - the high-flying capital of Arab capitalism - might default on its debt. Fears were abated only after its sister cities in the UAE bailed it out. Once the symbol of the Middle East's rising economic power, the architectural extravagance of Dubai risked being remembered primarily as an expensive folly.
The region, however, may yet come roaring back. Crude oil prices have doubled since their lows of earlier this year. Although the rise is largely supply chain and speculation driven, demand from growing emerging economies could outstrip estimates - paving the way back to $100/barrel oil. Sustainable prices at that level should allow for public spending and private capital investment to rise for years to come, and give the region more time to diversify its economy away from hydrocarbons.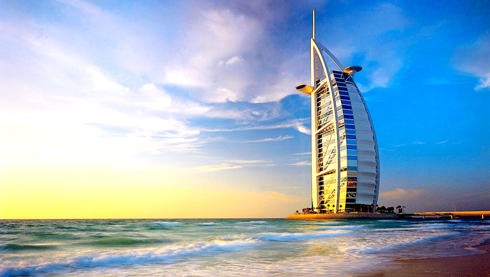 The Middle East may reap further dividends if efforts to create a lasting Mideast peace, solve the West's standoff with Iran, and resolve the conflict in Iraq succeed. Paradoxically, those efforts faltering could drive crude prices higher in the short term on supply disruption fears - boosting export earnings for major producers like Saudi Arabia, Kuwait, Iraq and Iran.
Not all of the funds listed below are necessarily buys. Some may even be near term short targets if political instability in Iran, Palestine, or elsewhere gets out of control. But over the long term, these 10 funds are certainly ones to watch:
10. iShares MSCI Turkey Investable Market Index (NYSEARCA:TUR) +35.10% ytd and .06 vol
Turkey is one of the few major economies in the Middle East where oil isn't a factor. Placed between Europe and the Middle East, Turkey's economy is dependent on exports to an ailing EU. But its strong industrial sector - led by companies like Tekfen (IST:TKFEN) and KOC (IST:KCHOL) - could benefit handsomely from its proximity to major oil producers, through increased exports or activities abroad.
9. Market Vectors Agribusiness (NYSEARCA:MOO) +36.59% ytd and 1.19 vol
The Middle East itself has little arable land, so economic development and burgeoning population growth there are bigger drivers of global food demand than they would be elsewhere. Saudia Arabia and Kuwait have actually taken to purchasing tracts of land in Africa bigger than most US states in an effort to secure their food supply. That new agriculture plus that which is expanding in the region itself will require great amounts of agricultural equipment and supplies. The MOO invests in 44 companies specializing in such things, including Monsnato (NYSE:MON), Deere (NYSE:DE) and Komatsu (OTCPK:KMTUY).
8. PowerShares Global Water Portfolio (NASDAQ:PIO) +13.96% ytd and .09 vol
The world has an average of 8,500 cubic meters of freshwater resources per person. North Africa and the Middle East has about 1, 000. This poverty of freshwater has made the Middle East the biggest market for desalinization plants and expensive water engineering projects. The PIO invests in 29 global water resources firms - such as Veolia Environnement (EPA:VIE) and Valmont Industries (NYSE:VMI) - whose expertise in such things are in increasing demand in arid parts of the world. Demand for large desalinization projects, in particular, are dominated by Middle Eastern public works projects funded by oil revenues.
7. Market Vectors Gulf States Index (NYSEARCA:MES) +15.83% ytd and .02 vol
The MES is a broad index that invests exclusively in the Middle Eastern countries that border the Persian Gulf. (Unlike the GULF which invests all over the MENA area.) It is consequently heavy on the finance, real estate, and services names that make up the UAE and Kuwait economies, and lighter on the industrial and telecom names more prominent in North Africa. Its 1.00 expense ratio is the highest of the group, but it offers a pure play on oil-driven economies.
6. iShares MSCI Israel Capped Investable Market Index (NYSEARCA:EIS) +39.04% ytd and .02 vol
Israel's dynamic economy is often overshadowed by the political instability in the region. Its tech and pharmaceutical sectors are the envy of the world with names like Teva (NYSE:TEVA), Check Point (NYSE:CKP) and Fundtech (NASDAQ:FNDT) leading their market niches. Should the Israeli-Palestine issue be settled in the near future, the EIS is sure to benefit as a lasting settlement would remove risk and uncertainty and open up new opportunities for the Israeli economy.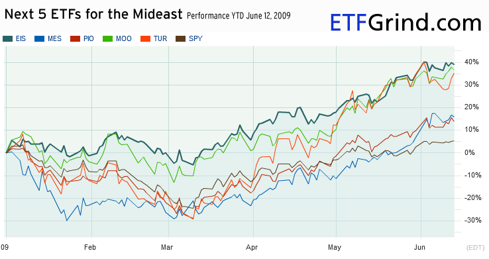 5. Claymore/Robb Report Global Luxury Index (ROB) +13.25% ytd and .00 vol
The economic collapse of last year has unsurprisingly hit luxury goods makers more than most. Many of the names in the ROB are quite sensitive to Middle East demand, which in turn depends on the rising price of oil. The best customers for things such as private planes, ultra-luxury automobiles, and luxury soft goods are the hoards of Middle Eastern royals who descend on Fifth Avenue, Rodeo Drive and the Champs Elysée when crude is high. Names such as Dassault Aviation (EPA:AM), LVMH (OTCPK:LVMUY), and Sothebys (NYSE:BID) in particular are poised to benefit.
4. PowerShares MENA Frontier Countries Portfolio (NASDAQ:PMNA) +13.65% ytd and .01 vol
PMNA is a confusingly named Middle East and North Africa fund that is much like its competitor the GULF. It excludes, however, the gulf nations of Qatar, Bahrain, and Oman from its index and carries a higher expense ratio than the WisdomTree offering. It is broadly diversified with a good mix of Morocco and Egyptian firms such as Maroc Telecom (CAS:IAM) and Orascom Construction (CAI:OCIC) , and is good for investors who want to exclude small cap volatility from their holdings as it invests exclusively in large and mids.
3. Claymore/Delta Global Shipping Index (NYSEARCA:SEA) +31.12% ytd and .19 vol
Global demand for oil drives much of the shipping industry, and a recovery in oil prices and Middle East production will mean strong earnings for global shippers. Crude oil accounts for about a sixth of global trade by value, and a greater proportion of goods transported by sea. Companies like EuroNav (EBR:EURN) and Frontline (NYSE:FRO) derive a majority of their revenue from their oil tanker operations. The SEA invests in 30 shipping and shipping logistics firms, including the two above, which are highly dependent on the resumption of oil shipments and recovering world trade volumes.
2. WisdomTree Middle East Dividend Fund (NASDAQ:GULF) N/A and .01 vol
The GULF is the best ETF for broad market Middle East and North Africa exposure. It includes more holdings from a wider array of countries than either PMNA or MES, has a lower expense ratio, and is dividend weighted rather than capitalization weighted. It also picks up names like Qutar Shipping Company (DOH:QSHS) and El Ezz Steel (CAI:IRAX) the others miss. GULF lacks volume, however, but no more so than its immediate competition.
1. iShares Dow Jones U.S. Oil Equipment and Services Index (NYSEARCA:IEZ) +44.22% ytd and .53 vol
Either political instability or an emerging market recovery would lead to higher crude oil prices. Investing in Middle Eastern oil producers is problematic, because most are state-owned monopolies. But all major equipment and services companies - such as Schlumberger (NYSE:SLB) and Baker Hughes (NYSE:BHI) have large presences in the region. One - Halliburton (NYSE:HAL) - has even moved its headquarters to Dubai. The IEZ has outperformed crude oil ETFs and indexes of major integrated oil companies ytd, and is the best way to play dearer oil and a dynamic Middle East.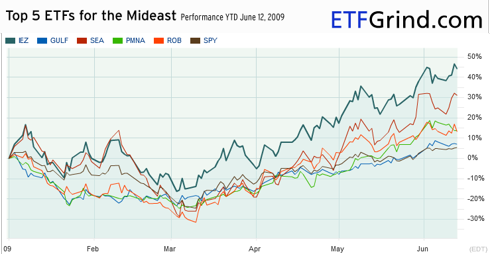 Disclosure: None