Despite mayhem in the world economy, which is undergoing the most severe recession after 1932, commodities have shown comparatively better performance than other asset classes due to their massive demand. We can't say that demand for agricultural commodities is completely immune to the recession, but it is relatively immune to the recession compared to metals and energy and other products.
With the decline of around 20% to 40% in several commodities - eg. soybean, spices, sugar etc. in world production, commodities prices are moving higher in a significant way. However, the current rise in prices will encourage farmers to produce more for next season. This is evident from behavior in 2008 in the case of wheat and rice. Year 2008 will be remembered for the sky-scraping prices of wheat and rice, which encouraged framers to plant more for the year 2009.
Buying is still intact in soybean, sugar, cotton and spices with future demand exceeding supply for the current season. The major driving force for this demand is improving consumer income in China and India in the middle of a shortage of productive farmland. Lack of credit facilities in US and other countries due to the ongoing credit crisis means farmers were compelled to produce less in 2008, which resulted in supply squeeze worldwide.
Demand is more or less same in most of the countries. No doubt the economic growth of China has slown for the same reason, but despite this, its economy should expand by more than $200 billion per year for some time. Hence, we can expect a continued demand for food from China. The chart below shows the return of agro commodities in 2009, indicating that commodities are relatively inelastic as opposed to other products.
Return of agro commodities from 01.01.09 - 30.04.09 (In %age)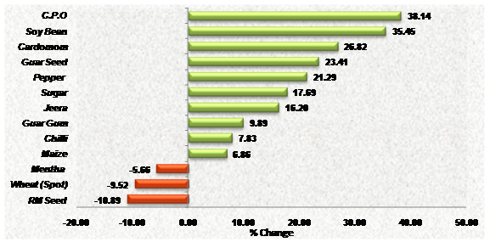 There are certain important factors which should be taken into consideration to know the demand, supply and the price outlook of commodities. Since this is a historical economic crisis time, the movements in financial market are abnormal. Hence to know the performance of commodities during and after recession is very crucial at this juncture.
Global scenario
Some commodities that saw a supply glut in 2009 may see decline in production in 2010 and vice versa, while consumption will remain on the higher side. This would bring bull rally in these commodities. Production of grains in 2010 is expected to be 1.727 billion tonnes, which is around 3% lower than world grain production of 1.784 billion tonnes in 2008-09, according to the International Grains Council. Some reductions in plantings on the back of the economic downturn were also responsible for this decline. Carryover stocks will remain significantly higher than 2006-07 or 2007-08. Sky scraping prices of sugar, which was on three year high, may see slower upside in 2010 as production is expected to increase to 160 which is 156.6 million tonnes in 2008-09.
On the contrary, some "money-spinning" commodities may see higher production in 2010, as farmers have encouraged producing more with higher return in 2009. Global oilseed production for 2009-10 is projected at a record 422.1 million metric tonnes, up 25.9 million from 2008-09, according to latest data from USDA. Global soybean production is projected to increase 14% to 241.7 million metric tonnes. However, this expected increase in production is unlikely to cool down the edible oil seeds and oil prices, as the total expected increase is only 4% due to lower beginning stocks. Moreover these increases will gauge by the increase in global consumption, which is projected to increase by 3.8 percent in 2009/10 led by increases in demand from China, India and EU-27.
Supply dominance vs. demand dominance
Agri-commodities are most likely to be one of the few sources of investment gains in years ahead. Unfolding prosperity of China, and later from India has turned agri commodities into offensive investment. Supply is no longer the chief consideration. It was at the time when green, yellow and white revolution were present in the country, however in the present context, decades of supply dominance is missing and demand dominance has become the driving force with the rising consumption amid shrinking acreage area.
Agro commodities are cyclical in nature
Agro commodities are cyclical in nature, depending upon the demand and supply equilibrium. If supply of particular commodity is high amid tight supply, it results in higher prices of particular commodities, which is remunerative for farmers. With witnessing remunerative returns, in the next season, farmers switch to this product, which generally result in supply glut. Same trend occurred in wheat and rice in 2009. Higher prices in 2008 encouraged farmers to produce more grains and in 2009 world have ample supply of wheat and rice and farmers are not getting desired returns. Other factors also make agro commodities cyclical. Decline in numbers of hectares devoted to farming is also a major concern. For example number of hectares devoted to the production of wheat has been declining for last 30 years and inventory is at the lowest level since 1970.
Currency plays
Currency play is vital for demand supply equation. In general, if a currency appreciates, that increases the domestic consumption. A more valuable currency will make it possible for the country to consume more. We should not forget that an overvalued dollar assisted the US to achieve nearly 26% of the total consumption, though it holds only 4% of the total population. If currencies such as Yuan, Rupee etc., appreciate, food demand will improve and prices will jump everywhere.
Behaviour of commodities during and after recession
During a recession, commodity prices tend to react negatively, but that is often short lived. A significant portion of the gains occurs during the early expansion phase after recession. In this recession we have seen that same trend and most of the commodities have noticed the sizable gain, which we can see in above chart as well.
In the past 20 years, not even a single decline lasted more than 16 months from peak to trough. If we calculate the ongoing recession, it hit the economy in July 2008, and it has already been for 10 months. If we believe the same trend will occurs, then may be trough will occur sometime before November 2009. Once the trough is made, commodity prices may gain an average of 33.2% in the next 12 months. But in this time, we have seen that trough has made early and commodities prices have already geared up. Even Bache Commodity Index and CRB index have started gaining on renewed demand. If this demand continues, commodity prices may be higher by the end of 2009 and it is expected that the same trend will continue in 2010 as well.
Future prospects
Well said by Commodity guru "Jim Roger" that agro commodity is the hot favorite for investors for the future. We are expecting a very tight supply condition by that time as we have limited land and yield is improving slowly on the flip side. Consumption is increasing at higher pace on the back of rising population and consumption. But by 2020, there will be three billion more people in the world. To meet the future demand we have to increase global agriculture production by 50% by 2020, which seems to be quite difficult. Reductions in plantings on the back of the economic crisis are also responsible for this decline.
Conclusion
Despite some improvement in some economic indicators, we can't say that we are out of woods. Recession pressure still looms and in this scenario agri-Food investments have positive fundamentals due to inelastic demand amid declining production. With China and India income continuing to grow, global production is likely to fall in the coming year whereas global stock piles may move toward desperately low levels.