Inovio Biomedical (NYSEMKT:INO) is focused on the development of multiple DNA-based vaccines through its electroporation-delivery platform. The company has shown, through multiple pre-clinical and Phase I studies, that its delivery system enhances the potency of vaccines to not only prevent but also treat both cancers and infectious diseases.
Current vaccination techniques inject either a weakened virus or protein particles from a virus into the host, with the goal of allowing the host immune system to create an antibody response to the foreign protein or virus. The issue facing our current vaccination technique is that viral strains will mutate and change, causing changes in protein expression that can make vaccines ineffective. On a yearly basis, drug companies and government agencies attempt to predict the strains of influenza viruses to create the appropriate flu vaccine. Some years the vaccines are effective, other years they are not.
Technology
Inovio's DNA vaccine design solves this problem because a killed or weakened virus is used. A strip of DNA from either a virus or a cancer cell called plasmid is created using existing genetic sequences to target either a disease (cancer) or viral infection. This DNA is a "synthetic consensus" DNA-sequenced vaccine and made in pure water to maximize safety issues. The "synthetic consensus" approach allows the vaccine to prevent and treat multiple strains of a virus expression and overcome the current barriers of viral mutation or expressions that makes today's vaccines less effective.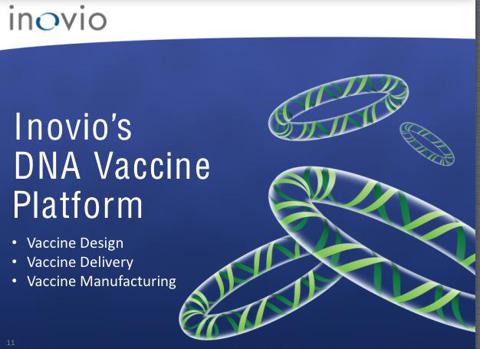 The company has not only designed a superior DNA vaccine platform, but has enhanced that with an electroporation delivery system that enables best-in-class immune responses. Once the vaccine is injected into the host, electroporation involves applying electrical pulses at the site of injection to stimulate the host cells to increase uptake of the DNA vaccines by a thousand fold. This technology has been shown to have superior increase levels of gene expression when compared to current vaccination technology.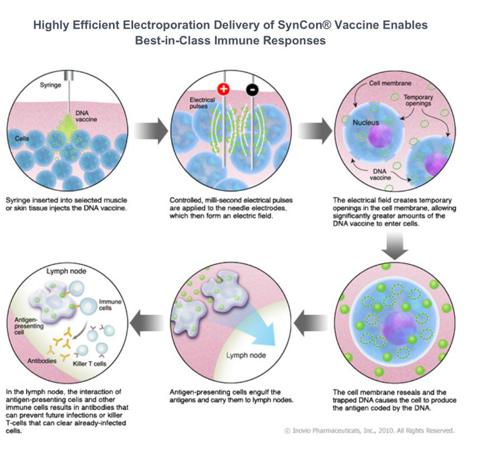 Products
With this technology, the company has developed an impressively diverse array of treatment opportunities in various stages of development. The company boast best-in-class immune responses and products that target multi-billion dollar markets.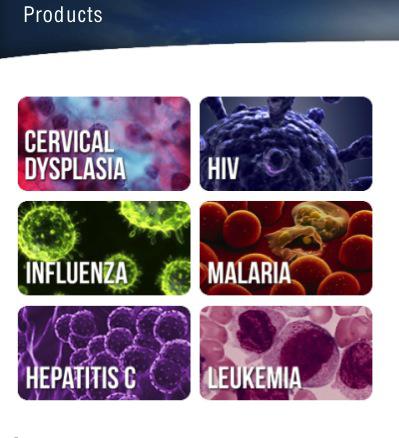 The company's pipeline includes a list of both cancer and infection treatments in various stages of development. Its strategy is to build proof-of-concept studies with phase I and II clinical trials, then spread the cost and risk of development with partner funding, R&D grants and "sponsored" clinical trials.
The validation of its technology and confidence in success includes multiple partners that have come on board:
Bill Gates' funding for the company's malaria program
US Government grant of $25 million to speed HIV vaccine development
Almost $50 million in research grants in the past few years
$3.5 million grant from the National Institute of Allergy and Infectious Disease to advance development of Inovio's next generation vaccine delivery system of simultaneously administering multiple synthetic vaccines via skin surface electroporation
Inovio recognized by Vaccine Industry Excellence (ViE) Awards for "Best Therapeutic Vaccine" and "Best Early Stage Biotech" at the World Vaccine Congress in 2013.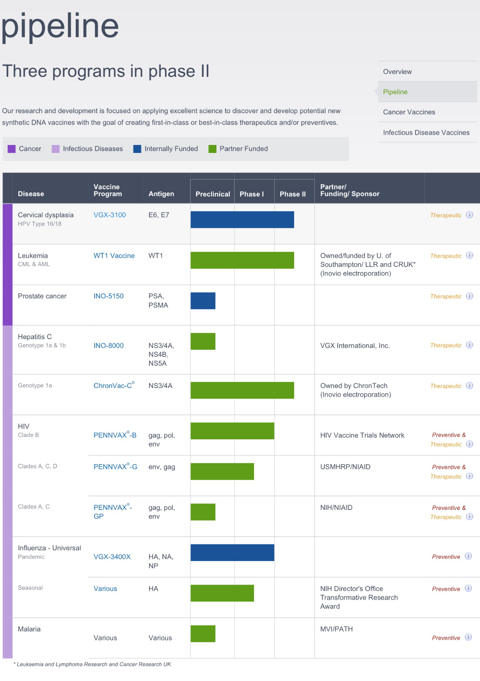 Catalysts in 2013 and 2014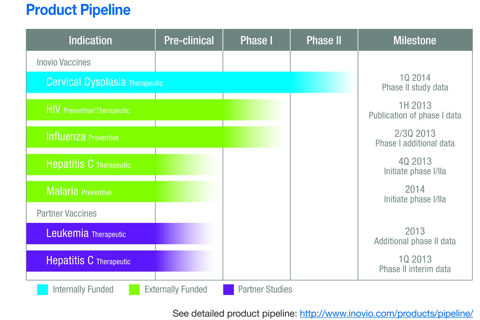 Capital Resources
The company reported financial results for the quarter which ended March 31, 2013.
On March 7, 2013, the company closed an offering of approximately 27 million shares and addition warrants with net proceeds of approximately $14 million.
As of March 31, 2013, cash and cash equivalents plus short-term investments were $28.2 million.
Management projects the company has enough working capital requirements through fourth quarter of 2014.
Recent Insider Buying
Niranjan Sardesai (Chief Operating Officer) purchased 25,000 shares on March 20. He currently holds 101,800 shares.
Angel Cabrera (director) purchased 40,000 shares on March 22. He currently holds 115,000 shares.
Joseph Kim (President and CEO) purchased 150,000 shares from March 20-April 2. He holds 6.6% of the company: 11,900,000 shares. Of importance is that Joseph Kim purchased shares for his family (wife, son, daughter), which can be viewed as a sign of his confidence in the longevity and success of the company.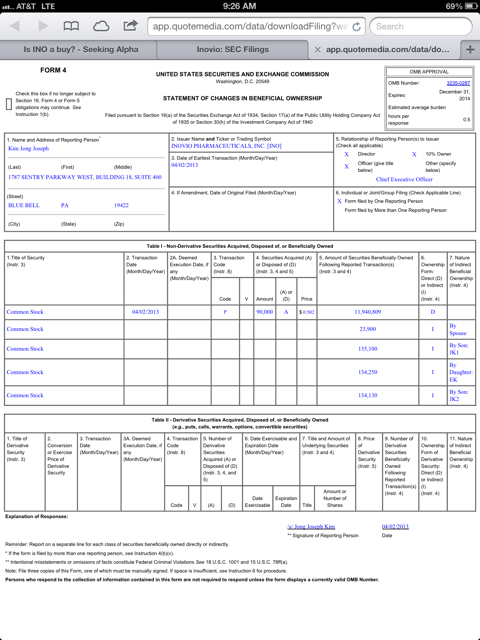 Inovio's impressive lineup of clinical trials in its pipeline provides diversification and potential blockbuster gains if one or more of its vaccines confirm their pre-clinical findings. It appears executive management are confident in their success based on recent insider buying information. Also confident are the multiple institutions that have partnered with Inovio ranging from Bill Gates to the NIH. Investing in developmental biotech is risky overall, but to find one with multiple diversified programs and multiple partners willing to fund these programs is worth taking a look at.
Disclosure: I am long INO. I wrote this article myself, and it expresses my own opinions. I am not receiving compensation for it (other than from Seeking Alpha). I have no business relationship with any company whose stock is mentioned in this article.