Cisco Systems, Inc. (NASDAQ:CSCO) shares have been trending slightly higher since bottoming out at around $17.50 per share in November, 2012. However, this stock has been lagging the market rally in a significant way and that could be one sign that this stock could be poised for a meaningful pullback after it announces quarterly results on May 15. Let's take a look at the chart for Cisco and the S&P 500 Index (NYSEARCA:SPY) which shows how Cisco is lagging, then we will take a closer look at what has happened to some of Cisco's competitors in recent days: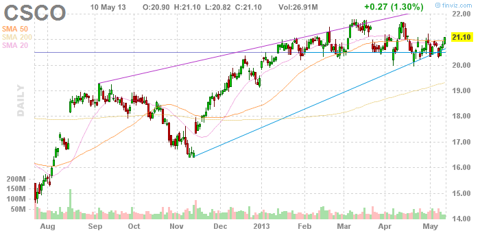 Click to enlarge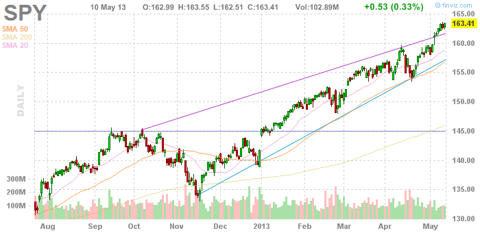 Click to enlarge
As the charts above show, Cisco has been underperforming during a significant bull rally. However, it has been outperforming some rival firms but that could be about to change. One difference between Cisco and some of the other companies in the networking sector is that Cisco has yet to report earnings or give guidance, while many others have. Companies that have reported have experienced a sharp pullback after earnings or guidance is released and when you see a trend that appears to be industry-wide and indicating soft conditions, it seems that Cisco could be set to report similarly weak results and/or guidance which could take the shares sharply lower.
Juniper Networks, Inc. (NYSE:JNPR) suffered a sharp sell-off after it reported earnings on April 23th, and Brocade Communications Systems (NASDAQ:BRCD) also experienced a significant decline when it announced preliminary quarterly results on May 1. Both Juniper and Brocade are competitive in switches and routers which bring in a significant amount of revenues for Cisco. If companies in this sector are seeing competitive pressures and a post-earnings stock decline, it seems like Cisco could be poised to follow this trend lower. Just take a look at the charts below to see the pullbacks: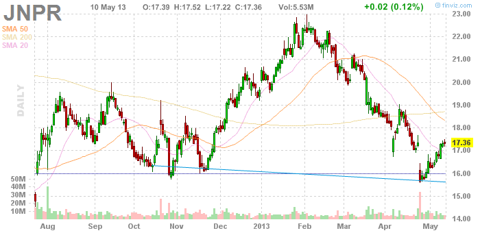 Click to enlarge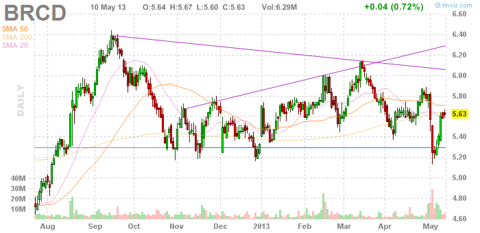 Click to enlarge
I would not be surprised if Cisco meets or even slightly beats analyst estimates, but it is the forward guidance that could cause investors to sell the stock after earnings are reported. Brocade announced preliminary financial results for its second fiscal quarter with revenues in the range of $536 million to $541 million and diluted earnings per share of 15 to 16 cents. This was below previous guidance for the second quarter of $555 million to $575 million for revenue and 14 to 16 cents in non-GAAP earnings per share. In particular, Brocade is seeing softness in storage area networking which seems to have been partly responsible for the weaker than expected results.
Juniper Networks reported solid first quarter earnings. However, investors sold the stock due to weak guidance for the second quarter that appears to be caused by slowing demand from "enterprise" customers (which includes government entities). Analysts were expecting revenues of $1.11 billion and earnings of 27 cents per share, however, the company offered guidance of 22 to 26 cents per share on revenues of $1.07 to $1.1 billion.
Cisco has a number of positives including a dividend yield that is over 3% and a solid balance sheet. It also has a proven management team that has faced competitive and other challenges for many years. However, a post-earnings sell-off in the stock does seem quite possible especially as industry conditions indicate softness in terms of demand. This is backed-up by the fact that Europe remains in a recession and orders from government entities are likely to be impacted by the budget sequester. For all of these reasons, and because Cisco shares have been lagging the market, investors may want to consider waiting for a better buying opportunity that could come after the May 15 earnings report.
At least one analyst sees major downside potential for Cisco. On March 21, analysts at FBR Capital downgraded Cisco shares from market perform to underperform. The price target was lowered from $22 to $17 per share over concerns that routers and switchers were seeing reduced demand. While I don't expect Cisco to drop to $17 due to the solid dividend yield, it could be pushed back below $20, if guidance is disappointing, and that would be my next buying opportunity. The 200-day moving average for Cisco is $19.35, so that could be a key support level and investors should look to buy around that level if there is a sell-off.
Here are some key points for CSCO:
Current share price: $21.10
The 52 week range is $14.96 to $21.98
Earnings estimates for 2013: $1.99 per share
Earnings estimates for 2014: $2.10 per share
Annual dividend: 68 cents per share which yields 3.3%
Data is sourced from Yahoo Finance. No guarantees or representations are made. Hawkinvest is not a registered investment advisor and does not provide specific investment advice. The information is for informational purposes only. You should always consult a financial advisor.
Disclosure: I have no positions in any stocks mentioned, and no plans to initiate any positions within the next 72 hours. I wrote this article myself, and it expresses my own opinions. I am not receiving compensation for it (other than from Seeking Alpha). I have no business relationship with any company whose stock is mentioned in this article.