Investors keep a close eye on the S&P 500 and the blue-chip benchmark has climbed to new all-time highs. However, an ETF tracking an equal-weighted version of the S&P 500 has consistently beaten the index, due in part to the outperformance of U.S. mid-cap stocks.
Over the past 10 years, the Guggenheim S&P 500 Equal Weight ETF (NYSEARCA:RSP) has out returned on average 10.7%, compared to the 8.0% return of the SDPR S&P 500 ETF (NYSEARCA:SPY).
RSP has gained 17.2% year-to-date, 26.6% the past year, 17.1% the last three years (annualized) and 8.1% the past five years. In comparison, SPY has increased 15.2% year-to-date, 22.3% the past year, 16.0% the last three years and 5.5% the past five years.
"Despite owning mostly large-cap stocks, by equal-weighting them, the portfolio behaves more like a mid-cap fund, with a greater beta and volatility than a large-cap fund," Morningstar analyst Michael Rawson said in a note on RSP. "Thus, this fund should really be compared with a mid-cap fund and that exposure can be obtained more cheaply. In addition, there may be a slight improvement in return resulting from the strategy's need to frequently rebalance by selling recent winners and buying recent losers, which results in a forced buy low/sell high approach."
Looking at the market capitalization breakdown in RSP, mega-caps account for 11.2% of the portfolio, large-caps 41.7% and mid-caps 45.5%. SPY, though, has 50.8% in mega-caps, 36.5% in large-caps and 12.6% in mid-caps.
Due to the equal-weight structure, RSP's largest holding only makes up 0.3% of the overall portfolio, whereas SPY's largest holding, Apple (NASDAQ:AAPL), accounts for 3% of its portfolio.
On a sector-by-sector basis, RSP also has a more spread out allocation. The Guggenheim ETF's sector breakdown includes consumer discretionary 16.8%, financials 16.3%, information technology 13.8%, industrials 11.8%, healthcare 10.6%, consumer staples 8.6%, energy 8.3%, utilities 6.3%, materials 4.7% and telecom services 1.4%.
SPY's sector allocations include information technology 17.9%, financials 16.3%, health care 12.5%, consumer discretionary 11.8%, consumer staples 10.9%, energy 10.7%, industrials 10.0%, utilities 3.5%, materials 3.4% and telecom services 3.0%.
RSP comes with a 0.40% expense ratio, whereas SPY has a 0.09% expense ratio.
Guggenheim S&P 500 Equal Weight ETF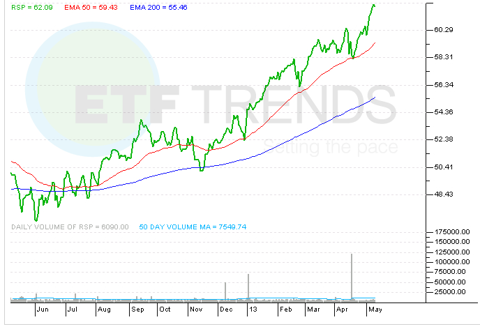 Click to enlarge
Max Chen contributed to this article.
Full disclosure: Tom Lydon's clients own SPY and RSP.
Disclosure: I am long RSP, SPY. I wrote this article myself, and it expresses my own opinions. I am not receiving compensation for it. I have no business relationship with any company whose stock is mentioned in this article.
Additional disclosure: Mr. Lydon serves as an independent trustee of certain mutual funds and ETFs that are managed by Guggenheim Investments; however, any opinions or forecasts expressed herein are solely those of Mr. Lydon and not those of Guggenheim Funds, Guggenheim Investments, Guggenheim Specialized Products, LLC or any of their affiliates.