Jamba Juice (NASDAQ:JMBA) operates and franchises the largest chain of juice and smoothie retail locations in the world. Jamba Juice has 809 stores globally. In the U.S. the company has 301 company-owned stores and 473 franchised stores. It also currently operates 35 stores internationally. Jamba Juice also has a line of smoothie and fruity juice related consumer packaged goods [CPG] that are sold directly by the company online and in retail locations via licensing agreements. In addition, the company installs JambaGo machines in schools that sell juice and flavored drinks to students.
Investment Thesis:
Jamba Juice has significant room and the ability to expand its footprint both domestically and internationally. Although the company currently operates or franchises 774 stores in the U.S., 286 of the company's stores are concentrated in California. Furthermore, virtually all of its owned stores are concentrated in California. As can be seen in the map below from a recent Jamba Juice company presentation, there are several states with no Jamba Juices and many states with less than 20. The company is planning to add or refurbish 75 to 100 stores domestically over the next year including the addition of 15 stores in Missouri, and Kansas, every year for the next nine years. Internationally, Jamba juice has only 35 locations in South Korea, Canada, and the Philippines. The company recently reported that it has concluded a deal with Casa Operadora de Franquicias MAV S.A.P.I de C.V to open 80 new franchised stores in Mexico.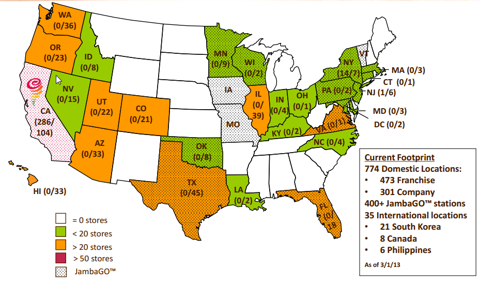 Refocus on franchising, CPG, and Jamba GO to facilitate further margin expansion. As can be seen in the chart below, gross margins have risen every year since they bottomed in 2008, and the company installed a new CEO, James White. At present, the company only derives 6.35% of its revenues from franchise and CPG stores with the vast majority of its revenues being derived from its wholly owned California stores. Franchisees pay the company 5.5-6% of revenue. CPG revenues are projected to hit $4-5m this year representing a 90%-138% growth rate. All of Jamba's CPG revenues are derived from licensing or direct sales. Both of these models require little to no capital expenditures and are high margin. As a result they are highly accretive to the bottom line. Over the course of the last year, the company rolled out 400 JambaGo locations. By the end of 2013, management has set an objective of 1,000 JambaGo sites. Although JambaGos are capital intensive, they produce high margin recurring revenue for the firm.

Jamba's move into breakfast drives the top line. The company recently started to expand with breakfast offerings, which helped propel a 5.1% growth in same-store sales. Management also purchased Talbott Teas to add to its portfolio of brands. A move to breakfast and food should increase the firm's average ticket size.
Valuation. The unpredictability of Jamba Juice's high growth trajectory going forward make it a difficult candidate for a DCF analysis as virtually all of the company's value will lie in its terminal year. As a result I utilized a set of comparable companies to value Jamba Juice. Given the firm's high growth rate, but poor margins, I believe Jamba Juice warrants a higher multiple of 13x consensus 2013 EBITDA $20.05m or $3.17 a share. The company still warrants a discount to its peers of approximately 15%, but not a 46% discount given its growth prospects.

Key Risks
Jamba's current growth plan could stall if it fails to manage its capital correctly as it did in 2008. This is less likely as the firm currently has no debt, but still a possibility. In addition, the company is subject to swings in commodity prices and will only become more susceptible as it sells more food items.
Recommendation and Price Target: Moderate Buy. The firm is undervalued on a forward price to EBITA ratio. Price Target: $3.17, Current Price: $2.81, Potential Upside: 12.80%
Disclosure: I have no positions in any stocks mentioned, and no plans to initiate any positions within the next 72 hours. I wrote this article myself, and it expresses my own opinions. I am not receiving compensation for it (other than from Seeking Alpha). I have no business relationship with any company whose stock is mentioned in this article.