Over the weekend, G7 finance chiefs and central bankers reaffirmed their February commitment to "not target exchange rates." That statement seems to indicate that they will tolerate a weakening yen for now as they stepped up their focus on Japan's recovery strategy.
According to economists surveyed by Bloomberg News, much of the data scheduled for release this week will show that the euro area remained in recession in the first quarter of 2013 and that US retail sales fell in April for a second consecutive month. This probably explains why the finance chiefs are accommodative of loose monetary policies.
Bank of Japan Governor Haruhiko Kuroda used the G-7 talks to reiterate that his doubling of monthly bond purchases is aimed at meeting a 2 percent inflation target by 2015, and not at artificially helping exporters. While the yen's weakness aids local exporters such as Sony (NYSE:SNE), it risks undermining the prospects of trade partners. Nations including Australia, New Zealand and Switzerland are also moving to counter climbing currencies.
New Zealand for example, intervened in the currency market last week for the first time in five years to curb the Kiwi's stubborn rise. Reserve Bank of New Zealand Governor Graeme Wheeler noted that the Kiwi had risen about 12 percent against the US dollar since the middle of last year and had been hurting the country's exporters.
The tune for this week could be markedly different though. I expect the US dollar to strengthen against several currencies. In fact, when markets opened on Monday morning, USD/JPY rose to 102.14, the highest level since October 2008. The greenback is also at a one month high against the euro and a 10 month high against the Aussie dollar.
A strong US dollar will hurt the country's exporters but benefit foreign companies listed on the New York Stock Exchange. As an example, Avon (NYSE:AVP), which generates over 85% of their total revenue outside the US, saw earnings dip by 4% due to the greenback's strength. Toyota (NYSE:TM) on the other hand saw Q1 earnings skyrocket. The car company made 314 billion yen, more than double last year's 121 billion yen and beating expectations for 296 billion yen. That whopping first-quarter figure is the company's largest in more than five years.
Top News This Week
New Zealand: Retail Sales q/q. Tuesday, 14th May, 6.450am.
I expect figures to come in at 0.9% (previous figure was 2.1%).
Trade Call
Short NZD/USD at 0.8340
On the 4-hourly chart, NZD/USD is moving in a strong downtrend, especially after the Reserve Bank of New Zealand (RBNZ) intervened last week. I am expecting a weak number for retail sales tomorrow morning, which will cause the downtrend to continue.
An entry is taken when prices reach 0.8340, which is at the level of the EMA 12 (exponential moving average). A stop loss of 50 pips is placed just above the EMA 24, as we do not expect prices to rise above that level. We will have two targets on this trade, exiting the first position at 0.8290 and the second position at 0.8240.
Entry Price = 0.8340
Stop Loss = 0.8390
1st Profit = 0.8290
2nd Profit =0.8240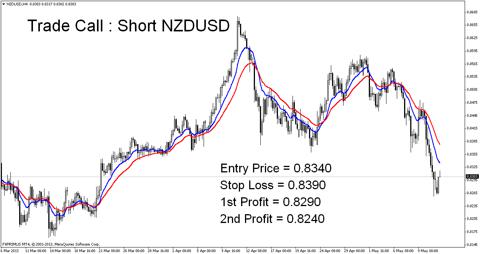 Disclosure: I have no positions in any stocks mentioned, and no plans to initiate any positions within the next 72 hours. I wrote this article myself, and it expresses my own opinions. I am not receiving compensation for it. I have no business relationship with any company whose stock is mentioned in this article.