The 13 closed end fund (CEF) types on average were down a modest 0.4% for the week ending 6/12/09, reflecting the directionless performance of the debt and equity capital markets. The S&P 500, as measured by the SPDR S&P 500 ETF (NYSEARCA:SPY), registered a gain of 0.6%. On an aggregate, unweighted basis, the weekly price decline for 641 CEFs was -0.7%. The weighted Claymore CEF Index registered a 0.3% advance for the week. CEFs' aggregate, unweighted current distribution yield is 8.3% and is trading at a 6.1% discount.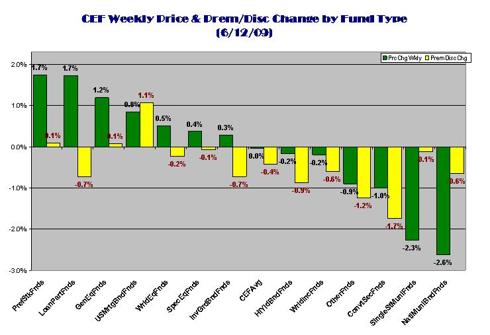 The Eqcome CEF Fear Index, on an aggregate, unweighted basis, increased slightly with price declines exceeding declines in NAV. This is consistent with the CBOE Volatility Index (VIX) which dropped 5%. (The VIX has a tendency to fall when the market rises.)
CEF Weekly Performance: With regards to CEF fund type performance, CEFs associated with banks were some of the strongest performers: Preferred funds and Loan Participation funds. Loan Participation funds not only experienced price increases, but also registered a decline in their premium/discount indicating a "mark-up" in their net assets values.
Financials experienced a rollercoaster week by starting off on firm footing with the announcement of ten banks allowed to repay TARP advances, to be tripped-up mid-week by inflationary fears, only to regain their balance by weekend following a successful treasury auction.
Munis continue under pressure both in terms of price and NAVs. Convertible funds experienced the largest decline in prem/discount despite the decline in price.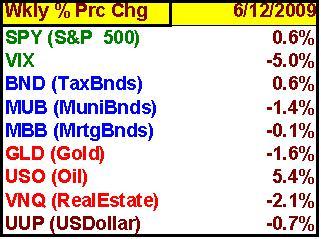 Weekly Comparisons: For sake of weekly comparison, the performance of the S&P 500 and the VIX was consistent—SPY rising and the VIX falling. The debt segment of the ETF market posted mixed results: Vanguard Total Bond (NYSEARCA:BND), iShares Muni fund (NYSEARCA:MUB) and iShares mortgage backed securities fund (NYSEARCA:MBB) registered price changes of 0.6%, -1.4% and -0.1%, respectively. This was generally consistent with their CEF counterparts with the exception of US Mrtg Funds which posted an increase 0.8%.
The commodity segment of the markets presented an interesting mix. The decline in the US dollar (NYSEARCA:USD) generally translates into higher commodity prices as such assets are based on USD denominations. Gold (NYSEARCA:GLD) declined 1.6%; oil, as measured by the US Oil ETF (NYSEARCA:USO), continued its upward climb (up 5.4%). The push in oil prices in the face of a declining USD is either a function of impending pick-up in real demand or another round of price speculation.
Commercial real estate, as measured by Vanguard Real Estate Investment Trust ETF (NYSEARCA:VNQ), which had been on a tear, declined 2.1% on the prospects of high interest rates. Higher rates have the potential to cut into cash flow and potentially make in more difficult to refinance $700 billion in commercial mortgage backed bonds. It appears some relieve is on the horizon with the TALF extending the maturities it is willing to finance to accommodate this debt sector. Interest rates will be an important short-term driver of this sector.
CEF High & Low: For the sake of data points, Equus Total Return, Inc. (NYSE:EQS), a CEF that is a private equity investor—before it was sexy, was up 23.7% last week. It announced plans to internalize it management, i.e. not employ an outside advisor for investment management and day-to-day operations. In general, this is viewed as positive as it eliminates any conflict of interest to which an outside advisor might be subject, and it could possibly reduce operational costs. Of course, the key issue is the quality of the personnel replacing the advisor if it's not the advisor itself being internalized.
One of the worse performers of the week was Pimco Global Stocksplus Income Fund (NYSE:PGP), a CEF that invests in equity index derivatives. It was down 17.6%. It's normal volume quintupled on Thursday, the 11th and was heavily traded on Friday. There was no news from PGP.
CEF Focus for the Week: LMP Corporate Loan Fund, Inc. (NYSE:TLI), a fund that invests in floating rate and collateralized senior loans to corporation. TLI is in the Participating Loan fund type which has been a fund type experiencing strong price appreciation—yet, its NAV has increased at a more rapid rate. TLI might be a way to protect investors from inflation and participate in the potential of an economic recovery where the credit underlying the loans is enhanced. It's trading at a 17.8% discount and has a distribution yield of 5.74%. Consider it food for thought.

Disclosure: Long SPY